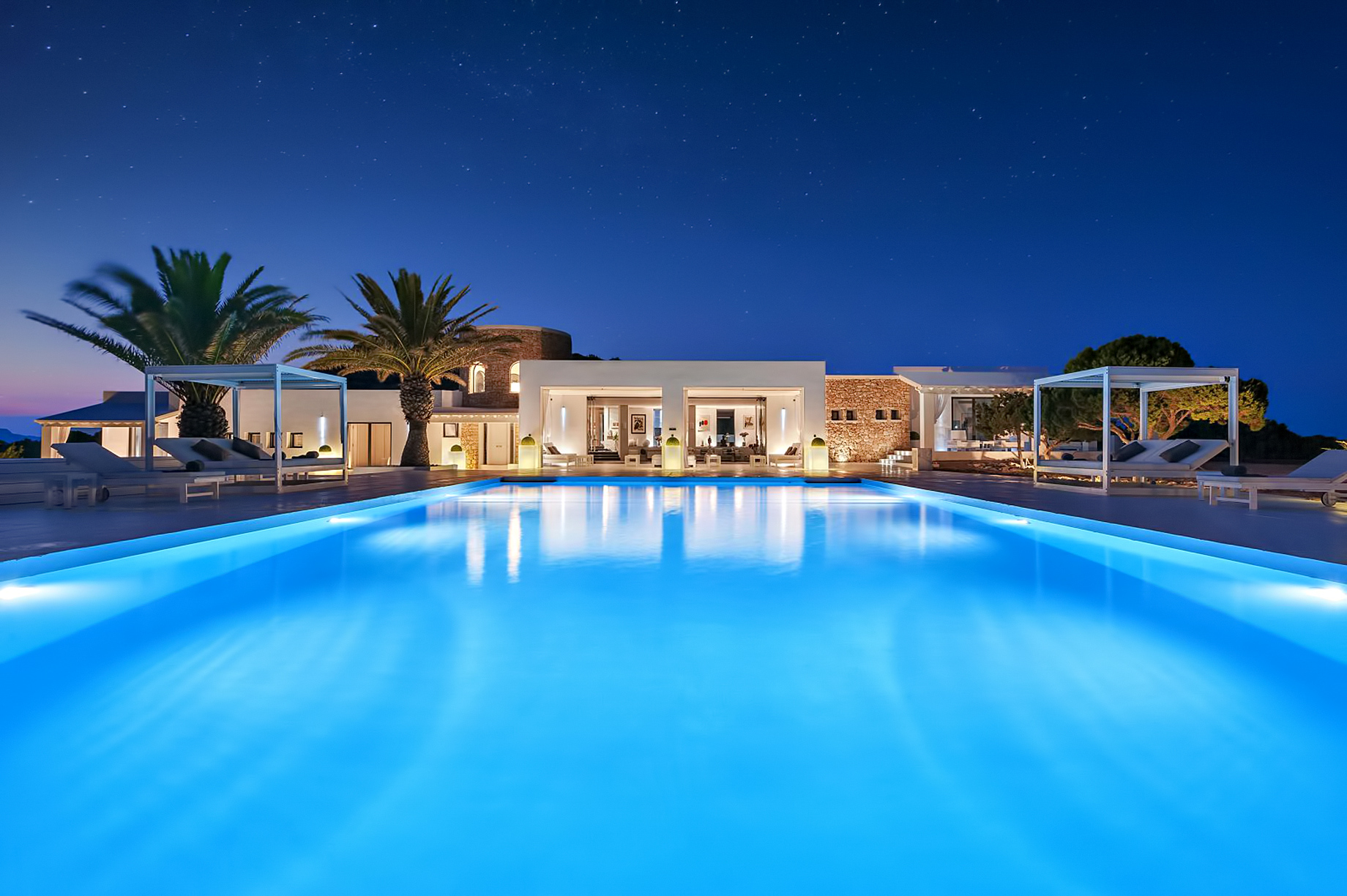 Type: Private Island Luxury Villa
Bedrooms: 5
Bathrooms: 5
Size: 7,534 sq. ft.
One of a select few islands available for private rental in the Mediterranean, the beautiful island of Tagomago situated about 5 minutes by boat (approximately 900 metres) off the coast of the jet set island of Ibiza, is a authentic paradise for those that demand a lifestyle with the highest level of exclusive top-tier luxury experiences. This is one of the most extravagant locations for discerning individuals who wish to enjoy absolute privacy and luxury in one of the most idyllic and privileged luxury villa rental locations in Europe.
Surrounded by turquoise waters of the Mediterranean Sea, Tagomago Island is a 98-acre private paradise with a large modern private villa including five luxury suites designed to the highest international standards in typical Ibizan style with spacious living and dining areas and terraces on all sides ensuring comfort and seclusion. Offering accommodation for up to 10 guests, each suite has its own generous en-suite bathroom, large windows, terraces and magnificent views of Ibiza and the Mediterranean. A sauna, large swimming pool, various shaded areas and a bar all add to the island's aura of sublime luxury. A beach bar at the pier, a BBQ area on the beach and lounge areas for enjoying the sunrise and sunset are perfect for relaxing and leisure. The protected cove of the island is perfect for swimming, snorkelling and various water sports including scuba diving, fishing, kayaking and sailing.
Available for those with a distinct taste for discreet luxury and indulgent relaxation, this intimate luxury hideaway is the perfect place for select clientele to experience the tranquil relaxation of nature while deciding how much of the hustle and bustle of Ibiza they want. Tagomago Island can be rented either as a private family holiday resort or as a venue for business events with a three-day minimum or by the week and longer for unique events. Guests can choose to arrive via their own private yacht, helicopter or luxury transfer from Ibiza or Mallorca.
Address: Isla Tagomago S.A. Lugar Isla de Tagomago s/n Santa Eulalia del Rio, ES – 07840 Baleares Spain