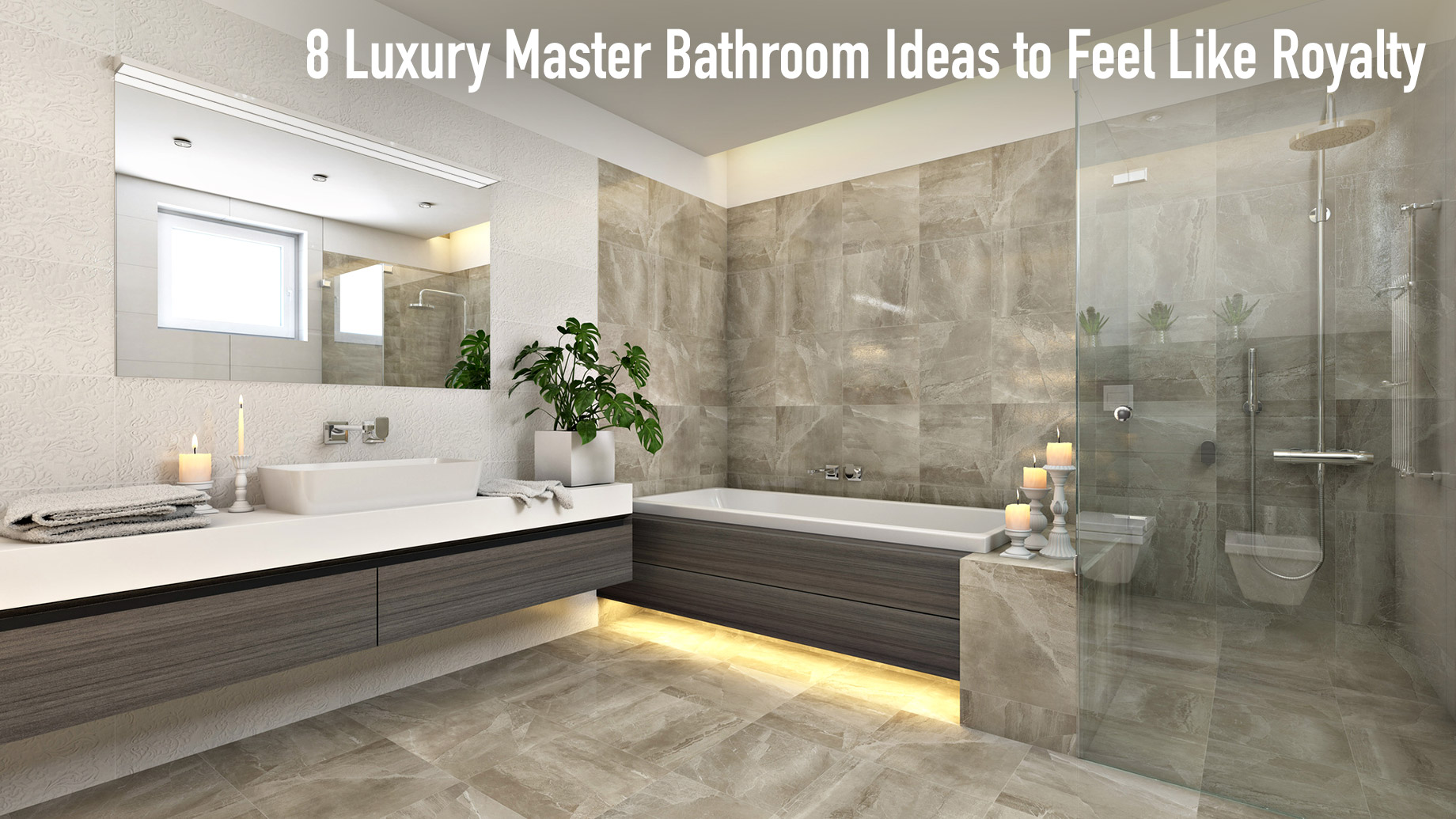 One of the best things about staying in hotels is relaxing in their decadent and luxurious bathrooms. Do you ever wish you could make your home's master bathroom feel the same way?
You can, if you're willing to remodel your master bathroom. Upgrading your bathroom can give it a completely new look and feel, adding elegant touches that make you feel like you're on vacation. After your bathroom is renovated, you need to hire a professional to clean up the place. For more information about this service, you can read this pricing guide on post-renovation cleaning.
There are plenty of ways to give your bathroom a luxury feel, even if you're on a budget. To learn more, keep reading for eight luxury master bathroom ideas that you can use to transform your bathroom from average to amazing.
1. Upgrade to a Jacuzzi Tub
Imagine coming home after a stressful day at work and easing into your own Jacuzzi tub. It will make you feel just like you're at a resort, as the massage jets work to ease sore muscles.
Many homeowners love the relaxation of a Jacuzzi tub or an oversized soaking tub. They are the ultimate in relaxation and luxury, soaking away the worries of a long day.
Soaking tubs are also great for sore muscles, and useful if you exercise daily, or have a job that keeps you on your feet all day.
When thinking about luxury master bathroom designs, see if you have room in yours to add in a large tub. Ensure that you hire reliable plumbing experts to set up your gorgeous tub. After all, setting up a tub in your bathroom isn't a simple DIY project you can take. Get the professionals to help make your master bathroom into a luxurious space you can come home to at the end of a stressful day.
2. Start with a Minimalist Look
Luxury minimalism is a style that lets you focus on the quality and not the quantity of things. Whether you're planning on the furnishings, installing a modern bathroom sink, upgrading lighting fixtures, or bathroom décor, choose those that are of high quality. Think of the saying 'less is more', but consider making it luxurious.
To achieve this look, ensure that your bathroom is free of clutter. Consider using cabinets and shelves to store personal items. Keep toiletries out of plain sight so that you'll only focus on a clean bathroom for relaxation. Avoid adding accessories and unnecessary things. Consider choosing a backsplash of interesting shapes as an accent in your space without sacrificing the minimalist look that you're aiming for. 
A minimalist luxury bathroom is an awesome way to make your master bathroom stand out from other bathrooms in your house. To complete this look, think about using marble in your bathroom design, which can surely add that touch of luxury.
3. Set the Mood with Candles and Plants
A low-cost way to bring that five-star hotel feeling to your bathroom is with your accessories. Scented candles, especially in relaxing scents like vanilla, can help add a decadent ambiance to your bathroom.
Plants and greenery can also help add to the look and feel of your bathroom, as long as you have some natural light coming in. Look for houseplants that thrive in humid conditions, such as ferns or bromeliads.
Candles and plants can help turn a plain bathroom into a peaceful sanctuary. Imagine relaxing in the bath with a good book, the perfect way to indulge in some self-care.
4. Add Marble Flooring
We've all seen luxury white master bathrooms on TV or in movies, but if you want to achieve this look for yourself, it's all about marble.
White marble flooring is the ultimate in luxury, making you feel like you're in a palace. You can also use marble for your vanities and countertops, creating an elegant all-white look.
The good news is that you can get a similar look from alternatives to expensive marble, such as quartz or white concrete.
5. Improve Your Lighting
One easy way to improve your master bathroom is by changing your lighting. The bathroom is a place for getting dressed, applying makeup, and styling your hair, so the right lighting is key to turning your bathroom into a useful space.
Quality LED mirrors are especially helpful when it comes to makeup lighting, but make sure you also have plenty of ceiling lighting as well.
For a brighter, larger looking bathroom, you may even want to consider adding a skylight. Skylights are a beautiful architectural feature to add to any bathroom, but they also let in lots of natural light.
Plus, you can relax in your bath at night while you look up at the stars!
6. Indulge in Luxury Bath Products
One of the best things about staying in fancy hotels is the amazing bath products they provide. It feels so indulgent to enjoy the lotions, bubble baths, and shampoos they provide.
If you want to replicate this feeling in your master bathroom, it's easier than you might think! Look online to find out which toiletry brand your favorite hotel uses and order the products for your own home.
Then, add thick, plush towels, toothpaste, toothbrushes for your kids, floor mats, and a bathrobe, and it'll feel like you're on vacation every time you use your bathroom.
7. Relax Under a Waterfall Shower
Another popular bathroom upgrade is to replace your shower with something larger. Improving your master bathroom shower is also a great idea if you want to add value to your home, as it offers some of the best returns on investment.
Upgrading your vanity and bathroom flooring are other ways to increase the value of your home.
Large, walk-in showers are spacious and luxurious, but they're also very useful for anyone with mobility issues. You can also add a waterfall, or rainwater shower, where water comes straight down from above.
They're incredibly refreshing and are much nicer to use than smaller box showers or showers combined with the bath.
8. Install Heated Towel Racks
If you live in a colder climate, there's nothing nicer than stepping out of the shower on a winter's morning to find a warm towel.
By installing heated towel racks, you can wrap yourself in a warm towel every time you step out of the bath or shower. They're an easy way to make your master bathroom feel more luxurious.
9. Bonus – Bathroom Wallpapers
As an extra, bonus tip, you should also consider installing bathroom wallpaper. It will take your bathroom design to the next level. With a variety of bold colors and patterns available in the market, you can create an atmosphere that is both aesthetically pleasing as well creative in thinking outside-the-box.
Are you ready to feel like the king (or queen) of your castle? If so, it's time to upgrade your bathroom.
Use these luxury master bathroom ideas to think about how you'd like to remodel your bathroom. Then, start looking for contractors in your area who can turn your bathroom dreams into reality.
Before you know it, you'll be enjoying your beautiful new bathroom!
Did you find this article helpful? If so, keep reading our articles for more top tips and inspiration.