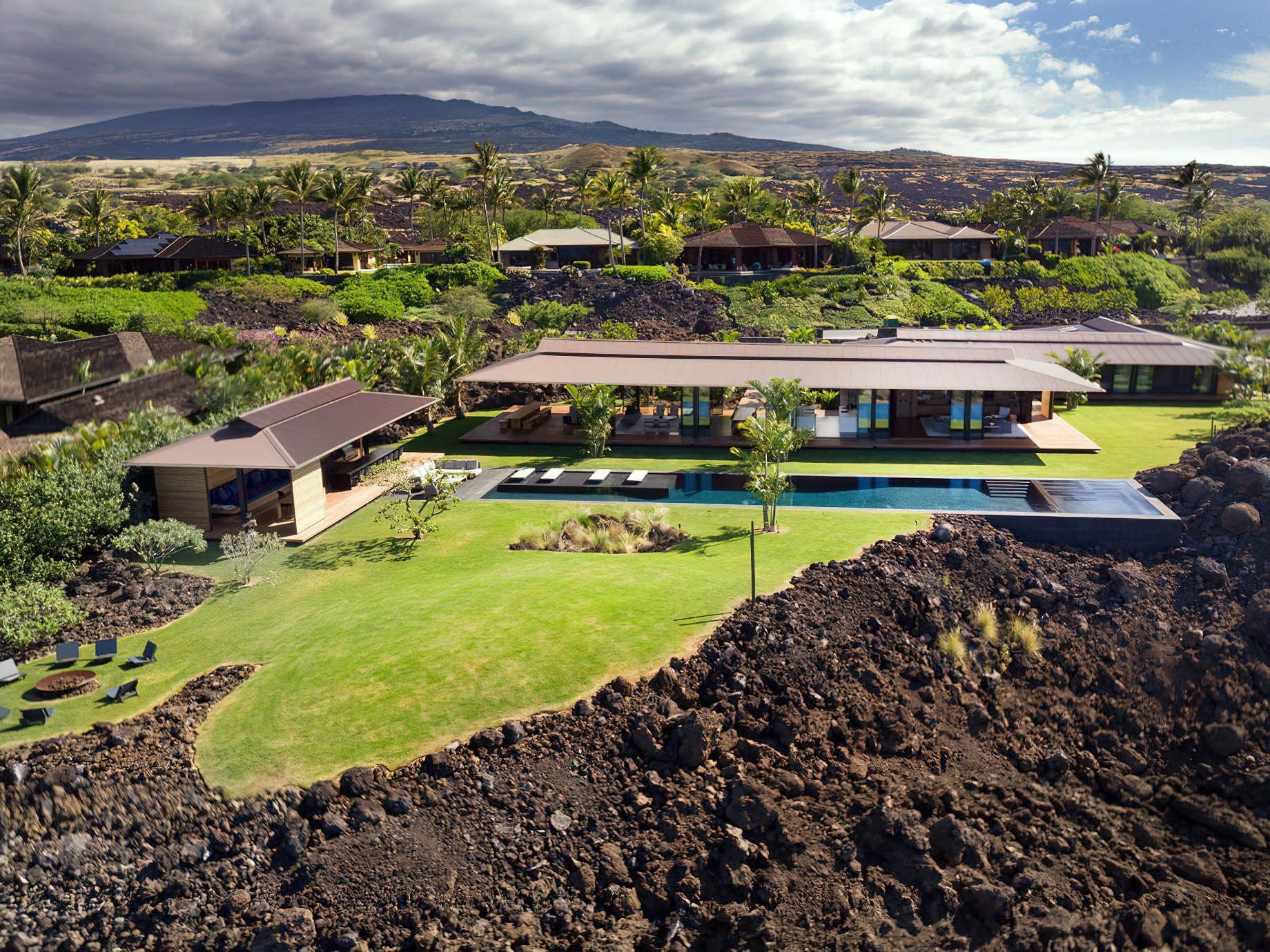 Name: Hale Lana Floating Home
Bedrooms: 7
Bathrooms: 7
Size: 17,211 sq. ft.
Built: 2018
Hale Lana is an exquisite family retreat nestled on Hawaii's Big Island, featuring a captivating design composed of several canopy-like pavilions scattered across the landscape. These pavilions are interconnected by elevated wooden lanais and a series of beautifully crafted gardens. Positioned at the ecotone line, where the meticulously landscaped area meets the breathtaking ocean views stretching towards the majestic Haleakalā volcano on Maui, this home truly embodies its name, which translates to "floating home." Its key design objective was to achieve a seamless integration of the indoor and outdoor spaces, fostering a high degree of transparency.
The architectural marvel of Hale Lana showcases cantilevered double-pitch roofs, a characteristic feature of the Big Island style. These roofs gracefully form deep canopies enveloping the buildings and lanais, allowing for uninterrupted ocean breezes to flow through while shielding the interiors from excessive solar heat. With extensive glazing throughout, the architecture seemingly hovers above the landscape, creating an ethereal experience. The implementation of operable shutter screens empowers the family to adapt each building to changing environmental conditions, enabling them to regulate sunlight, airflow, and privacy. By blurring the boundary between the interior and exterior, Hale Lana establishes an inseparable connection between the residents and the enchanting Hawaiian climate and landscape.
The primary design objective of Hale Lana was to strike a harmonious balance between transparency and enclosure. The vision was to create a home that would cater to the needs of the couple, their extended family, and large gatherings, while maximizing their connection to the captivating Hawaiian climate and landscape. The entry path meanders through a verdant landscape adorned with towering trees, berms, and lava fields, culminating in a breathtaking view that stretches through the house, offering a glimpse of Maui in the distance. The main house embraces sliding window walls that open up to covered lanais, seamlessly connecting with the other four buildings on the property: the cabana, the master suite, the guest suite, and the garage.
The iconic cantilevered double-pitch roofs, synonymous with the Big Island style, form deep canopies that gracefully encircle the pavilions and their lanais. These canopies enable the pavilions to open up entirely to the invigorating ocean breezes while providing protection against the sun's rays. The addition of operable shutter screens empowers the family to adapt each building to the ever-changing environmental conditions, allowing them to fine-tune the desired degree of sunlight, airflow, and privacy. The integration of rock walls in several pavilions further extends the connection between the home and the captivating Kona landscape. Every aspect of Hale Lana, from its custom-designed furniture to its meticulously curated interior elements, serves as a subtle homage to the enchanting Hawaiian culture and complements the architectural design flawlessly.
Architect: Olson Kundig
Builder: Dowbuilt
Photography: Nick Lehoux
Location: Kukio, HI, USA