When it comes to reaching elite status in the United States of America, the crown jewel of opulent living quality resides in Miami – a playground for the rich and famous to enjoy the natural amenities that Florida offers with the tropical ocean and sea that surrounds the state, coupled by year-long sunny days, along with the private jets, superyachts, and expensive cars that come along with all the wealth that gets parked in The Sunshine State.
Before all the fun can be had, luxury real estate is where it begins for high-net-worth individuals looking to become new residents in Florida, and South Beach is one of the wealthiest and most prosperous neighborhoods of Miami Beach, where ultra-prime luxurious residences are found, such as in the South of Fifth – a small exclusive affluent neighborhood, more affectionately known as SoFi.
Below, we highlight a trifecta of three elite condominium residences that exemplify opulent luxury living in Miami's South Beach real estate market:
---
Apogee Condominium | South Beach, Miami
Apogee South Beach was designed not only to impress but to inspire, just as art inspires the heart to soar and the mind to awaken to new and glorious possibilities. Apogee gives a whole new name to luxury.
Year Built: 2008
Bedrooms: 3 – 4
Total Floors: 22
Total Units: 67
Location: Apogee is located in the sought-after neighborhood of South of Fifth (also known as SOFI) in Miami Beach. Brickell, the Miami Design District, and the Miami International Airport are just a few minutes away by car.
Apogee South Beach, one of the most luxurious condo developments in Southern Florida, was completed in 2008. Located in the South of Fifth neighborhood of Miami Beach, Apogee is an expression of art that wakes your mind to grand possibilities.
The Apogee Condominium houses 67 luxury condo residences, each strategically designed and built to take advantage of the flow-through city and water views. The design of the building features premium optically clear glass on the exterior of each unit, with balconies that exude timeless luxury and modern elegance. A state-of-the-art spa and fitness center, an infinity edge lap pool with a tropical garden setting, and an open-air party pavilion are some of the amenities available for resident condo owners.
Developed by The Related Group and designed by Sieger-Suarez, Apogee South Beach exemplifies the very pinnacle of modern luxury living. Only so few can ever have the privilege of calling Apogee home, as it beckons you to live life on a higher level.
---
Continuum | South Beach, Miami
Located on the southernmost tip of Miami, the Continuum towers soar with their impressive structure as one of South Beach's main focal points.
Year Built: 2002-2008
Bedrooms: Studio – 6
Total Floors: South Tower 42, and North Tower 37
Location: On the southernmost tip of the city, in the South of Fifth neighborhood, this impressive, soaring structure is visible from Fisher Island and Key Biscayne.
Emanating from the southernmost part of Miami Beach, in the prestigious South of Fifth neighborhood, Continuum in South Beach is an outstanding resort-style beachfront condominium complex. With its mesmerizing structures, Continuum has become one of the main structurally impressive sights of South Beach – visible from Fisher Island and Key Biscayne in South Florida. The polished elegance of each building is unmistakable upon entering the majestic two-story lobby and foyer. Here, the unprecedented resort-quality amenities, services, and fixtures provide owners with a lifestyle worth paying to experience.
Between the North and South Towers of the Miami Beach Continuum are twelve sprawling acres of manicured gardens, pools and fountains, three tennis courts, and two splendid pools (an infinity-edge lap pool and expansive free-form lagoon pool). The Continuum's fitness center for gym goers, sensational spa for adequate relaxation and comfort, concierge service for indulgent living, and other amenities are details that make this magnificent community-based high-rise development the place to call home with your family in South Beach.
---
Murano at Portofino | South Beach, Miami
Murano at Portofino is South Florida living at its finest. This is where stylish condominiums meet the South Beach lifestyle.
Year Built: 2001
Bedrooms: 1 – 3
Total Floors: 37
Total Units: 189
Location: In the prestigious neighborhood South of Fifth (SoFi), this highly walkable area of Miami Beach is home to world-class dining and entertainment.
Murano at Portofino in Miami Beach is one of the most desired and sophisticated condominium waterfront buildings in the South of Fifth. The Miami Beach Marina, Biscayne Bay, and the Atlantic Ocean are easily seen from almost every angle, as Murano at Portofino sits over 600 feet of magnificent ocean frontage. The 37-story bayfront building is home to 189 one-, two- and three-bedroom luxury residential units.
This is where stylish condos meet the coveted South Beach lifestyle. The building includes the private Bay Side Beach Club with a heated pool and spa, a saltwater pool, and a poolside café for additional delight.
Further touted amenities include two tennis courts, concierge service, a high-end fitness center to get a good workout in, plus large outdoor terraces with stellar Miami Beach views. Lush tropical grounds provide an abundance of recreational space for families and children, while a surplus of exhilarating entertainment and nightlife options are plentiful. Residents can walk to the top nearby South Beach restaurants, shops, and boutiques. Murano at Portofino is South Beach living at its finest.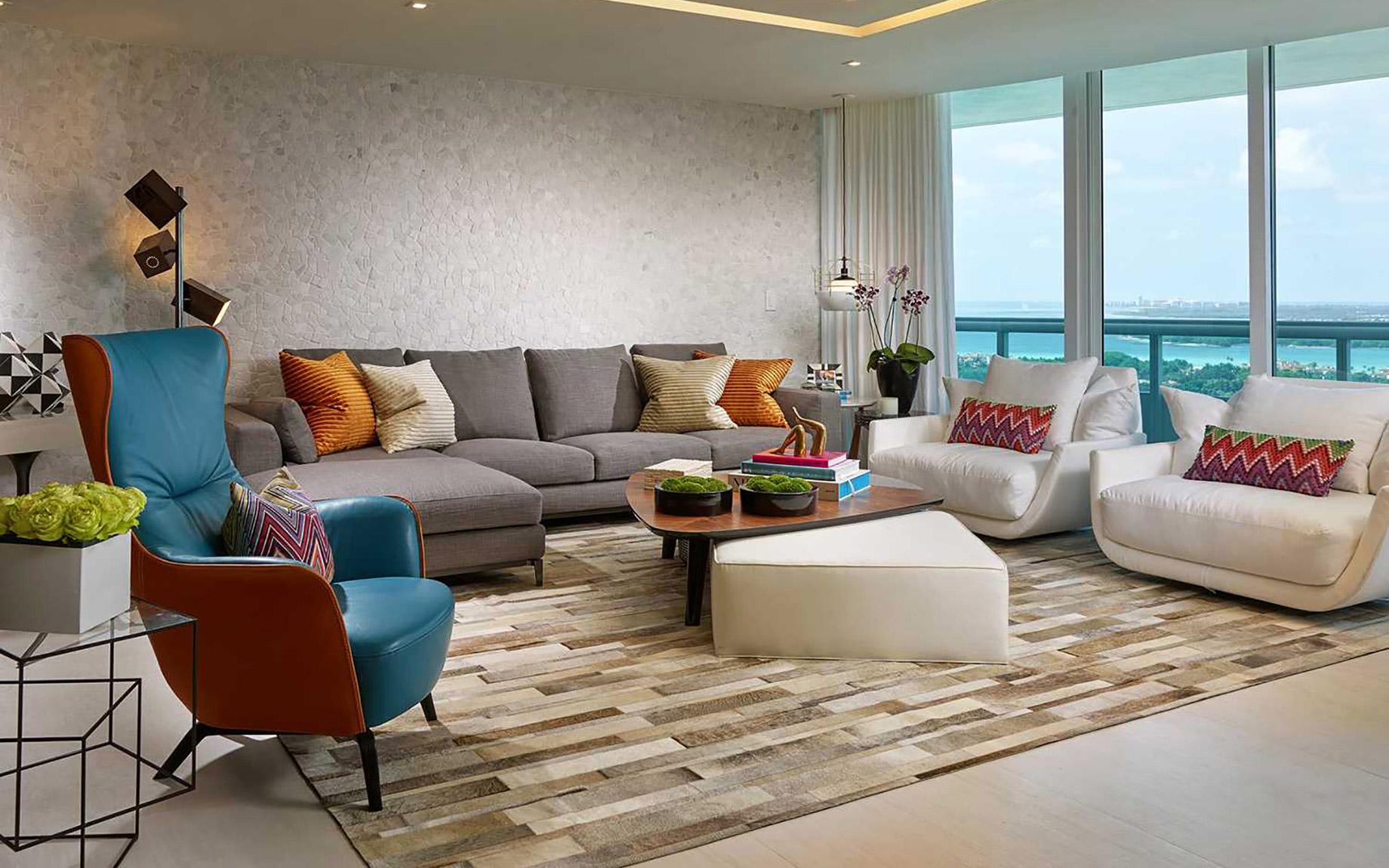 To view current luxury condos available for sale across Miami-Dade County, contact a local luxury real estate agent for on-location expertise to aid you in your pursuit to make Miami the place to be for your next property purchase.