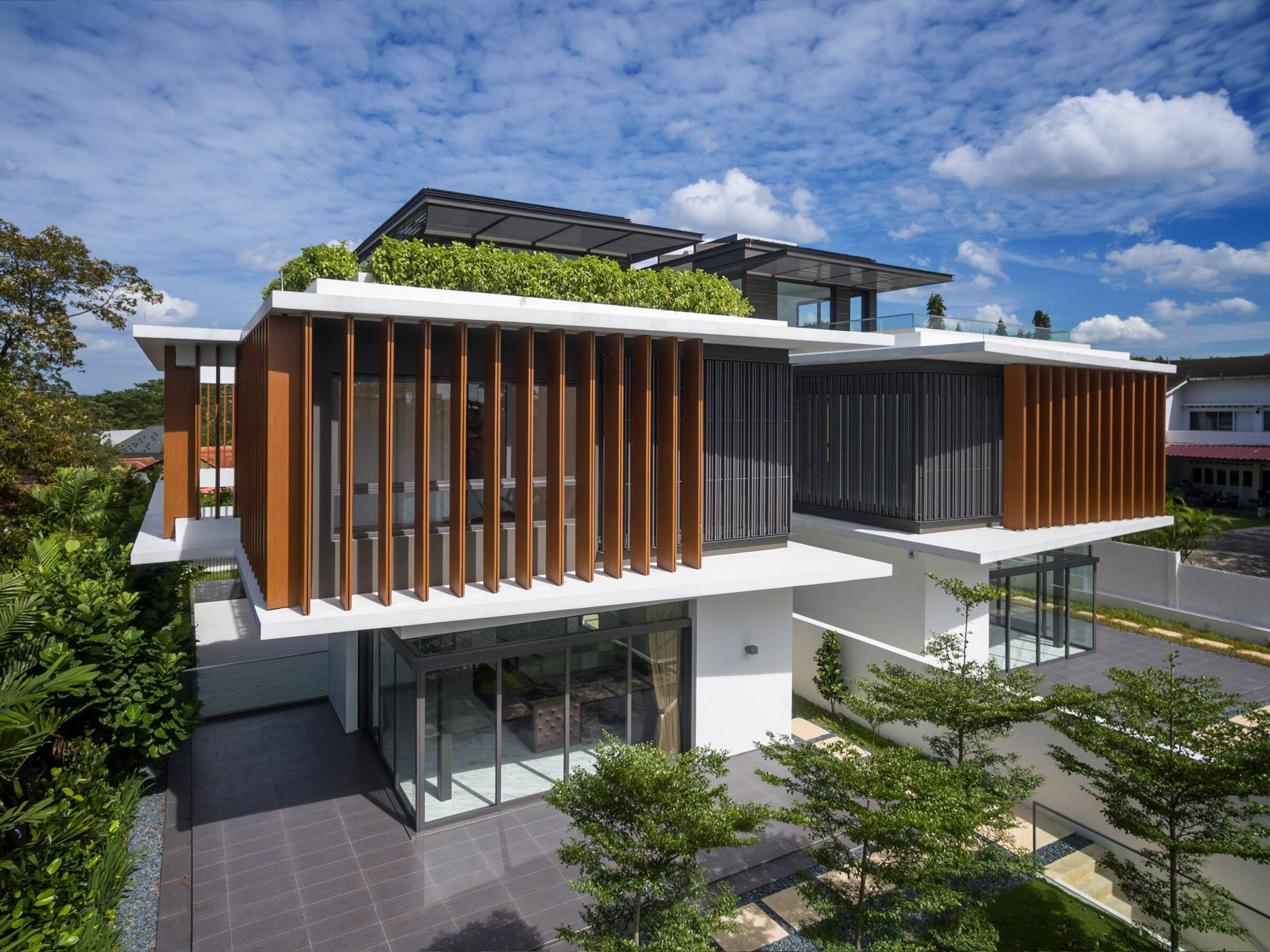 Type: Modern Contemporary
Bedrooms: 6 Est
Bathrooms: 6 Est
Size: 12,800 sq. ft.
Built: 2016
Namly View House is located in an exclusive neighbourhood of Singapore. The site sits on high ground flanked by large trees and surrounded by with a low roof line. The steep topography of the site allows a full basement that opens directly to the public road. The project takes the form of a raised plateau with multiple terraces that surround the site.
To maintain privacy, the houses are positioned near the centre of the lot to create a buffer between it and other adjoining conditions such as the road and the neighbouring other houses. Occupants and guests drive straight into the underground entrance and are welcomed by a sunken swimming pool that that illumines a vast space.
Minimalism and attention to detail bring a casual purity that characterises the project. Each corridor leads to a luminous opening and reveals a larger and more complex residence than initially imagined. The spaces offer both conviviality and intimacy through a different atmosphere at each level. At the raised ground floor level, the open deck allows for a seamless and subtle transition from the interior to the exterior that is surrounded by raintrees. This expansive ground floor extends the entire side so as to maximize this panorama.
In this project, we explore an expression of façade that peels elements off the traditional face of the building. In so doing, it reveals and creates new spatial definition that not only expands the idea of intermediary space, but also enables a new avenue for aesthetic façade expression. A ribbon of timber sunscreen runs the perimeter of the facade, adding emphasis to the large middle floor. The rhythmic concealing and revealing adjusts to the varying demands of privacy, light or view.
The top floor is an accessible roof garden and deck that offers vistas of the neighbourhood. Namly View House is designed with these in mind; a series of spaces that embrace the surrounding raintrees, using time-tested, passive-cooling design strategies. The result is an incredible expression of a luxury tropical house.
Architect: Wallflower Architecture + Design
Photography: Marc Tey Photography
Location: 7 Namly View, Singapore 267082