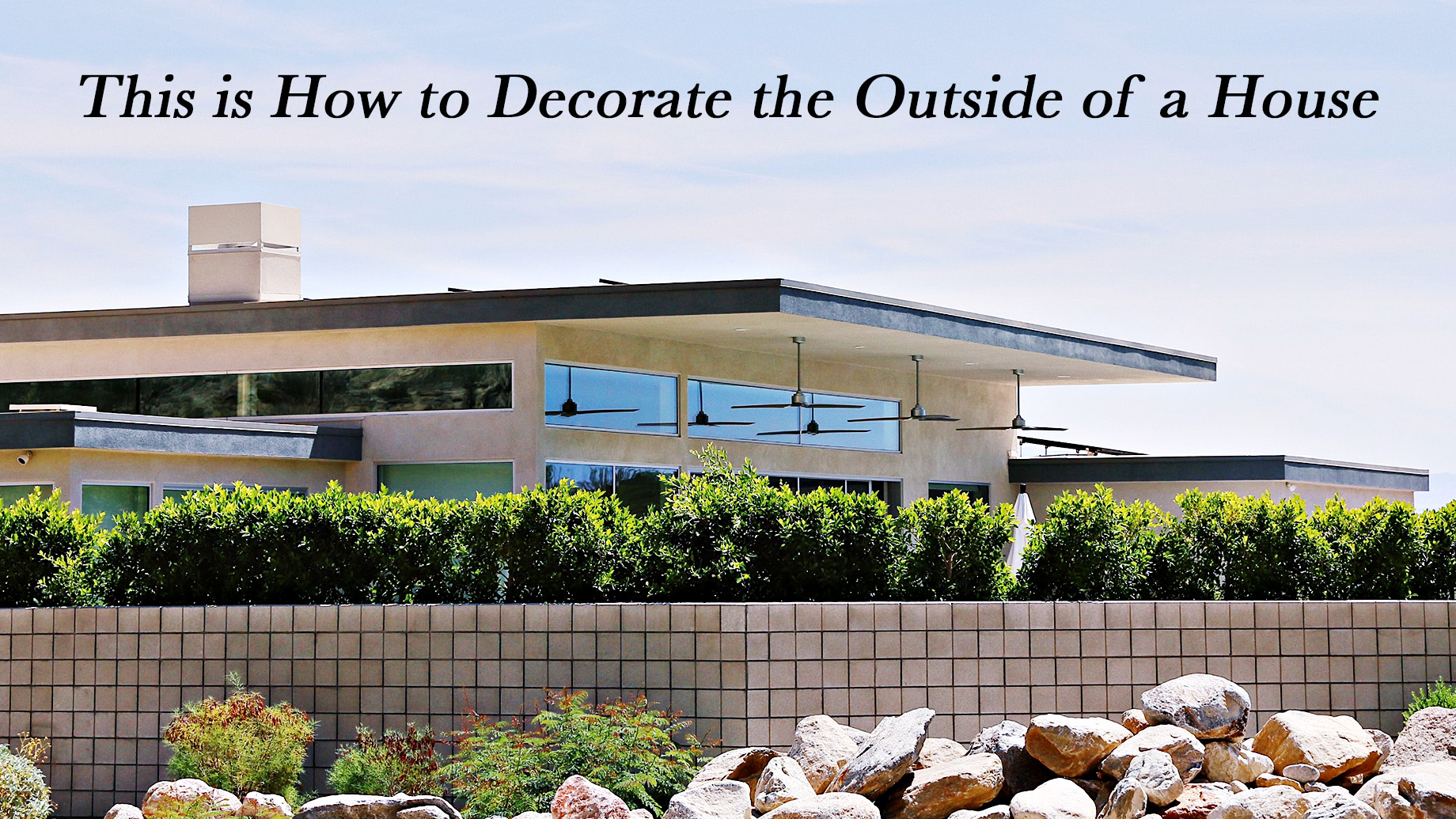 While we all know we aren't supposed to, we're all guilty of judging a book by its cover.
This means that no matter how gorgeous and pristine your home is on the inside, many people will have already made up their mind about it just based upon the outside of a house.
Basically, curb appeal is important. That's why learning how to decorate the outside of your house is a worthwhile skill to have.
Let's take a look at everything you need to know about decorating a house on the outside.
Front Door
You want your front door to have the most possible visual impact. One of the easiest ways to do this is to repaint the door in a color that is complementary to the color of the home's exterior.
You can choose more traditional colors to create a formal look such as brown, black, or gray. You can also use bright colors like orange, red, or yellow to add a more casual pop of fresh color.
Adding a seasonal wreath to your front door is a great way to add personality and warmth to the front of your house.
You might also consider updating the door knocker to fit with the overarching aesthetic of the home's facade.
Plants and Flowers
Adding some life to your front yard is a great way of decorating a house. You can do this both with potted plants and with integrated landscaping.
One beautiful way to decorate the outside of a house is to place tall, potted topiary trees on either side of the doorway to draw attention to it as a focal point of the facade. You might consider adding window boxes to each window that can be filled with flowers or seasonal greens.
Hanging flowers can be a nice addition to exterior house decorations, which can be placed along walkways, on the front porch, or wherever you see fit. This is a great way to showcase colorful annuals as a part of your home's decor.
Adding perennial flowers like hydrangeas, peonies, and lilacs will take you exterior home decoration to the next level.
If you aren't convinced yet, you might want to know that plants and flowers aren't just easy on the eyes. They also can help reduce stress and have a number of other mental health benefits. Why not help people start relaxing while their about to walk into your home with a few pieces of greenery?
Lighting
Decorative lighting is a great way to take your home exterior decor to the next level. Your lighting fixtures can illuminate the decor and the facade in general.
When it comes to exterior home decoration, there are two different types to consider. There is the overall, year-round decoration of your home, and then there are the seasonal touches you make for different holidays.
Lighting is a big part of the Christmas season, with many homeowners stringing their trees and home with beautiful, twinkling Christmas lights. Holiday light installation is something that you might want to have a professional do, as it can be time consuming and dangerous to take on the task yourself.
Decorative Accents
The sky is the limit when it comes to decorating the exterior of your home. Think of how many different elements there are visually outside of a house.
You could update your mailbox to be more reflective of your design style. You could also try out new decal house numerals.
A doormat is a great way to show guests that they are welcome and also keep unwanted dirt from entering the home. There are so many gorgeous and interesting door mats to choose from that you will be sure to find one that fits your style.
Another decorative accent you can add to the outside of your house is a flag of some sort. It can either be patriotic or seasonally relevant, whatever fits your personality and the personality of your home. YOu can hang your flag from a post on the front porch or a free-standing hook in the garden.
Your Lawn
Though it isn't the most fun part of decorating the outside of a house, you'll want to make sure your lawn is in tiptop shape if you're trying to make the facade of your house more beautiful. A lawn filled with weeds or tall grass is going to take away from all of the brilliant design choices you make about the front of your home.
The Outside of a House is an Introduction to the Inside
When you have guests over, the first thing they see is the exterior house decorations. If your front yard is disheveled and unkempt, this will sour their impression of your home to some extent regardless of the interior shape.
Taking the time to keep the outside of your house well-designed and pleasing to the eyes isn't just for your guests or neighbors, either. It is much more pleasant to come home to a home that seems put together and cared for rather that a home that no one has bothered to decorate.
When it comes time to decorate your home, it can feel overwhelming to make all the style decisions. One of the best ways to make design choices is to consider which overarching style suits you and your personality the best. While it is totally acceptable to mix different design elements from different styles, a safe way to go is to stick within one design school.
Did you find this article about decorating the outside of a house useful? If so, be sure to check out the rest of our blog for more informative and entertaining articles!