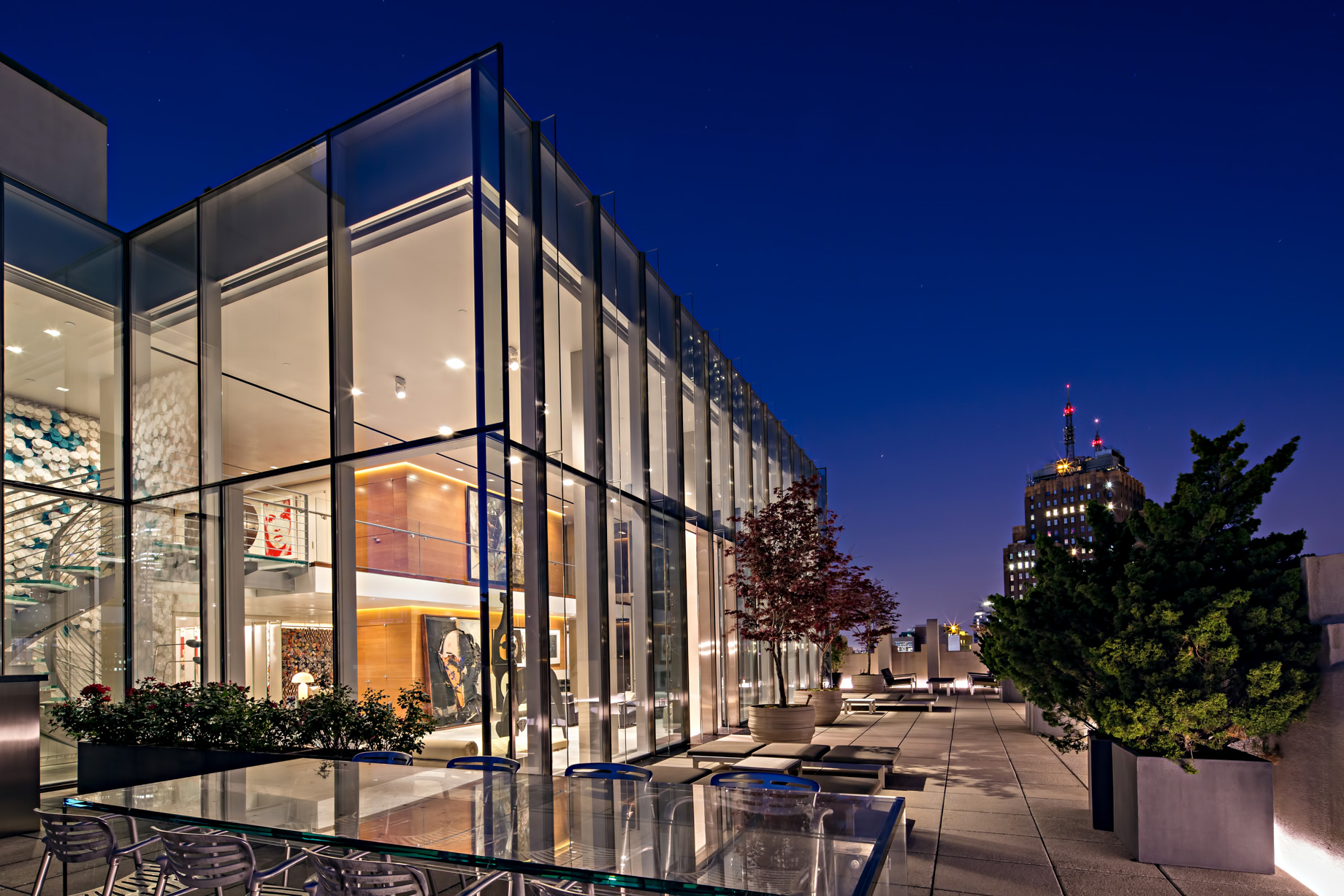 Name: Sky Lofts Glassshouse Duplex Penthouse
Type: Super Prime Multi-Level Penthouse
Price: $48,000,000 USD – (October 2014)
Purchased: $30,900,000 USD – (2009)
Bedrooms: 4
Bathrooms: 4.5
Size: 7,500 sq. ft.
Floors: 15-16
Levels: 2
Condo Fees: $13,800/month
Located atop one of Tribeca's most beautiful and revered industrial art deco style loft buildings, the 7,500 sq. ft. Duplex Penthouse atop the Sky Lofts condominium tower in New York is one of the city's most singularly unique luxury residences. A magical juxtaposition of an iconic glass box topping one of Tribeca's treasured historic buildings, the landmark penthouse is a one-of-a-kind Glasshouse in the sky.
Created by famed Architect, James Carpenter, the masterfully designed sun and temperature-controlled museum-quality insulated glass envelope of the penthouse offers a magical living environment with truly dazzling unobstructed 360 views across New York City. Residents can entertain in grand style in the 42' x 21' living room graced by 22' ceilings, a wood-burning fireplace surrounded by a floor-to-ceiling plain-sawn cherry wood hearth, and a perfect Freedom Tower view. Outside, big and bold panoramic vistas of the Freedom Tower, Empire State Building and Hudson River, encapsulate the 4,500 sq. ft. wraparound exterior terrace of this masterpiece residence.
Every detail in the construction of this luxury residence was carefully selected and quality crafted. The top-of-the-line chef's kitchen is clad with premium finishes and fixtures including custom white lacquer cabinets, bluestone counters and professional-grade appliances. Sliding glass doors in the dining area showcase views while opening up the home to even more light and air. Step out to the awe-inspiring terrace, which can be accessed from any room, where a fully equipped outdoor stainless-steel kitchen, sun deck, hot tub and private outdoor shower await. This luxury aerie delivers true Penthouse living at the top of Manhattan with show stopping style.
Penthouse Architect: James Carpenter Architects
Building Architect: Rogers Marvel Architects
Owner: William Duker (Private Investor)
Location: 145 Hudson Street, New York, NY, 10013, USA