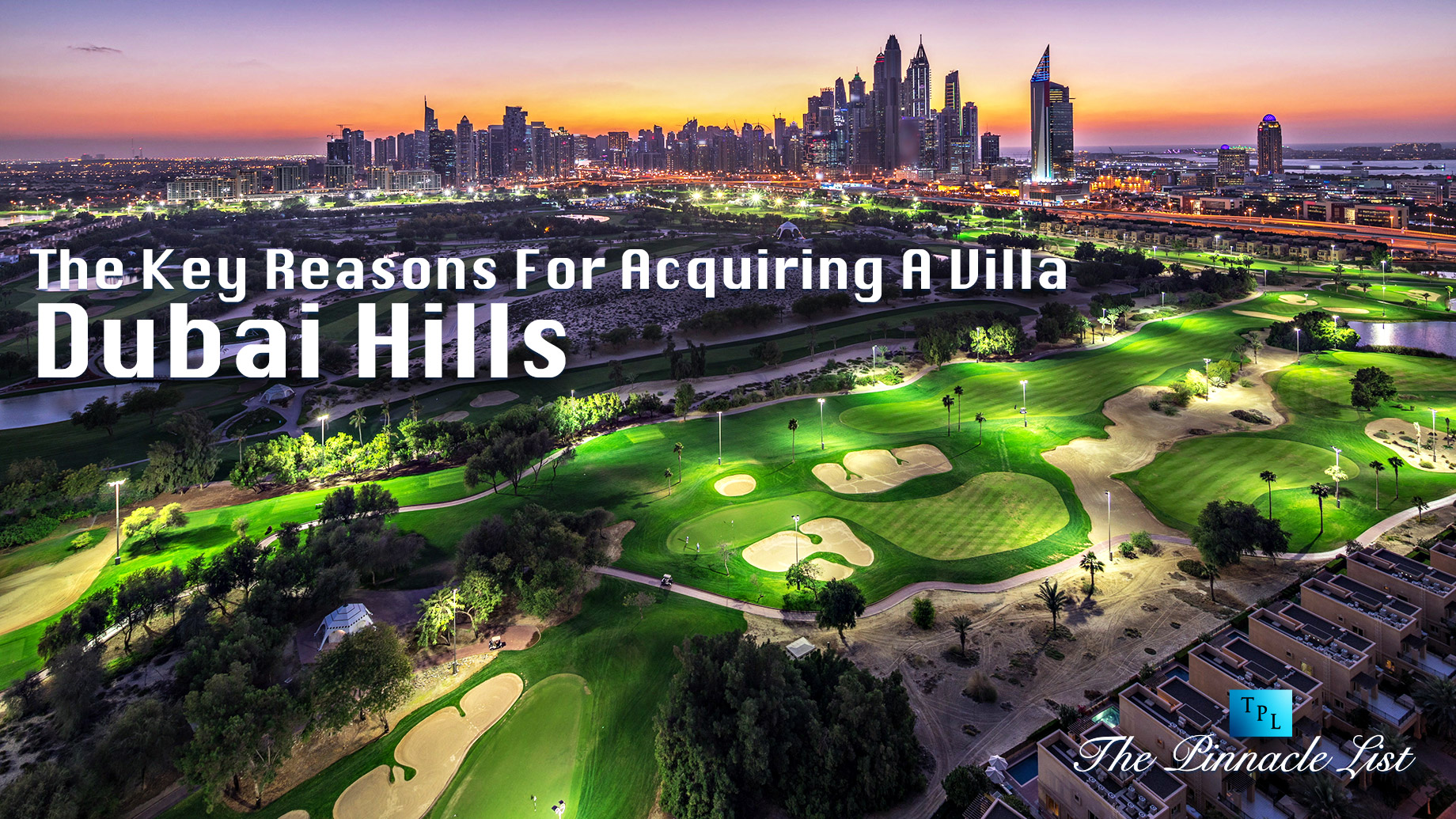 Property in Dubai Hills, UAE, is one of the most prestigious areas to buy a luxury villa in the Dubai market. The well-planned community covers over 1,000,000 m2. In addition to high-quality housing units, there are shopping malls, hotels, restaurants, bars, gyms, and other infrastructure facilities for comfortable living. Let's discuss the key reasons why investors and end-users decide to buy a villa in Dubai Hills:
Location
Location is one of the main aspects that draw a buyer's attention when choosing a new home. It is important to find a district that can provide quick and easy access to the buyer's most-visited places, as this will save a lot of time. Dubai Hills villa estates are located in the southwest of Mohammed Bin Rashid City, one of the most ambitious and popular communities in the metropolis that offers a developed infrastructure with excellent transport connections.
Amenities
Villas in Dubai Hills are equipped with world-class amenities, so that local residents will find everything they need at their fingertips. The community can offer the following:
Swimming pools
Gyms
Parks and green areas
Golf courses
Children's playgrounds
Privacy
Dubai Hills villa owners can expect the ultimate in privacy that many can only dream of. The local residential units offer their own outdoor spaces, parking spaces, and windows overlooking a small private garden. Local residents have the opportunity to draw the curtains apart and enjoy the sunshine all day long without worrying about the glances of passers-by.
Nature
Dubai Hills is a neighbourhood that appreciates the importance of nature and its impact on people. The atmosphere that reigns here allows you to unwind and enjoy the time in the fresh air. Locals can relax and organize barbecues in the recreation areas on the grassy lawns, and go cycling or jogging on special tracks.
Investment appeal
Dubai Hills real estate is in demand among investors due to the high level of yield. Have a look at the return on investment for the community's villas in the following table:
| Number of Bedrooms | ROI |
| --- | --- |
| 3 | 5.1% |
| 4 | 4.8% |
| 5 | 4.4% |
| 6 | 3.8% |
| 7 | 4.3% |
The high level of security
The district is perfect for families looking to relocate, because parents here do not have to worry about their children being safe and sound, as among one the main pros of Dubai Hills are CCTV cameras, along with other security devices that keep this location quiet and peaceful.
Well-designed layouts
Residential units in the territory have the most well-designed layouts that allow local residents to use the space more effectively. Due to this factor, members of large families can easily move around the house and attend to their personal matters without causing inconvenience to each other.
A broad range of properties
Residential units include more than 2,000 villas and 1,000 apartments in mid-rise buildings. They are designed for more than 100,000 residents. In terms of the configurations, studios, 1-4 bedroom apartments, and 3-7 bedroom villas can be found here.
Active lifestyle
There are several parks, green spaces, tennis courts, and running tracks on the territory. Also, here you can find a volleyball court, a tennis court, a skate park, a water park, an outdoor gym, a children's playground, and paths for quiet walks. Apartment complexes offer communal gyms and swimming pools. This expands fitness and outdoor activities.
Of course, the pearl of Dubai Hills is the golf club. The championship 18-hole Dubai Hills Golf Club course covers an area of 1,200,000 m2. There is a lighted training field, a golf course, a golf academy, and several cafes.
Things to consider before moving to the community
Despite the many perks, potential buyers of local housing units should also consider two main disadvantages:
Currently, Dubai Hills is under construction. In this location, the construction of residential and commercial units is still ongoing. Some residents may be concerned by this, but most building sites are far from apartment complexes and private residences.
The lack of public transport. There is no public transport in the community at the moment. However, this is expected to change soon, after adding bus stops. Until then, residents can use the metro and buses in the nearby Al Barsha area.
Assistance with buying property in Dubai Hills
Qualified specialists in AX Capital are ready to provide comprehensive advice to help buyers with the selection of Dubai property according to their requirements and capabilities. Also, agency clients can count on full support during the real estate transaction, plus quality after-sales service.