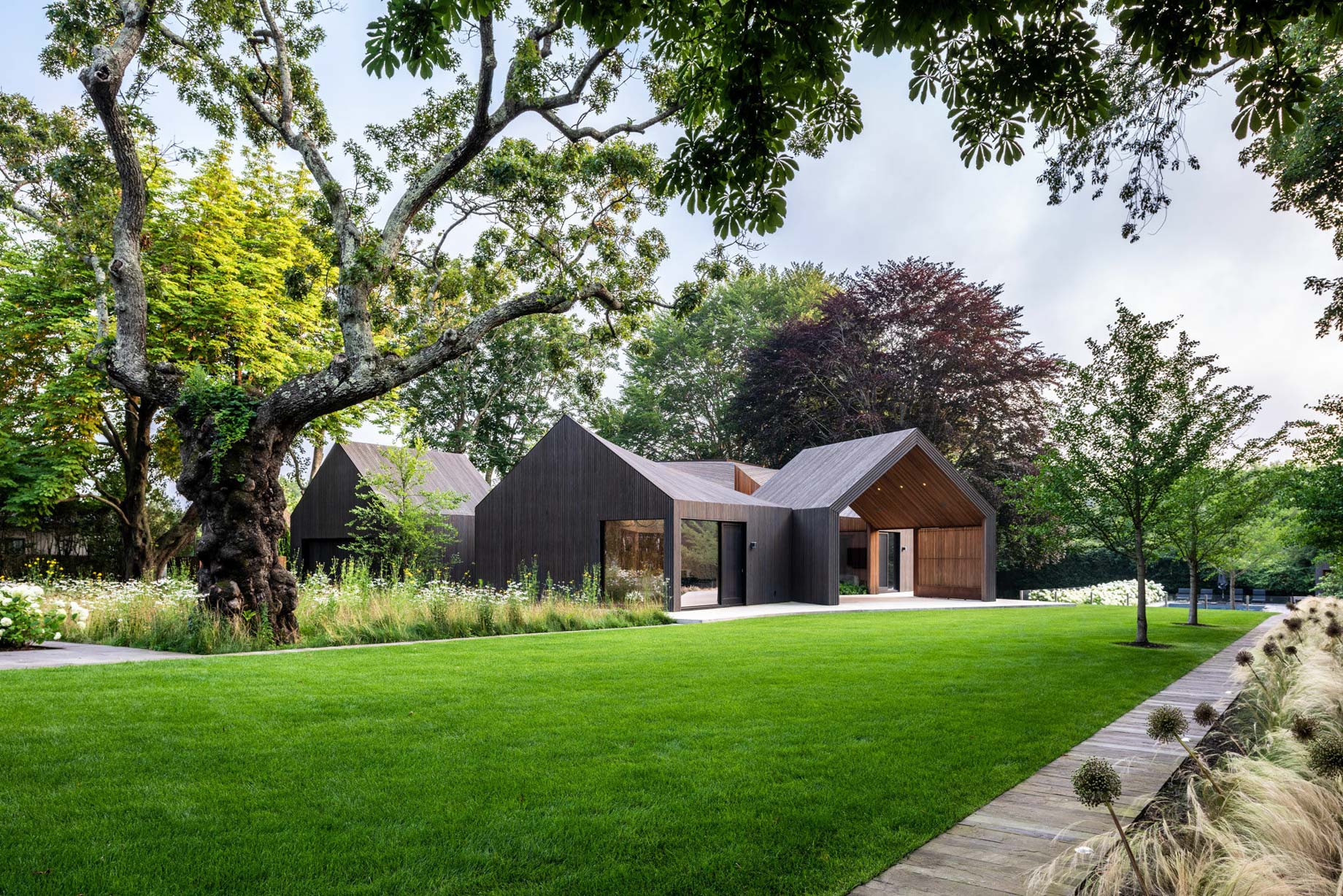 Name: Six Square House
Bedrooms: 2
Bathrooms: 3
Size: 3,500 sqft (325 sqm)
Built: 2021
Nestled on a picturesque 2-acre lot adjacent to a charming 1850s farmhouse in Bridgehampton, New York, the Six Square House stands as a testament to the seamless integration of contemporary architecture with Long Island's historic vernacular with an innovative design that resonates historic charm. Comprising six gabled modules, each measuring 24'x24′, the residence showcases a striking juxtaposition of modernity and tradition. The rooflines of these modules converge to form a harmonious flow, while the eaves ascend and descend, creating a captivating interplay of surfaces that unfold both externally and internally. Clad in a sophisticated deep gray Accoya wood with elegant slats, the exterior materiality enhances the dynamic contours of the roof, weaving a visual narrative that pays homage to the site's heritage.
Designed by the visionary team at Young Projects the Six Square House reimagines the conventional barn typology, seamlessly integrating it with the existing farmhouse and introducing contemporary nuances. Bryan Young, founder, and co-principal of Young Projects, explains, "Starting with the simple vernacular typology of a barn, the hybrid roofscape of the connected squares ebbs and flows as a new dynamic figure, contemporary in its language but timeless in its origin." The layout strategically tessellates around a central triangular courtyard, creating a compelling balance of symmetry and asymmetry. This arrangement not only delineates distinct functionalities for each module, such as living, kitchen, bedrooms, porch, and garage, but also invites breathtaking views of the lush surroundings, ensuring every vantage point offers a unique perspective.
Inside the residence, the architectural language transcends into a spatial experience that blurs boundaries between discrete volumes. The living areas and kitchen coalesce into a grand open space, guided by the undulating rhythm of the ceiling, a testament to the meticulous craftsmanship. Rooms are thoughtfully positioned to optimize both visual and physical connections to the gardens, emphasizing privacy in the bedrooms while framing cherished views of the property's mature trees. The Six Square House not only serves as a primary residence but also acts as the nucleus of a dynamic property, seamlessly linking old and new structures, providing an exquisite backdrop for gatherings, and embracing the nuances of every season.
Architect: Young Projects
Builder: Taconic Builders
Interior: Studio Frazar
Exterior: reSAWN TIMBER co
Landscape: Coen+Partners
Photography: Alan Tansey
Location: Bridgehampton, NY, USA