Some of the most luxurious, beautiful estates on the east coast can be found in the Garden State. Mansions with rich history, gorgeous details and breathtaking land are the norm among New Jersey's wealthiest. These standing masterpieces a lucky few call home can easily cost more than $20 million, but do not come close to $117.5 million—the highest price ever paid for a single family home in the US.
Hacklebarney Hollow – 111 Hacklebarney Rd, Chester, NJ
This beautiful mansion sits next to the Black River in Chester New Jersey and is surrounded by more than 250 preserved parkland acres. Hacklebarney Hollow was purposely built to fit into the idyllic garden setting to avoid disrupting the surrounding natural habit. The main house, originally a barn circa 1760, was expanded in 2010 and furnished with modern day architectural components, creating a charming blend of old and new world living.
Deerfield Farm – 650 Pottersville Rd, Bedminster, NJ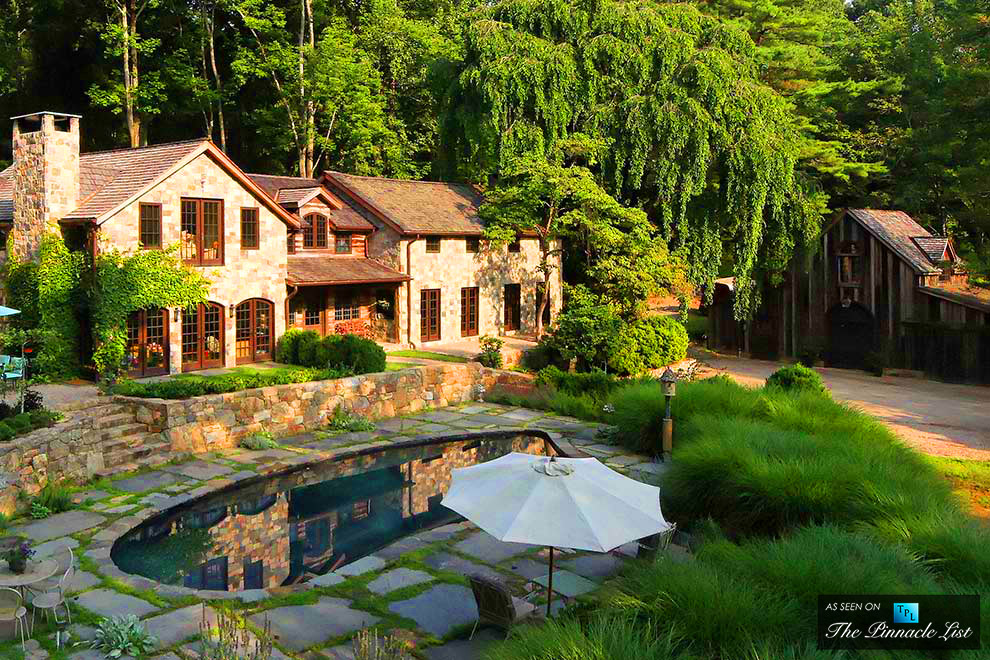 An equestrian facility and home, Deerfield Farm is a horse lover's haven. The mansion boasts a two-story stable with stone courtyard, eight horse stalls, two wash stalls, a heated tack room and a hayloft. Additionally, an outdoor riding ring, paddocks and run-in sheds sprawl across the plot. The interior is just as breathtaking with its 11 fireplaces, spa and formal dining room. Deerfield Farm's Bedminster location also has easy access to shopping, dining and recreational areas.
Upton Pyne – 67 Ravine Lake Road, Bernardsville Borough, NJ
Rich in history, Upton Pyne is one of the mansions that make up the "Mountain Colony" on Bernardsville mountain. This masterpiece of a home was designed by Lawrence Aspenwaul in 1899 on 200 acres purchased by Percy R. Pyne. Its Gothic influences make the Pyne residence a historic artifact that holds an elegant timelessness. The estate is four stories high and has more than 30 rooms, including, but certainly not limited to, a gourmet kitchen, three powder rooms, a library and an impressive six-room master bedroom suite.
Lake Iosco House – Lake Iosco Rd, Bloomingdale, NJ
This lake house was designed by Re4a and is fittingly situated on Lake Iosco. Its modern construction contains three bedrooms, three bathrooms, a study room, a playroom, a lakefront deck and a carport. With a New Jersey Boat Safety Certificate, residents can take advantage of this angler's paradise simply by stepping out the front door.
Hillandale Manor – 29 Independence Rd, Red Bank, NJ
Hillandale was built by the Mosles in 1906 and sits on 32 acres of land. Its unique rustic exterior features stone and brick walls and a tile roof that amplifies the mansion's quaint cottage look. This collection of five buildings was once an orphanage for boys and later a boarding and day school. Facilities like the gymnasium, chapel, school wings and lecture hall (Fatima Hall) are remnants of what this beautiful estate was once used for.
Hilltop Mansion – 10 Fieldview Lane, Tewksbury, NJ
Founders of Ford Models, Eileen, and Jerry Ford, named their countryside mansion after its location on the Hunterdon Hills. Built in 1995 with a floor plan that includes eight bedrooms, five bathrooms, and four half baths, this breathtaking estate's beauty peaks during spring when thousands of daffodils bloom in its gardens. The tiles, fireplaces, and outdoor terrace were all inspired by the Fords' world travels, making Hilltop an extension of this well-known couple's personality.