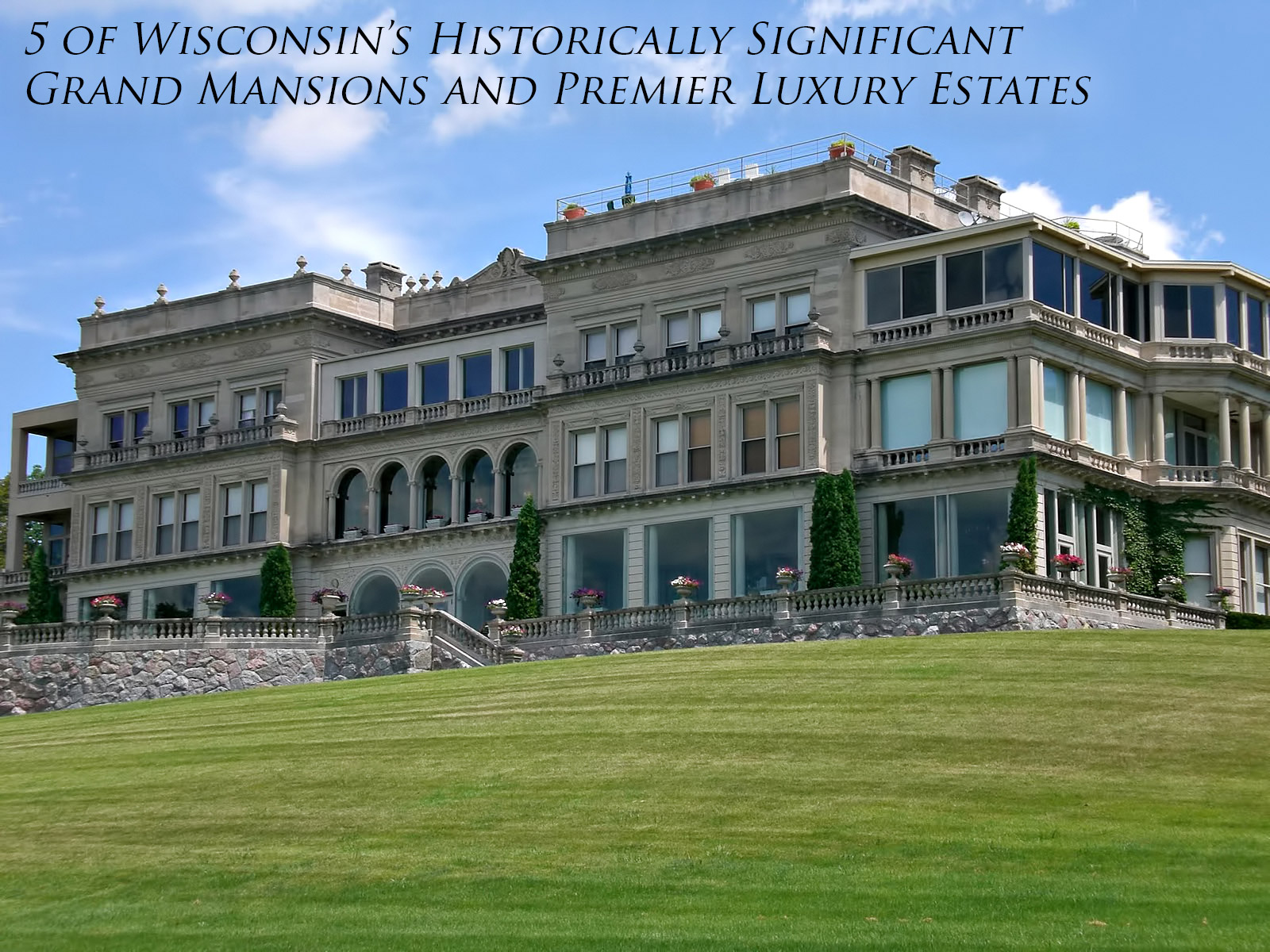 With one of the most expensive luxury properties on the market in Wisconsin recently being offered at $27 million, the state's high-end home prices only reach a fraction of those in Los Angeles, New York, or Miami. However, many of the premier Wisconsin luxury estates and mansions offer significantly higher historical pedigrees with a rich history of ownership that includes some of the most prominent families in America. These magnificent historic and contemporary homes often include stellar lakefront views and large landscaped properties perfect for hosting lush parties and summer gatherings reminiscent of a bygone era of affluence.
The following five estates and mansions represent some of the most significant luxury homes spanning the state of Wisconsin:
Maxwell Mansion – Lake Geneva, WI
Originally constructed by Chicago Surgeon and real estate prospector Dr. Phillip Maxwell in 1856, the elaborate Maxwell Mansion was conceived as a large summer dwelling just blocks away from Lake Geneva. Today the Maxwell Mansion is regarded as one of Lake Geneva's finest landmarks and operates as a boutique inn offering 5 luxurious rooms that can be rented nightly or weekly. While the inn has a night manager on site, it is not a traditional bed and breakfast, as it has no traditional food service. However, if you love luxurious vacations, this could be the perfect place to stay for a honeymoon or a romantic getaway, just as it was during the early courtship of Nancy Davis, who later became the wife of President Ronald Reagan.
Knollwood Mansion – Oconomowoc, WI
Offered for sale in September 2010 at $6.5 million, the Knollwood mansion was originally built in 1926 for the heiress to the Montgomery Ward fortune, Marjorie Montgomery Ward Baker. Designed in the French Country style by architect Thomas S. Van Alyea, this historic 8-bedroom, 15-bath Wisconsin home is set along Lac Le Belle. Offering 4 fireplaces, a 5-car garage, marble floors, and a grand staircase, this newly renovated 15,000 sq. ft. estate is an incredible example of historic elegance. Recently reduced to $3.695 million, the estate was removed from the market in January 2014. Its location in Oconomowic is not that far from the popular Wisconsin Dells, making the area a good jumping off base for a vacation that combines relaxing lake time with the famous water parks of the Dells. You can learn more about this area at Dells.com.
Chateau de Lac – Ellison Bay, WI
Recognized as one of the most expensive homes in Wisconsin when it was offered for sale at $29 million on January 18, 2008, the 35,000 sq. ft. Chateau du Lac estate, owned by businessman Frank Spitzer, currently remains on the market at a reduced price of $8.75 million. Believed to be the largest home in Wisconsin, the estate is now known as the Ellison Bay Manor. Featuring an art deco theater, an indoor pool and spa, a 7-room 5,000 sq. ft. master suite, its own guesthouse, beach house, studio and pier on a lake, this property which sits high on a bluff overlooking the Green Bay side of Lake Michigan, is acknowledged as being one of the premier luxury homes in Wisconsin.
Wrigley Estate – Lake Geneva, WI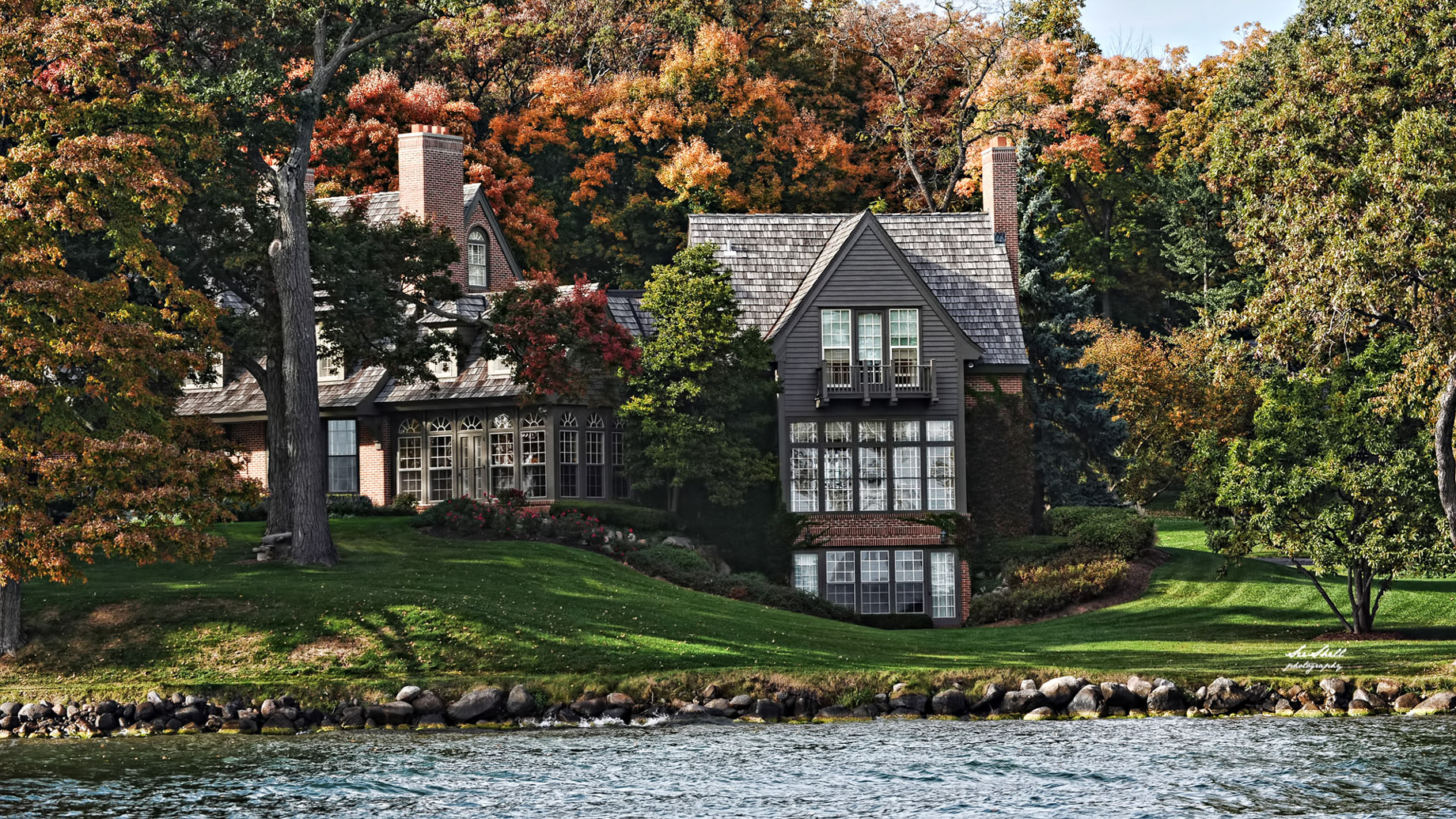 A collection of 6 luxury Lake Geneva properties, Wrigley Estate has properties that date back to 1876 and were built for the President of the Santa Fe Railroad. It was informally named after the Wrigley family, that built one of the most famous billionaire fortunes in the United States, after P.K. Wrigley purchased one of the properties, Green Gables, in 1911. The original Green Cables was torn down in 1955 and replaced by a new "state of the art" home in 1966 where everything from the flagpole to the draperies was controlled electrically. Being his main residence at the time of his death in 1977, P.K. Wrigley's fortune included the Wrigley Chewing Gum Company (the company was acquired by Mars, Inc. for $23 billion in 2008), The Chicago Cubs, Wrigley Field, The Wrigley Building in downtown Chicago, significant real estate holdings in downtown Phoenix, Arizona and most of Catalina Island off the coast of Southern California. Currently, the homes that make up Wrigley Estate have several owners; some are still in the Wrigley family, while others have been donated to the University of Chicago.
Edgewood Estate – Lake Geneva, WI
Also on the shores of Lake Geneva, Edgewood was built in 1906 by the famous architect, Howard Van Doren Shaw for Edward F. Swift, heir to the Swift & Company, Chicago's first meatpacking company, founded by his father Gustavus Swift. Originally named Villa Hortensia after Edward's wife Hortense, the home was sold in 1922 to Silas J. Llewllyn and its name changed to Pen-Y-Bryn in honor of his native Wales. Today the Edgewood estate is the summer home of a prominent Chicago businessman. The stately residence with its manicured lawns and landscaped property continued to be one of the most attractive homes along Lake Geneva.
Many of Wisconsin's mansions and estates were home to the scions of American businesses, including Harris, Allerton, Montgomery Ward, John M. Smyth, Pinkerton, Sears, Levy Leiter, and many others. The opulence, grandeur and elegance of some of these residences, has earned them a designation on the U.S. National Register of Historic Places.