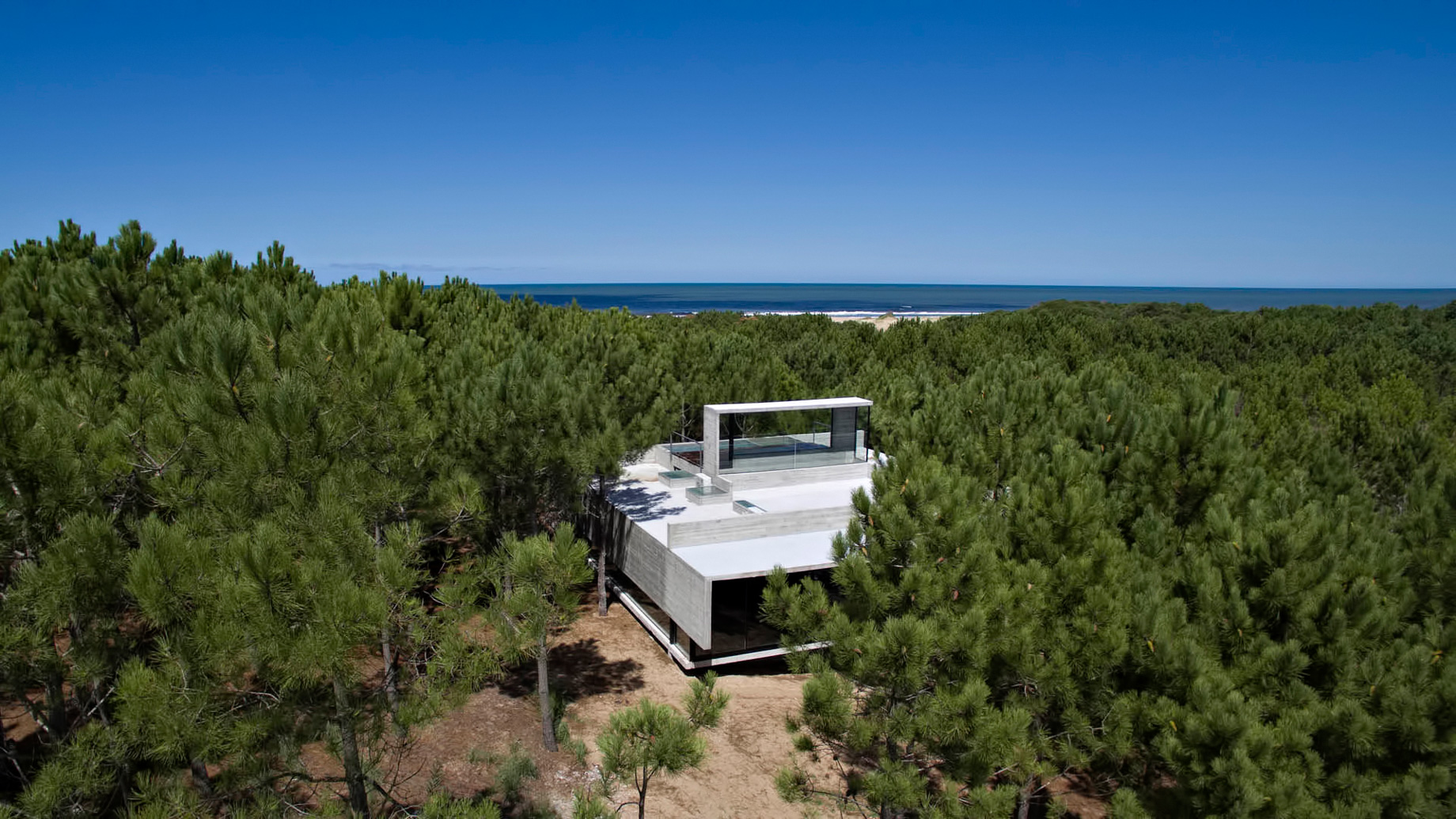 Name: L4 House
Type: Modern Contemporary
Bedrooms: 4
Bathrooms: 4
Size: 2,411 sq. ft.
Lot: 11,840 sq. ft.
Built: 2015
Cast in place as a monolithic sculpture of concrete and glass, the L4 house is a luxury holiday residence set within Costa Esmeralda in Argentina amid a lush virgin coastal landscape of pine trees and sand dunes that resolutely admire sensational sea views embraced by crystal blue skies. The striking residence was dramatically architected as a suspended box with large concrete slabs that form the autonomous material elements of the structure while, at the same time, expressing a poetic intimate harmony of place within the topography of the setting.
While blind walls with horizontal cracks closed the sides of the home, a transparent barrier occupying the box's whole width and height directing views and framing the visuals enclosed both the front and the rear. On the rear, the opening framings help the inside expand into the semi-covered deck that merges into the outdoor space. The concrete's own malleability allowed the stairs to be conceived as an autonomous sculptural element while the walls that separate the bedrooms from the central area were treated with the same expressive plasticity, thus generating niches and protruding volumes that function as fixed furniture.
Located in a master planned coastal community with 1,000 hectares of pine forest, continental dunes and 3,200 meters of pristine coastline, the natural terrain embraces the residence as if it is a constituent part of its environment. This jewel of modern architectural minimalism seduces you with an impactful simplicity of design that is a luxury unto itself.
Architect: Luciano Kruk
Photography: Daniela Mac Adden and Diego Medina
Location: Costa Esmeralda, Buenos Aires, Argentina