Flick through Hello Magazine or watch any home show or even TMZ and you'll soon find yourself green with house envy at the size and style of celebrity homes. From garages filled with supercars to kitchens big enough to feed a football team, it's easy to aspire to something that could be way beyond what most people could reasonably earn in a lifetime.
Many of us would like to own a nice house at some stage, and it doesn't always take a rock star's salary to get there. With over 300,000 first time buyers in the UK last year according to Halifax Bank, we're certainly more willing to get on the property ladder. However, with the average price of a first home surpassing £200,000 for the first time in 2017, there may not be as much budget for improvements.
But with a bit of shopping around and a few crafty ideas, you can put together a home fit for a king or queen, or a moderately successful Championship footballer, without having to spend several years' worth of salary. Check out these easy ideas, as well as a few money saving tips to help transform your two-bed terrace into a crib fit for MTV.
1. Focus on Necessities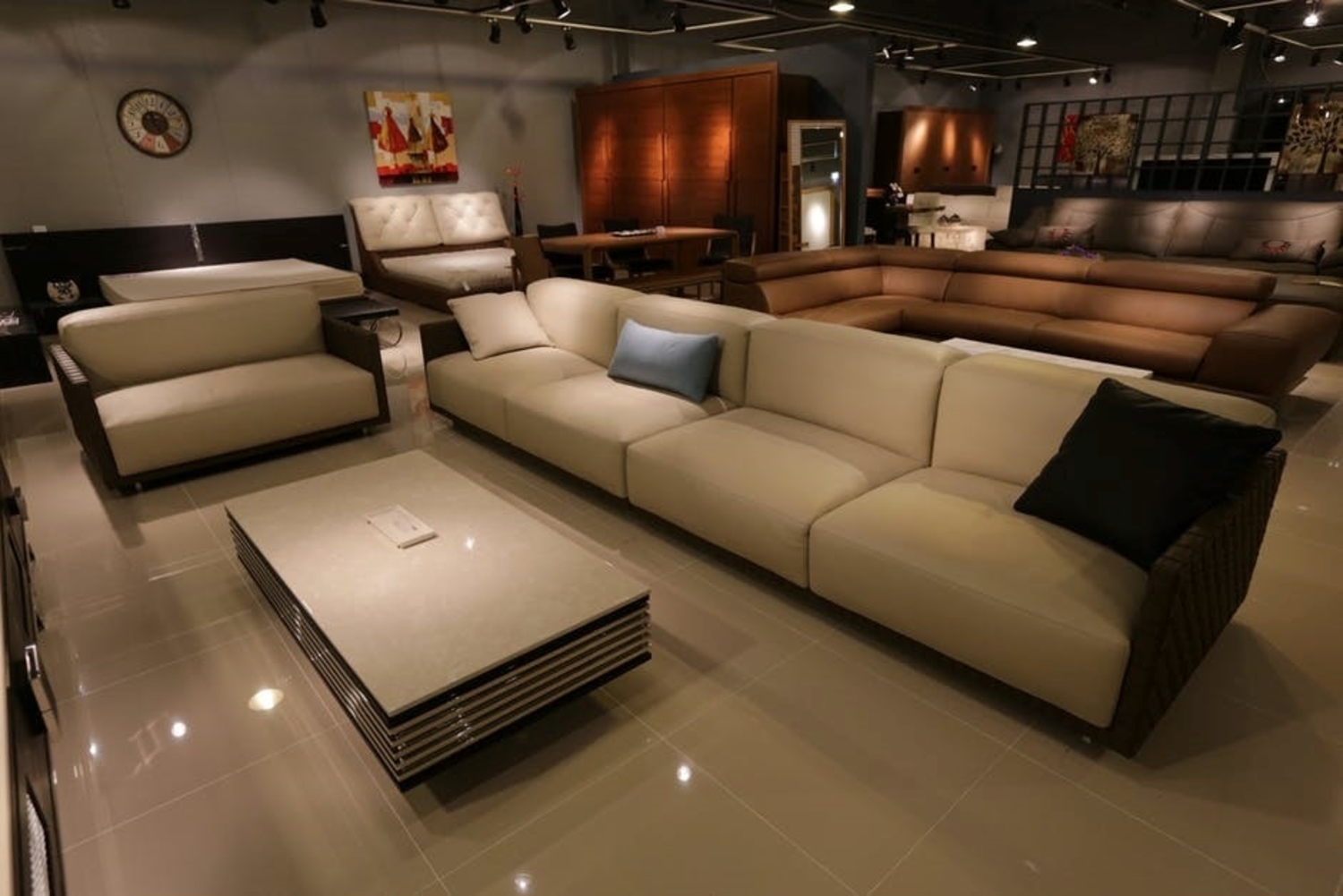 Turn up to a rich person's house and you'll notice that everything is styled as if a designer did it, from the curtains to the cutlery. That's what happens when you have money to burn on interior designers and stylists who won't take cost into account when they're putting together a masterpiece.
A good trick to get that quality feel without having to spend a fortune on chrome candlesticks is by only splashing out on the most important stuff.
Have you ever visited someone's home and marvelled at they're comfy sofa? Or stayed in an extremely comfy bed you wish you had? If these things are most important to you, make them your priority, and allocate your budget accordingly.
Instead of trying to get the whole house looking like a luxury hotel, spend your money on things like sofas, dining room chairs, beds, towels and kitchenware. If you spend less on the little things that aren't used every day and refrain from buying that expensive picture that you'll get sick of looking at in six months, you'll have more to spend on nicer carpets or a bigger bed. Less money spent on that means more for nice stuff that you'll actually use.
2. Join the Upcycling Revolution
Shabby chic is always in, which is great news if you don't have bags of cash lying around. Over 20% of us would rather rescue old furniture for our homes than go out and buy brand new, a growing trend as we become more environmentally conscious, and more careful with money. A quick trip the charity shop is an absolute must if you're trying to spice up your home, but look at the stuff in there with an open mind. Imagine that chest of drawers painted a different colour, or that lamp with a different shade. Upcycling is so easy to do, and could transform the ordinary into the extraordinary with very little effort. 
A good tip is to take an expensive furniture catalogue with you and try to copy the styles in there, or get something close enough and make it look more like that. Once you've found the old junk that you're going to turn into modern art, it's time to get creative. Upcycling is a great way of learning new skills, and will help the inner DIY God or Goddess to come out with the sanding, painting or varnishing that's required. The end result can look beautiful, and leave your guests none the wiser. Just make sure you do plenty of research on your project first, and use sites like Pinterest for inspiration. Plus, it saves things from ending up in landfill, so you can feel a bit better about saving the environment.
3. Get the Light Right
In winter there can be weeks where you probably won't see any sunlight at all – so it's crucial you get your lighting right inside. Here are a few quick hacks that can make a dark and dingy room an illuminated paradise.
Having many lamps is an easy way to make a room both lighter and more atmospheric. Instead of a large central light that can actually make a room feel duller, use a standing lamp and a smaller lamp on a table to create two kinds of light that can be moved and altered to cast different glows depending on the time of day or the mood you're going for.
The other option is to go for smart lighting, which gives you ultimate control and flexibility. You can change the colour of the bulb and adjust the level and brightness from your smartphone – so whether you want ambient lighting for relaxed nights in front of the TV, or a more adventurous colour if you're hosting a party, the choice is yours.
4. Make Room for Fun
A happy home is one that caters for your interests as well as your comforts and necessities. While for some people this looks like a shed full of tools, for others it's about having a dressing room packed with clothes and make-up.
We all have different ideas of how we can turn our homes into playgrounds, but if you love having guests around, why not build a games room? A Las Vegas inspired mini casino could be the thing that means that you see more of your friends and family, and it's not that hard to build one.
You can buy ready-made gaming tables and things like mini roulette wheels, but why not try and make your own from an old table and some classy felt? And remember, no one wants to have to learn a load of complicated instructions for a game they've never played before while trying to have fun at a party. Keep it simple by going for the classics, poker, blackjack and craps, which are all easy to set up and cheap to play. Craps in particular is a great game to play when socialising. Show off your new-look luxury house and get your friends round for a game.
It's important to state at this point that holding a commercial casino night without a license is illegal in most countries across the world, so make sure you play with chips rather than cold, hard cash.
5. Get Creative in the Kitchen
For a lot of people, the kitchen can is the place you spend lots of time, whether it's cooking a lavish meal, or boiling the kettle for your 15th cup of tea. So why not transform this important space into something a bit more useful and better looking?
You don't have to get new units fitted to spruce up the place – even just investing in some new plates, glasses and cutlery can make mealtimes feel more premium. Go for bright colours or interesting shapes and you might be surprised how much of a positive difference it makes. Take it a step further by upgrading your appliances. You could also buy a funky toaster, or a colourful bread mixer, to give a tired-looking kitchen a slick, techy feel.
For a really easy fix, get some cool drawer knobs from a hardware store and give your old cabinet doors a lick of paint. White is always a good colour for kitchens, and your colourful new appliances will really stand out on a plain background, but don't be afraid to go bold.
6. Stay Clean and Tidy
This one literally costs nothing if you've already got cleaning equipment lying around. Instead of rushing out to buy new items and paint the walls, try giving everything a good scrub. You'll be amazed how quickly a dirty window and yellowing radiator can make a room look shabby, and the wonders of carpet cleaner and several runs over with the hoover can transform a living area completely. Celebs will obviously be paying a cleaner to come around several times a week to keep things looking good, so you can do this too, except you'll need to apply some elbow grease instead of spending more money on domestic help.
Giving your home a luxury feel doesn't cost as much as you think, and doesn't take that much time, either. Follow these tips and you'll soon have a spotless house that's the best it can be in no time.