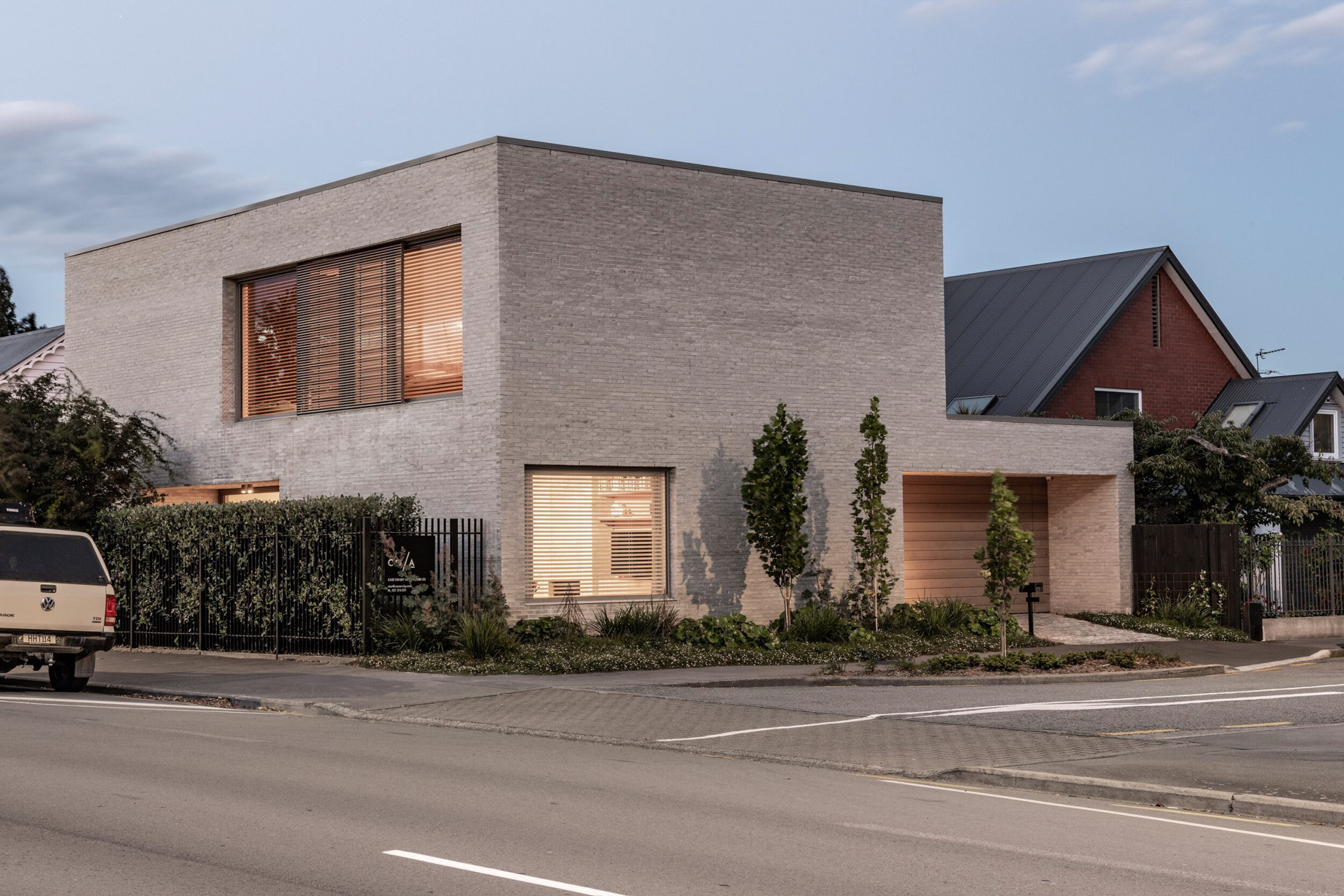 Name: Ornsby House
Bedrooms: 3
Bathrooms: 3
Size: 2,583 sq. ft.
Lot: 2,938 sq. ft.
Built: 2019
The Ornsby House takes on the design of a cuboid brick house in central Christchurch embodying an interplay of international influences, ranging from the iconic terrace houses of Sydney's inner east to early European modernism. Completed in 2019, the house acts as a strong bookend between the executive residential and commercial area of Victoria Street. The house has become an instant classic due to its masterful design, which shuns the traditional and creates a carefully considered town home fitting for any international metropolis.
The design of the house articulates an interplay between cuboid forms offset with terraces at ground and first-floor levels. The living room window directly faces the street to the south, inviting interaction between passers-by and inhabitants. The kitchen and main dining area open onto a courtyard planted with olives and fragrant star jasmine. Split stone imported from Greece blends seamlessly with the tonal variation of the brick, creating a cohesive textural setting.
The master bedroom, painted a deep grey-green, opens to the north and east, offering a restful escape from the city. Each of the three ensuites has a skylight over the shower, while concrete-finish ceramic tiles meet American oak cabinetry and granite vanities. The house's design elements, such as the burnished concrete floor, American oak veneer kitchen/scullery, and imported stone paving, demonstrate the architect's attention to detail. With its intentional connection between interior and exterior elements, the house's design creates a sense of community that is similar to the connections between occupants and passers-by in the terrace houses of Darlinghurst.
Architect: Case Ornsby Design Pty Ltd
Photography: Stephen Goodenough
Location: 1 Conference Street, Christchurch Central City, Christchurch 8013, New Zealand