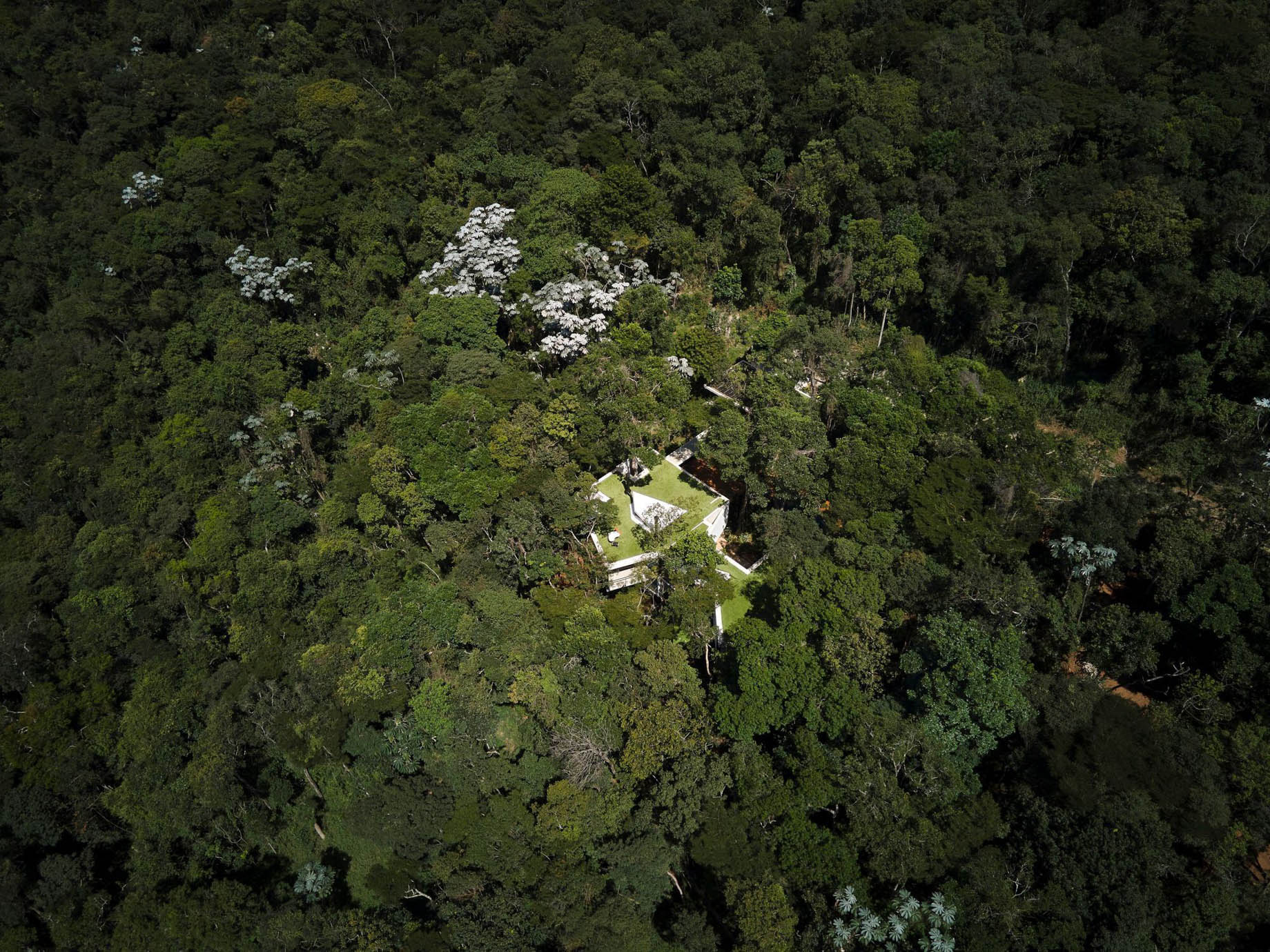 Name: Açucena House
Bedrooms: 3
Bathrooms: 6
Size: 5,382 sq. ft.
Built: 2021
Introducing a true architectural masterpiece, the Açucena House, a sanctuary nestled within the verdant embrace of the Atlantic Rainforest in Brazil. Enveloped by towering leafy giants, vibrant foliage, and teeming with indigenous avian and wildlife, this stunning residence harmoniously merges with its untamed surroundings. Poised on the undulating slopes of Nova Lima in Minas Gerais, Açucena House is a testament to architectural ingenuity in the face of challenging topography.
In a brilliant feat of design, the project preserves the natural essence of the land, paying homage to the awe-inspiring canopy that reaches skyward. The inclination to honor this vertical perspective spurred the genesis of a concept that not only surmounts the steep terrain but also affords inhabitants the daily spectacle of skyward gazes through the forest canopy. Here, the architecture conforms to the land, elevating itself above the earth while nurturing a thriving ecosystem beneath. Each facet of the design carefully interlaces with the environment, respecting the arboreal sentinels and the lay of the land.
Açucena House emerges as a striking tableau of white against the lush green backdrop. A whimsical dance of black pillars, mirroring the sinuous forms of tree trunks, imbues the structure with an ethereal quality. The residence seemingly levitates, its fluid layout organically determined by the program's interplay with the arboreal tapestry. Openings and folds in the structure's form artfully frame vistas of the treetops, sculpting a dynamic silhouette. Açucena House is a symphony of nature and art, where the purity of white petals unfurls amidst the wild expanse, offering an architectural revelation in the heart of the forest.
Architect: TETRO Arquitetura
Photography: Jomar Braganca
Location: Nova Lima, Minas Gerais, Brazil