Why not chase away the winter blues with a luxury experiential yachting adventure in the Caribbean? An experiential private crewed yacht charter offers the ultimate winter escape. Enjoy exceptional service levels and experiences tailored just for you aboard your very own private self-sufficient sanctuary.
Experiential cruising is surging in popularity as people seek purposeful, authentic, and tailored experiences on the water. In days gone by, a yacht was used simply as a means of getting from point A to point B. With experiential yachting your charter is equally about the yacht as it is about the destination; a yacht is now your place to enjoy unrivalled experiences and adventures. This change is being driven by a younger generation, including Millennials and Gen Z, who seek more purposeful travel experiences.
An experiential yachting charter in the Caribbean offers myriad opportunities to enjoy tailored experiences, from learning about marine sustainability to participating in immersive cultural events and bespoke authentic adventures.
The Caribbean is one of the world's most paradisiacal cruising destinations, offering world-class amenities coupled with azure blue waters and palm-fringed white sandy beaches. Enjoy an island-hopping adventure cruising the Exumas or enjoy exclusive resorts, award-winning restaurants, and VIP beach clubs on the British Virgin Islands.
M/Y AFTER YOU is an exquisite Caribbean yacht charter that offers refined levels of luxury and a host of onboard amenities for an experiential Caribbean getaway.
Keep reading to learn more about Motor Yacht AFTER YOU for charter with YACHTZOO and explore the best destinations to drop anchor in the Caribbean.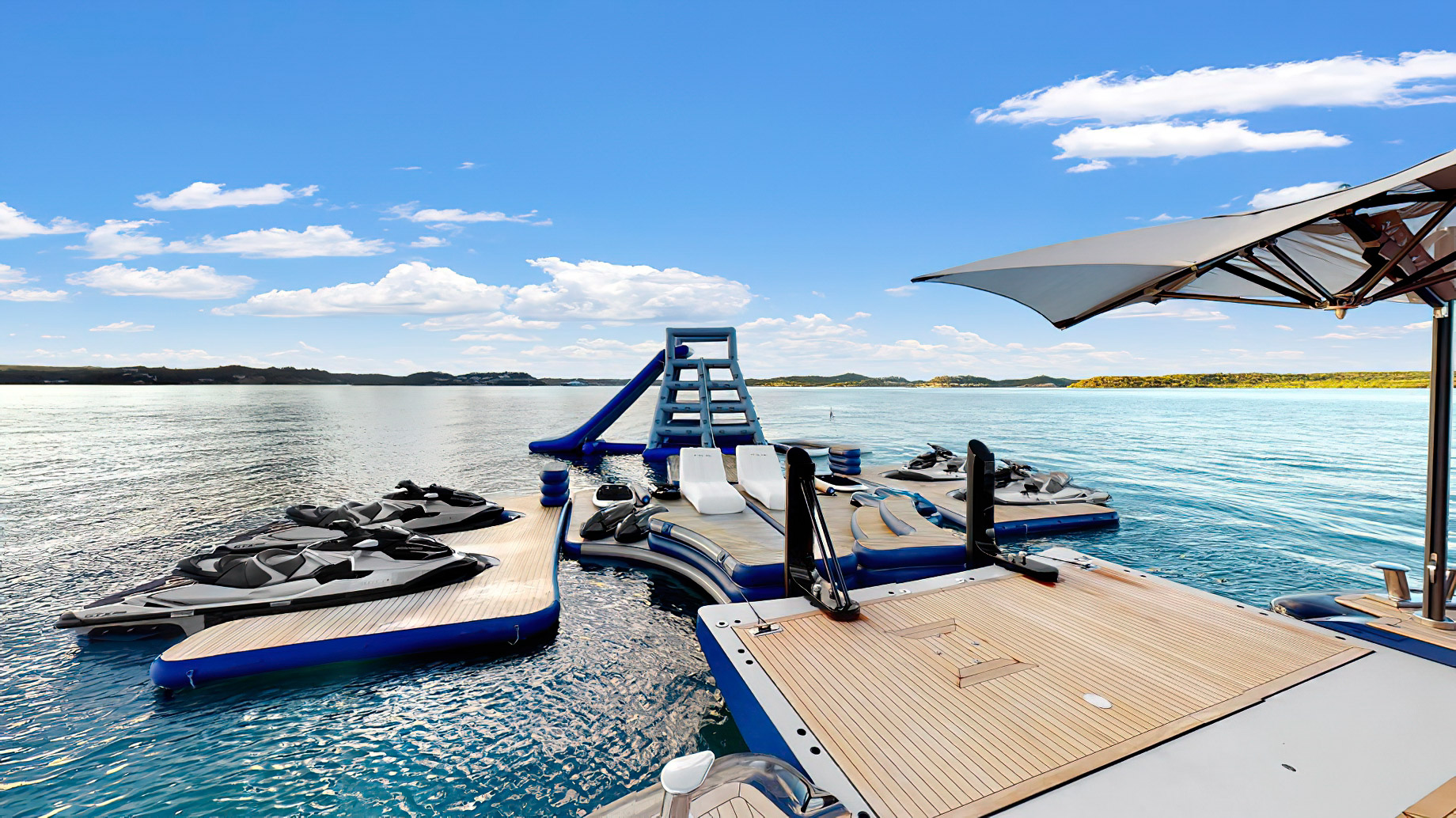 Cruise the Caribbean aboard M/Y AFTER YOU yacht for charter
M/Y AFTER YOU is a spectacular 55-metre Heesen yacht that has been purposefully designed to ensure maximum enjoyment.
One of her highlights is the opportunity to enjoy an unforgettable treasure hunt, providing a unique way to bond with family and friends.
Luxury treasure hunts have surged in popularity on private yacht charters, offering guests the opportunity to enjoy an immersive experiential yachting experience where they can also discover local history and culture. Aboard M/Y AFTER YOU, the treasure hunt has been designed by leading industry professionals who have worked on props and costumes for blockbuster movies, including Aladdin and Fantastic Beasts.
Guests can also enjoy a jaw-dropping magic show, courtesy of M/Y AFTER YOU's onboard magician, and authentic and immersive Caribbean dining experiences, courtesy of the yacht's highly skilled private chef.
She features 6 spacious staterooms that can be configured to sleep 12 guests, with beautifully appointed ensuites providing the utmost convenience and privacy.
Her spacious proportions make her ideal for multi-generational family experiential yachting holidays on the water, with plenty of space for relaxation, dining, and entertaining. Her interiors are flooded with light, courtesy of floor-to-ceiling windows that help foster a greater connection with the water. Charming balconies further enhance this connection, providing intimate areas to make the most of the Caribbean's warm winter sun.
M/Y AFTER YOU's swimming pool and beach club are a real highlight, providing endless fun, while her selection of yacht toys and water sports equipment is aimed at entertaining all ages.
Crewed by a highly experienced and professional team of 13, charter guests can enjoy peace of mind that their every need with be expertly met aboard M/Y AFTER YOU.
Caribbean experiential yachting adventures
Motor yacht AFTER YOU will be based in the Caribbean this winter, with magnificent cruising destinations, including the Bahamas and the British Virgin Islands.
The Bahamas is a world-renowned superyacht destination courtesy of its perfect mix of world-class offerings and untouched islands lapped by jaw-dropping crystal-clear waters.
Start your experiential yachting charter experience on Paradise Island, home to exclusive resorts, award-winning restaurants, golf courses, and lavish spas. Then cruise the sapphire-blue waters of the Exumas, a string of more than 365 islands and cays. Enjoy footprint-free beaches, ultra-exclusive private islands, and vibrant marine life below the waves. Don't forget to visit Pig Beach on the uninhabited island of Big Major Cay, famed for its free-roaming friendly pigs that love to enjoy a refreshing dip in the Caribbean Sea.
Alternatively, enjoy a yacht charter aboard AFTER YOU and explore the British Virgin Islands. The islands' interior rainforests are a haven of wildlife, making this a must-visit destination for nature enthusiasts. Hike up Sage Mountain and be rewarded with spectacular views and a cooling waterfall that tumbles into a cool forest pool idea for wild swimming.
Below the waves, the scenery is equally as spectacular, with coral reefs and fascinating shipwrecks providing snorkelling and dive experiences for all levels. When the sun sets, the BVI's offer ample opportunities to party the night away at hip nightclubs and world-class dining destinations.
There can be no question that an experiential yachting experience aboard M/Y AFTER YOU yacht for charter offers the ultimate winter getaway of a lifetime.