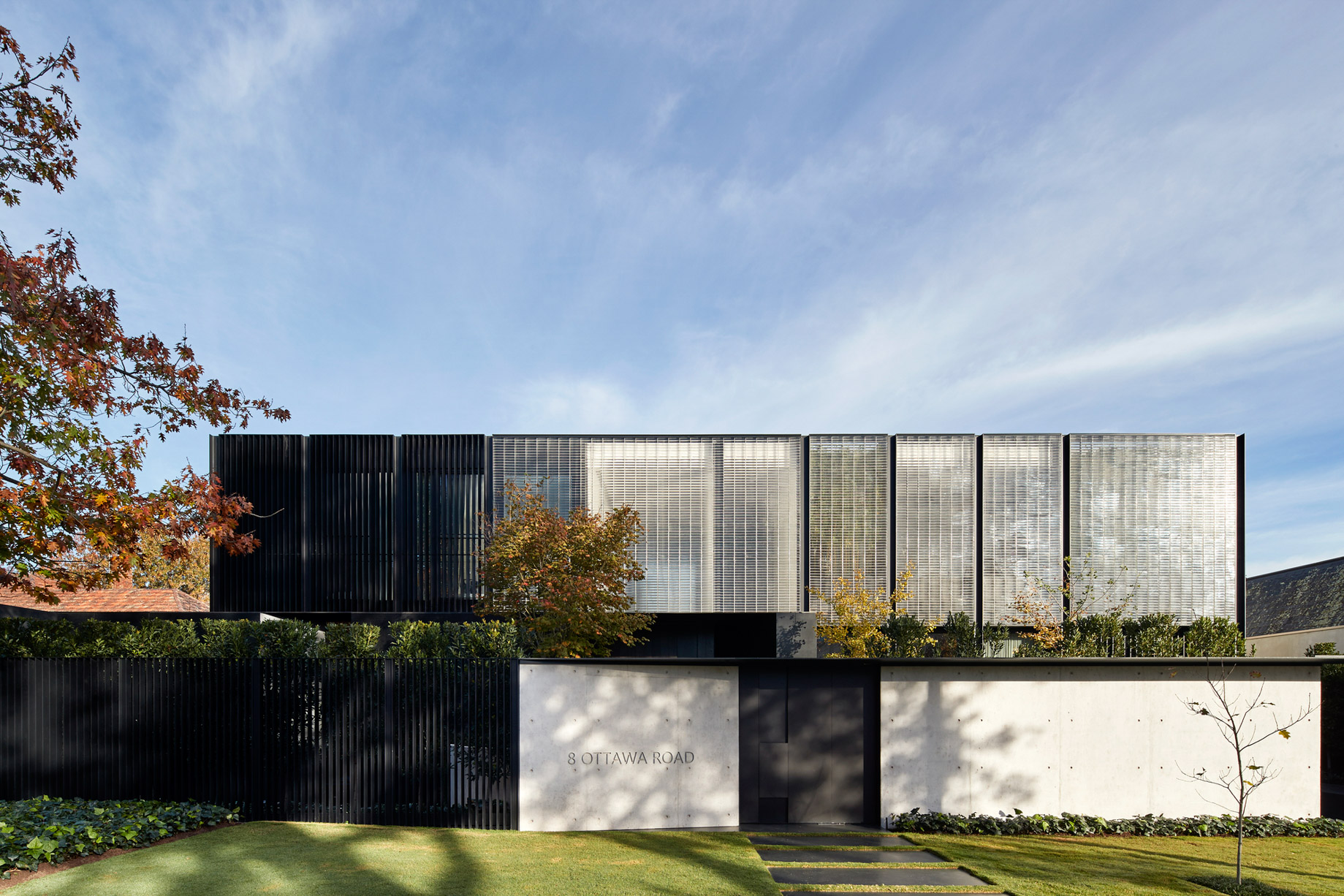 Name: Toorak Residence
Bedrooms: 5
Bathrooms: 9
Size: 13,207 sq. ft.
Built: 2020
Nestled serenely at the terminus of a tranquil cul-de-sac, the Toorak Residence is a masterpiece of architectural duality, seamlessly marrying daring design with an air of effortless refinement. Conceived by the visionary minds at ADDARC, this dwelling embodies the pinnacle of minimalist artistry, its restrained palette inviting the play of ethereal shadows through the soaring double-height gallery, ultimately converging with the verdant oasis outside. Solid glass bricks bestow a translucent sheen, offering fleeting glimpses of the day's gentle passage, bestowing an otherworldly radiance and humility upon the surroundings. This tempered union of sculpted concrete, monolithic stone elements, and the richly textured black Japan-stained timber creates spaces that resonate with a sense of both grandeur and mystique. It is this very restraint, this deliberate simplicity, that provides a canvas for the meticulously crafted details and the interplay of art and furnishings, enriching each space with a tapestry of narrative.
As one steps through the imposing threshold, a grand entry hall unfolds, drawing the eye upward from the dark granite expanse underfoot to the tactile embrace of oak-clad walls. Above, a bespoke pendant light and a glass bridge suspended in midair captivate the senses. Beyond this vestibule lies a contemporary colonnade, intertwined with climbers, seamlessly weaving the outdoor pavilion into the surrounding landscape. This gallery serves as the axial core of the residence, dividing formal and informal living spaces, defining the pulse of this most public level. Ascending, the upper floor reveals a sanctuary of more secluded chambers, where the glass bridge demarcates the master suite from the secondary bedrooms and retreat. Here, the luminous glass brick veil cradles elevated, secluded gardens, creating a sanctuary both private and poised. A cascading landscape, blanketed with ivy, bestows light and perspective upon the lower level, where in addition to parking, one discovers a guest suite, a wine tasting room and cellar, a cinematic haven, and a wellness enclave complete with a gym, sauna, and steam rooms.
Outdoors, an ornamental philosophy reigns, seamlessly interweaving the architectural prowess and timeless materials with an emotive tapestry of layered flora. Varied in scale and sentiment, these spaces offer niches for introspective contemplation, commanding panoramas, and spaces for convivial family gatherings. Beyond the alfresco expanse and meticulously groomed lawn, the lap pool and spa gleam against the pale limestone and structured hedgerows. Garden follies stand sentinel alongside handpicked specimen trees, sourced from every corner of Australia, while clipped topiary and architectural focal points punctuate the otherwise orthogonal geometry of house and landscape. Within, sumptuous furnishings and luminescent brass fixtures harmonize with the dark veining of marble and the warm embrace of stained parquetry. Texture and light flow effortlessly, painting a tableau of curated volumes, each as dramatic and enduring as the last. The soft furnishings, procured in collaboration with Minotti London, along with bespoke pieces conceived by ADDARC, fill the voluminous spaces with an aura of bespoke luxury. The extensive art collection, a testament to discerning curation, features works by luminaries such as Michael Armstrong, Richard Stringer, Dale Frank, Guan Wei, Richard Blackwell, Vera Möller, Martia Figueiredo, Morgan Shimeld, Ben Sheers, sourced through esteemed galleries like Sophie Gannon Gallery, Fletcher Arts, Figgoscape Curates, Flinders Lane Gallery, Otomys, and others. The Toorak Residence, with its exquisite synthesis of boldness and subtlety, stands as a new zenith in minimalist architectural achievement.
Architect: ADDARC
Photography: Shannon McGrath
Location: Ottawa Rd, Toorak VIC 3142, Australia