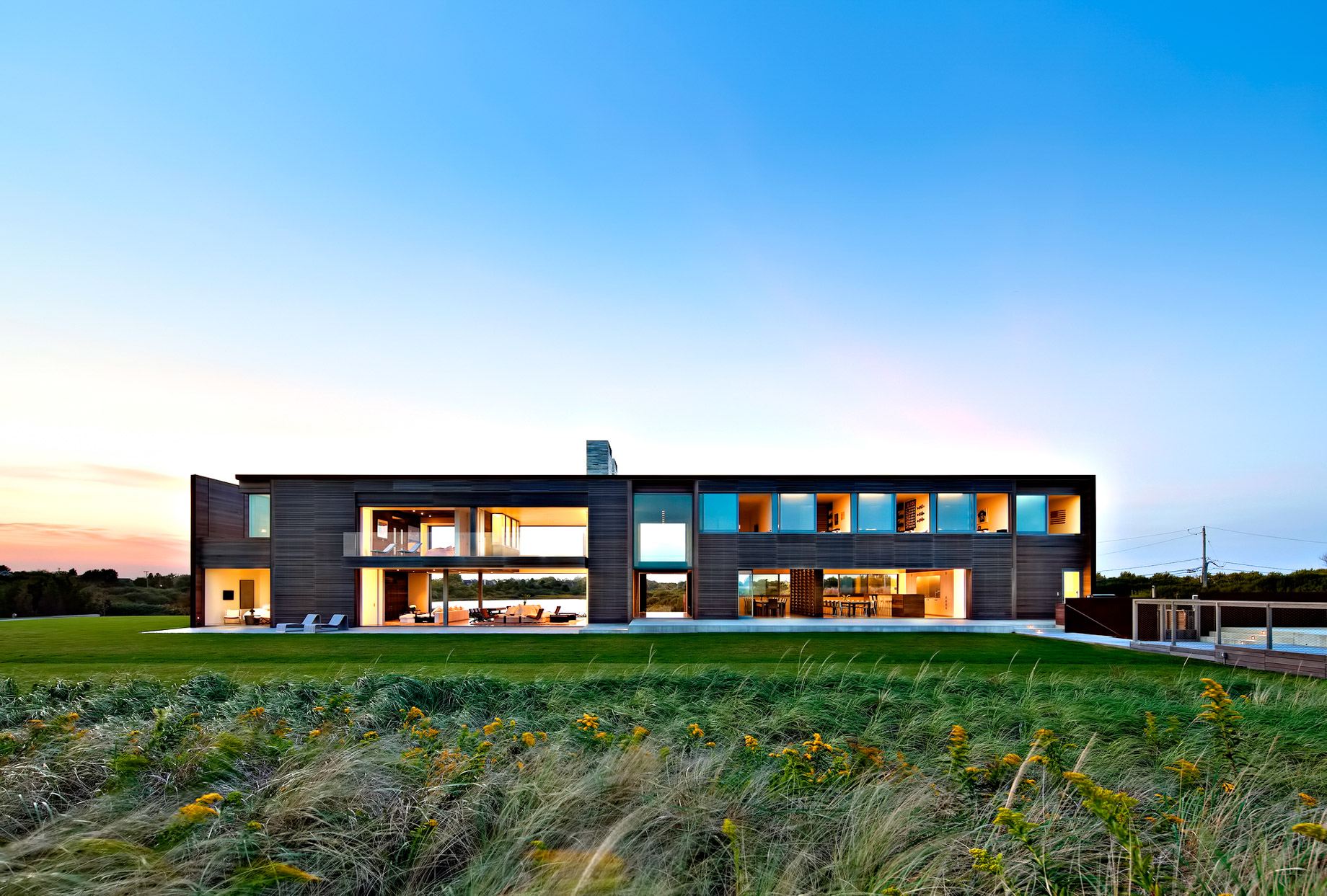 Name: Sagaponack House
Type: Modern Contemporary
Bedrooms: 8
Bathrooms: 10
Size: 10,000 sq. ft.
Lot: 3 acres
Built: 2015
Located between the Atlantic Ocean and a freshwater pond, this stunning modern luxury residence is architected in a linear form with a swimming pool, pool house, garage, and sports courts on a beachfront setting. Utilizing a design process of subtraction rather than addition, the structure was envisaged as carving away at the solid mass of the house to reconnect site features and views and to distill the experience of the place. The design strategy was to accommodate the extensive volumes of the house by nesting spaces within one another with operable partitions that pull out from the walls allowing rooms to merge or be separate.
Spaces run the full width of the house with floor to ceiling sliding doors on both sides. The spaces create apertures through which views, light, and air completely penetrate the house, dissolving its mass. Passersby see directly through the house to the sky and landscape beyond. With the sliding doors open and recessed into the adjacent walls, interior spaces are transformed from formal rooms to open pavilions, merging seamlessly with the site.
The plinth of the elevated house is carved into a series of stepped planters that are further sculpted into the entry steps, mediating the different grades required by flood control regulations. Besides dictating the minimum first floor height, regulations also set the roof height. To maximize the ceiling heights within those limits, the house utilizes a steel moment frame to pare down the thicknesses of the floors and roof to the absolute minimum resulting in a modern residence that can be considered a masterpiece of architecture.
Architect: Bates Masi Architects
Photography: Michael Moran
Location: 7 Fairfield Pond Ln, Sagaponack, NY 11962, USA