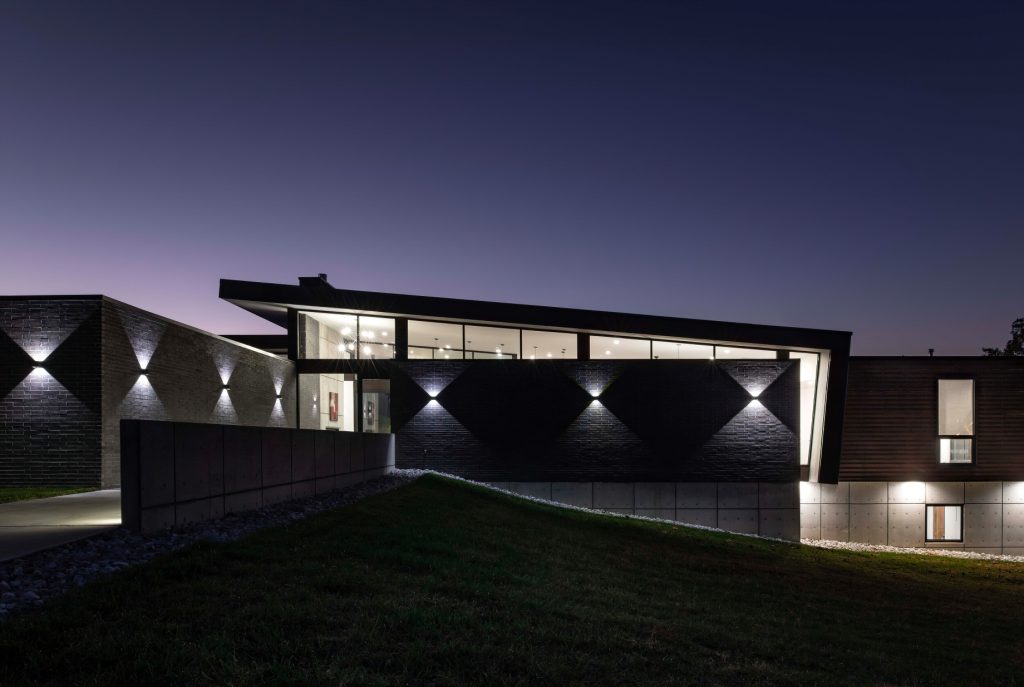 Name: Belk Residence
Bedrooms: 4+
Bathrooms: 5+
Size: 6,000 sq. ft.
Built: 2018
The Belk Residence is a remarkable fusion of architecture and nature nestled amidst the rolling hills east of Springfield, Missouri, overlooking the tranquil James River. Inspired by the distinct Ozark landscape characterized by its rolling Hills and Hollows, as well as expanses of field, prairie and lush forests, the residence harmoniously integrates with its surroundings. Positioned at the intersection of its natural surroundings, The Threshold House, as it is aptly named, embodies a poetic design vision, inviting inhabitants to transcend the conventional boundaries between interior and exterior, field and forest, hill and hollow.
This visionary architectural marvel spans an impressive 6,000 sq. ft. designed purposely for tranquil single-family living. The layout carefully considers the natural topography, offering soft, seamless transitions between spaces. The residence is strategically situated on the hill, where the prairie gracefully meets the forest, creating a symbiotic relationship between built form and the organic environment. The result is a home that not only provides shelter but also invites the landscape to become an integral part of the living experience.
The Belk Residence is a testament to the art of architecture in perfect equilibrium with its natural context. Every facet of this home is thoughtfully crafted to enhance the occupant's connection with the surrounding environment. Whether gazing out over the rolling hills, lounging by the pool, or traversing the property, one is constantly reminded of the inherent beauty of the Ozark landscape. More than just a residence; it's a sanctuary that blurs the boundaries between the constructed and the innate, inviting a profound sense of oneness with nature.
Architect: Arkifex Studios
Photography: Arkifex
Location: Rogersville, MO, USA