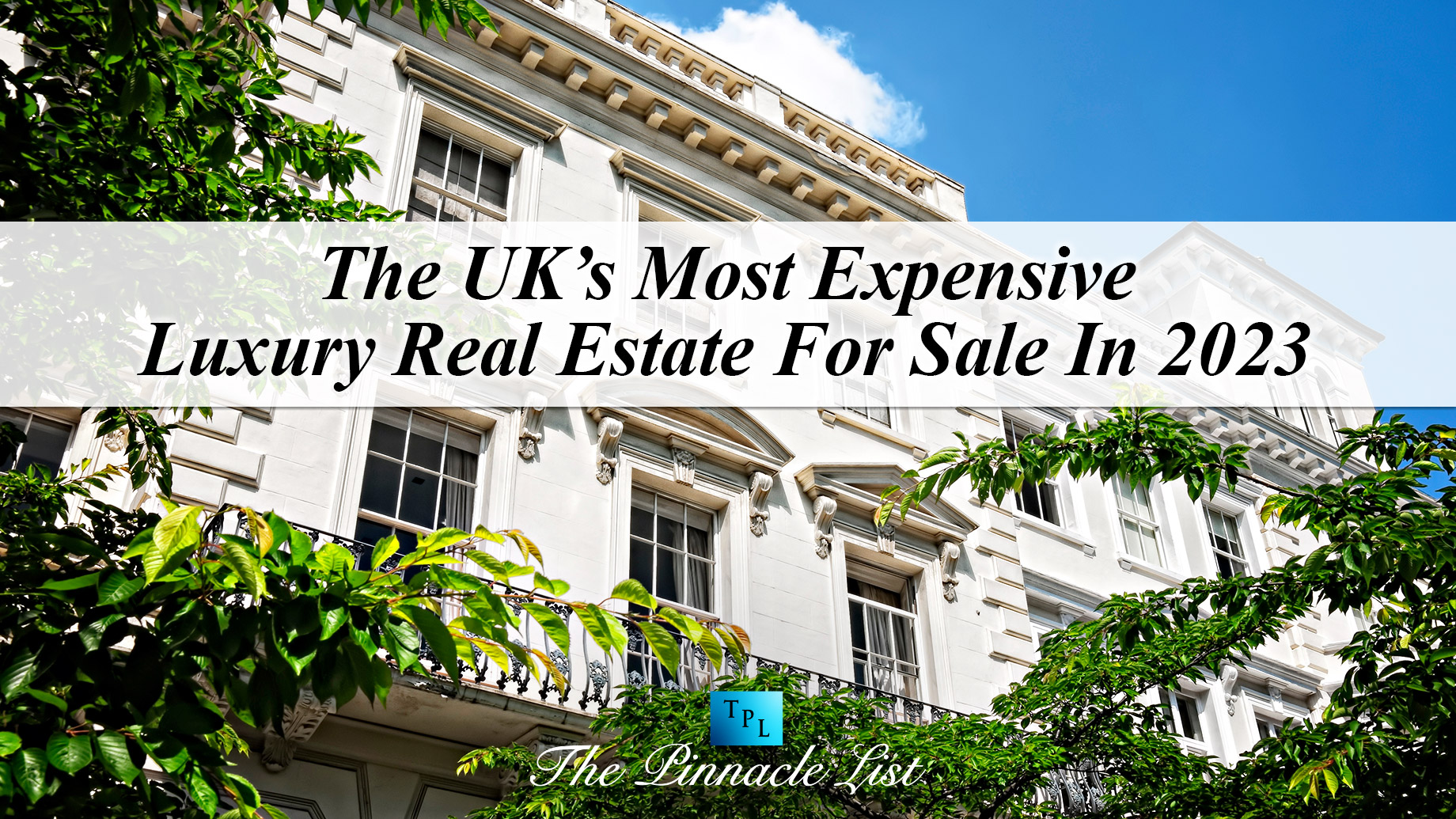 In the realm of super-prime luxury real estate, the United Kingdom, and more specifically, London, is a city that consistently tops the charts. The city is globally renowned as a hub of opulence and prestige, boasting an array of stunning luxury homes and apartments that truly embody the essence of a luxury lifestyle. Each residence, an architectural marvel in its own right, offers a blend of traditional elegance and contemporary sophistication that appeals to the discerning homeowner.
The UK's luxury property market showcases an impressive selection of the world's most prestigious residences, with London at the heart of this extravagant showcase. It's here, in the capital city, where the top ten most expensive luxury properties for sale in the United Kingdom can be found. These properties offer a matchless combination of location, amenities, design, and historical significance that sets them apart from the rest.
From the grandeur of the meticulously restored Grade I listed family home on Hanover Terrace, to the modern marvel of an apartment overlooking the historic Kensington Palace Gardens, each of these homes offers a unique perspective on luxury living. These are not just residences; they are embodiments of a lifestyle that is marked by elegance, comfort, and unparalleled luxury. Step into this world of super-prime luxury real estate and explore the top ten most expensive properties for sale in London, where luxury is not just a concept, but a way of life.
---
1. Eaton Square Belgravia: A Gem on the Crown of London's Prime Estates
Price: £39,500,000
Property Type: House
Bedrooms: 9
Bathrooms: 7
Floorspace: 987 sqm (10,616 sqft)
Location: Eaton Square Belgravia, London, England SW1W 9AA, United Kingdom
Discover an outstanding Grade II residence, beautifully nestled within the heart of Eaton Square, offering enchanting vistas of the illustrious gardens of this revered London square. Opportunities to own a home on this square are seldom, as this property stands as one of the mere twelve with a garden-front view.
Boasting generous dimensions throughout, this stunning home provides boundless potential for grand-scale celebrations and social gatherings. Upon entering, you are warmly welcomed by a spacious foyer that directly connects to an elegant formal dining room and an adjoining conservatory. An impressive main staircase escorts you to additional formal entertainment areas, featuring a broad first-floor drawing room with delightful views of the garden square. The home comes equipped with a passenger and food lift that services all floors.
The upper levels offer flexible living arrangements, presently laid out as a principal bedroom suite, a media room, extra bedrooms, dressing rooms, and versatile spaces for studies or home offices. These spaces can be remodelled to meet the buyer's unique requirements, subject to necessary permissions. The lower floor houses a host of supporting facilities, including a fully-equipped industrial-standard kitchen, wine cellar, laundry and utility rooms, gym, storage areas, and access to the mews currently purposed for staff accommodation.
Positioned on what can arguably be called London's most distinguished garden squares, this home represents an infrequent opportunity in the luxury real estate market. The square provides a dedicated security team for residents, and access to six communal garden squares—two of which welcome pets and one featuring a tennis court. Belgravia residents also have the opportunity to request access to the exclusive Belgrave Square gardens, offering additional tennis courts and hosting various events throughout the year.
Indoor Features
Elevator
Walk In Closet
Stone Countertops
Fitness Center / Gym
High Ceiling
Wine Cellar
Fireplace
Outdoor Features
Terrace
Tennis Court
Garden
Balcony
---
2. Manresa Road, Chelsea: Luxurious Penthouse Living in London
Price: £38,000,000
Property Type: Apartment
Bedrooms: 6
Bathrooms: 4
Floorspace: 651 sqm (7,000 sqft)
Location: Manresa Road Chelsea, London, England SW3 6LZ, United Kingdom
UK Sotheby's International Realty introduces an extraordinary turnkey penthouse, situated in a Grade II listed building on the coveted Manresa Road, the epicentre of Chelsea. The third-floor penthouse enchants with its lavish interior design, blending meticulous detailing with a personal touch. This unique property boasts an unparalleled 7,000 sqft of lateral living space on a single level in Prime Central London, a rarity indeed.
The private lift opens to a grand entrance leading to an expansive combination of living, dining, kitchen, and family areas. The formal living/dining area offers stunning views of the London Eye and the Shard, while a relaxed family area and a stylish kitchen with custom joinery open to a generous terrace, perfect for outdoor entertainment. The entire penthouse is equipped with a cutting-edge, high-specification air conditioning system, ensuring year-round comfort.
A corridor guides you to three bedrooms, each with ensuite facilities, offering abundant natural light and ample storage. The principal bedroom suite showcases sweeping views. Additionally, three large rooms, currently serving as an office, a billiards room, and a gym, can be converted into bedrooms if desired.
This penthouse also includes two self-contained, air-conditioned studio apartments, ample parking facilities, and exclusive access to a mature, award-winning, landscaped private garden. Manresa Road, known for its privacy and prestige, offers 24-hour concierge and security services, ensuring an unrivalled living experience in prime Chelsea.
Indoor Features
Elevator
Office
Fitness Center / Gym
Walk In Closet
Fireplace
Air Conditioning
Kitchen island
Game Room
Basement
Outdoor Features
Terrace
Garage
Parking
Garden
Outdoor Kitchen
---
3. Royal Park Residence: A Grandiose Historic Estate in London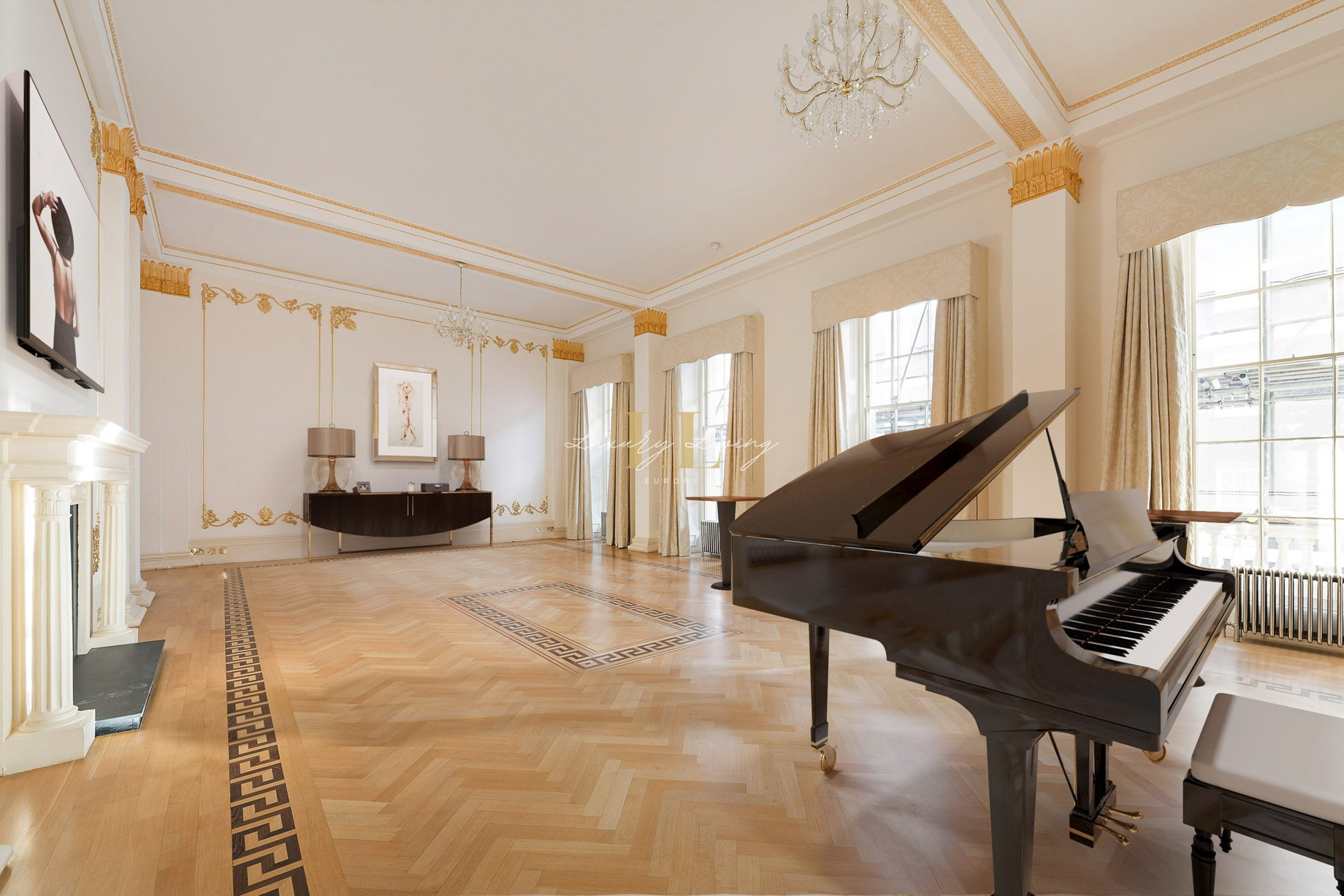 Price: £32.2 million
Property Type: House
Bedrooms: 6
Bathrooms: 7
Floorspace: 1084 sqm (11,666 sqft)
Location: London, England, United Kingdom
Step into an era of grandeur with this exceptional Grade II-listed residence, an 1825-built palace of ambassadorial proportions, uniquely located with direct access to one of the Royal Parks. Spanning an impressive 11,666 sqft over three floors, the residence features high ceilings and private lift access, offering both luxury and convenience.
Upon entry, an elegant columned reception hall leads to a sweeping staircase ascending to the first floor. Here, a grand 37ft x 23ft ballroom, accompanied by a south-west facing lateral terrace, embodies the essence of sophisticated entertaining. The layout includes three large, light-filled reception rooms—one serving as a library or study—alongside six bedrooms, six bathrooms, and a guest WC.
The garden level presents a spacious 66ft x 26ft family room with the potential for transformation into a gymnasium, indoor swimming pool, and bar (subject to planning permissions). Additionally, the property boasts a commercial-standard kitchen, a sauna with a bathroom/changing room, utility rooms, and ample storage space.
Situated on a historic street adorned with blue plaques, the early 19th-century residence offers an enclosed courtyard, a private rear garden, and direct street access via a private double-doored main entrance. Concierge service is available, enhancing the convenience and luxury of the Royal Park Residence experience.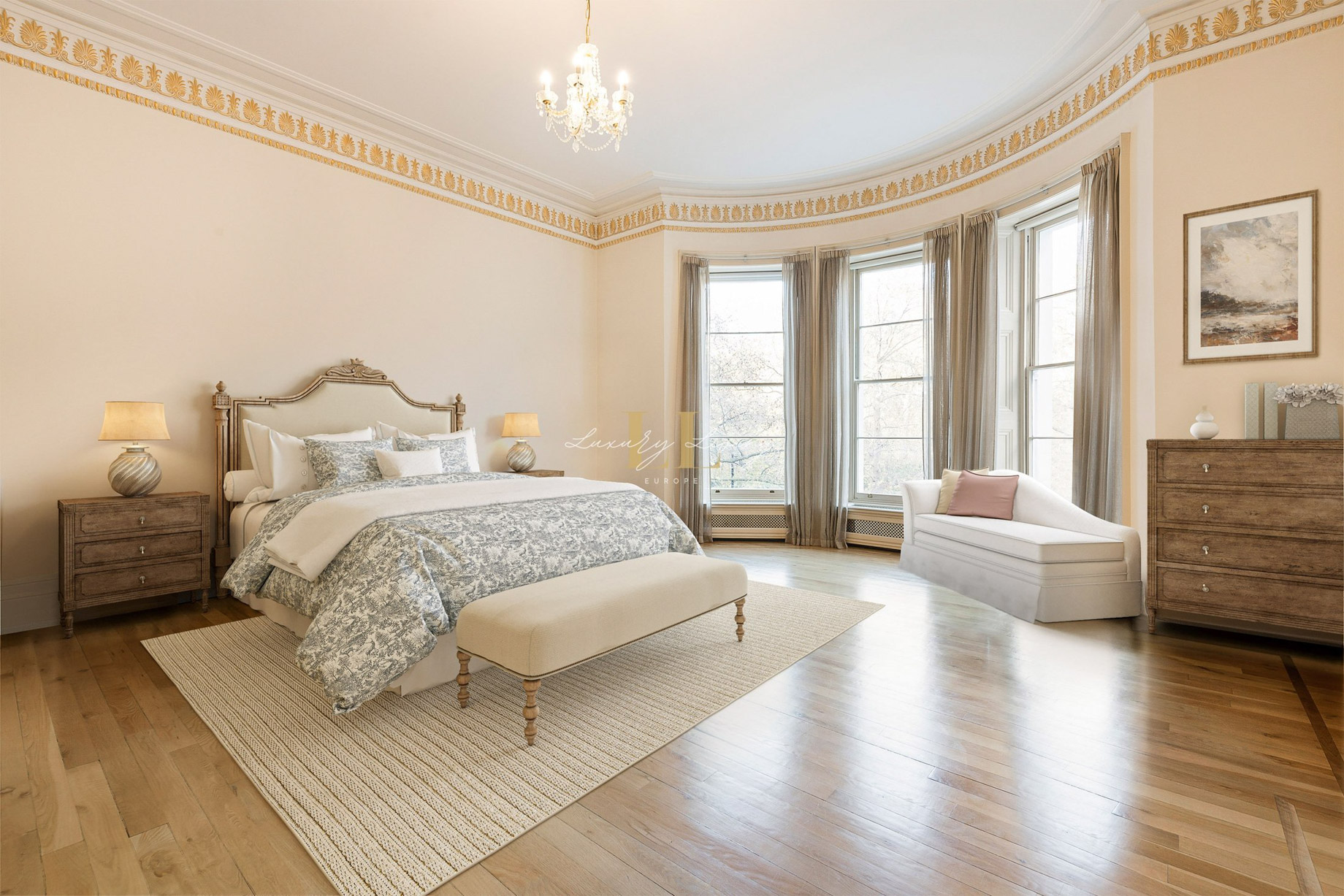 Indoor Features
Elevator
Bar
Office
Fitness Center / Gym
Library
Indoor Pool
Fireplace
Sauna
Outdoor Features
---
4. Heathfield House 6 Merton Lane: A Bespoke Family Home in Highgate, London
Price: £32,000,000
Property Type: House
Bedrooms: 6
Bathrooms: 7
Floorspace: 1695 sqm (18,244 sqft)
Address: Heathfield House 6 Merton Lane, London, England N6 6NA, United Kingdom
Nestled on a coveted road in the heart of Highgate, the Heathfield House is a distinctive family home that stretches over a two-acre site, featuring a significant, self-contained staff lodge. This stunning residence welcomes you with a luxurious entrance hall, equipped with a glass lift to each floor, effortlessly marrying opulence and convenience.
The ground floor houses a formal sitting and dining room that overlooks the verdant grounds, seamlessly flowing into the breakfast room and then onto the kitchen. Each space is designed to provide an open and connected living experience, while also maintaining their individual charms.
The first floor is home to a master suite complete with a bathroom, and four additional suites, each boasting en suite bathrooms. The top floor reveals a splendid home office, offering panoramic views over the gardens and extending to Hampstead Heath and beyond.
The thoughtfully designed leisure facilities offer a swimming pool that opens onto the garden, full spa facilities, a home gymnasium, and a billiards room. The separate staff lodge spans approximately 4,400 sq ft, with below-ground garaging available for up to four cars. The beautifully landscaped gardens span over two acres, offering a tranquil oasis in this sought-after location, complete with a tennis court for outdoor recreation.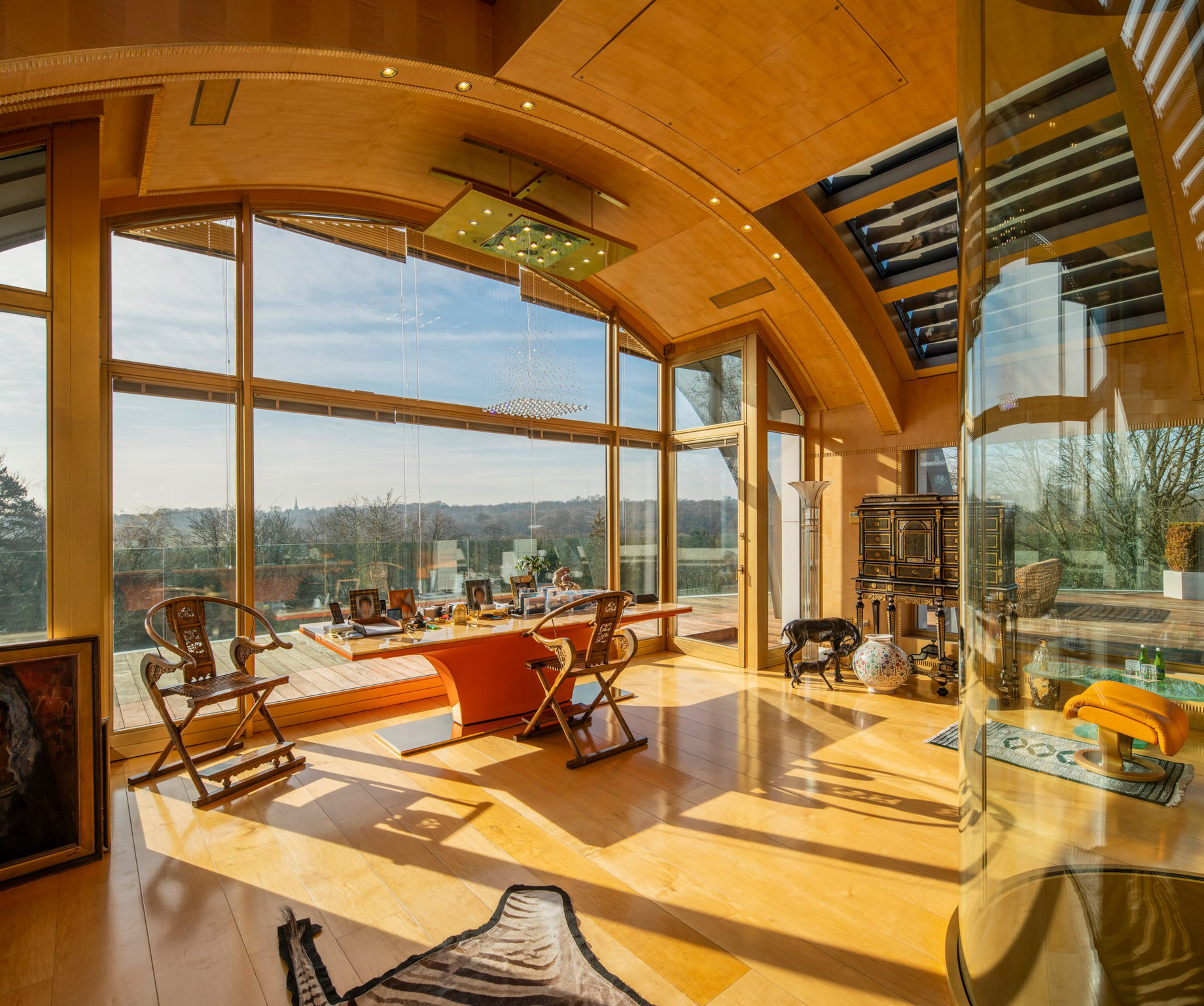 Indoor Features
Outdoor Features
Panoramic / Scenic View
Terrace
Tennis Court
Garden
Balcony
Gate
Pool
---
5. Hanover Terrace: A Historic Grade I Family Home in London
Price: £29,000,000
Property Type: Apartment
Bedrooms: 6
Bathrooms: 8
Floorspace: 511 sqm (5,500 sqft)
Address: 1 Hanover Terrace, London, England NW1 4RJ, United Kingdom
Situated on the tranquil Hanover Terrace, this Ambassadorial Grade I listed family home offers an unparalleled vista, directly facing the swan and boating lake within Regents Park. The residence, originally designed in 1811 by the acclaimed architect John Nash, has been meticulously restored to the epitome of luxury, seamlessly integrating modern living standards.
This family home spans 511 sqm (5,550 sqft) and benefits from a long Crown Estate lease of approximately 110 years. A standout feature is a private, long-walled garden leading directly into a mews house (114 sqm / 1,222 sqft). This additional space houses a gym, a double garage, and two bedrooms with bathrooms upstairs—ideal for family, guests, or on-site security. The property also enjoys the added security of 24-hour on-site manned services for the exclusive use of the road. The total size of this remarkable home extends to 625 sqm (6,730 sqft).
Hanover Terrace is ideally located on the west side of Regents Park, offering a plethora of recreational facilities, including the London Zoo, The Open-Air Theatre, and the vast expanses of Regents Park itself. The property's prime location ensures that the city centre is just a few minutes away. St John's High Street, renowned for its fashionable shops, cafes, and restaurants, is easily accessible. Baker Street and St John's Wood underground stations are a short walk away, providing easy access to central London.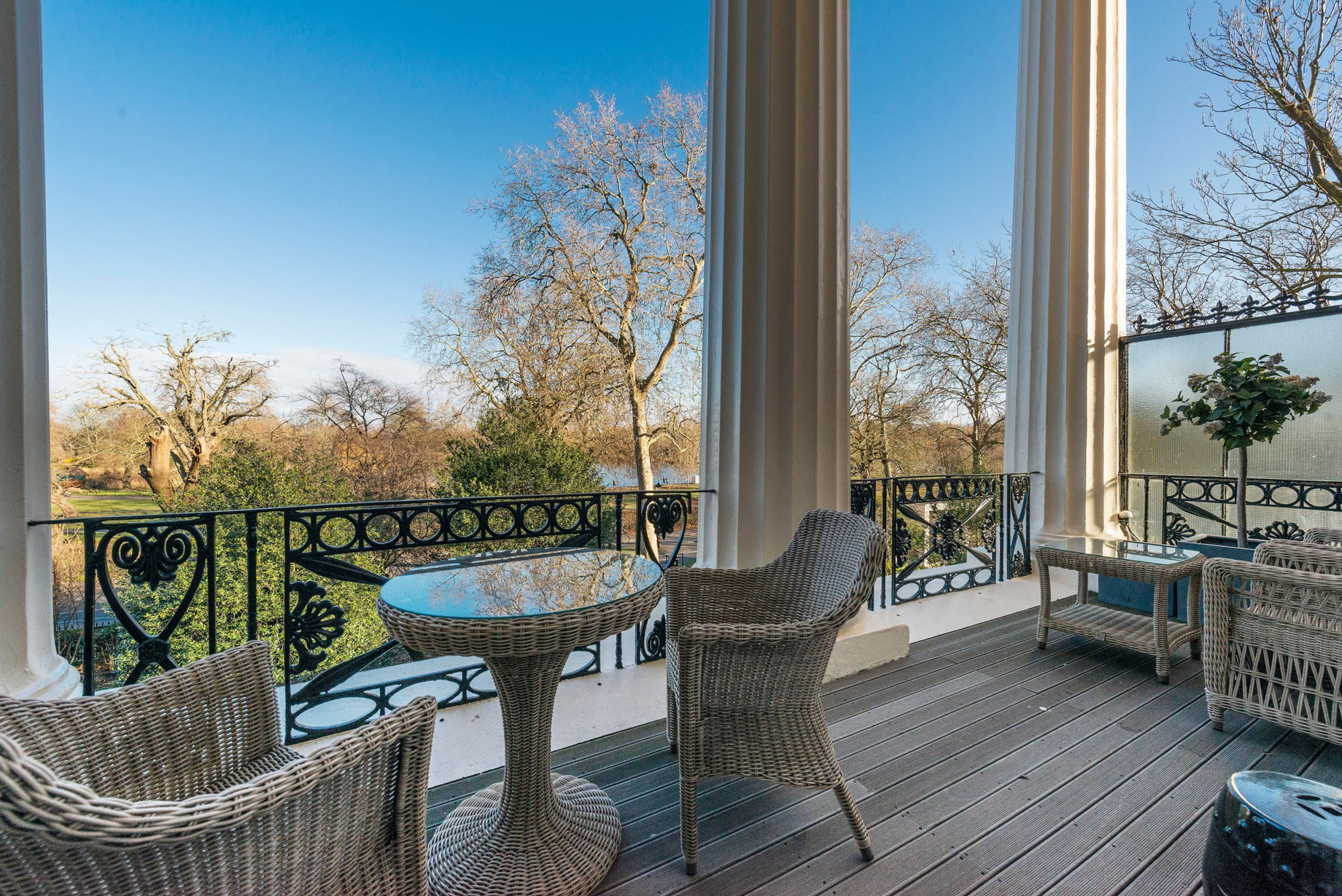 Indoor Features
Stone Countertops
Fitness Center / Gym
High Ceiling
Cinema
Fireplace
Outdoor Features
Terrace
Garage
Parking
Garden
---
6. Holland Villas Road: An Impressive Family Home in London
Price: £25,000,000
Property Type: House
Bedrooms: 6
Bathrooms: 6
Floorspace: 702 sqm (7,556 sqft)
Location: Holland Villas Road, London, England, United Kingdom
Situated on Holland Villas Road, this impressive six-bedroom family home spans just four floors and provides a wealth of space for entertaining. A notable feature is the spacious drawing room that leads out onto a west-facing terrace, offering direct access to a large, mature, and private west-facing garden. This home also affords the luxury of off-street parking for multiple cars.
The residence welcomes you with an entrance hall, leading into the heart of the home. The property offers a large drawing room, two sitting rooms, and a kitchen with an adjoining dining and family area. For leisure and work, there's a media room and a study.
The accommodation includes a principal bedroom complete with an en suite bathroom and a dressing room. Additionally, there are five further bedrooms, a staff room, two additional shower rooms, and another bathroom. Utility and storage rooms provide practical space.
Complementing the home's interior, the outdoor space features a carriage driveway with ample off-street parking, a west-facing garden for relaxation and outdoor entertainment, and a west-facing terrace. The property holds an EPC Rating of E.
Features
Terrace
Garden
Fireplace
Game Room
Fire Pit
Gas Stovetop
Parking
---
7. One Kensington Gardens: An Exclusive Apartment Overlooking Royal Gardens in London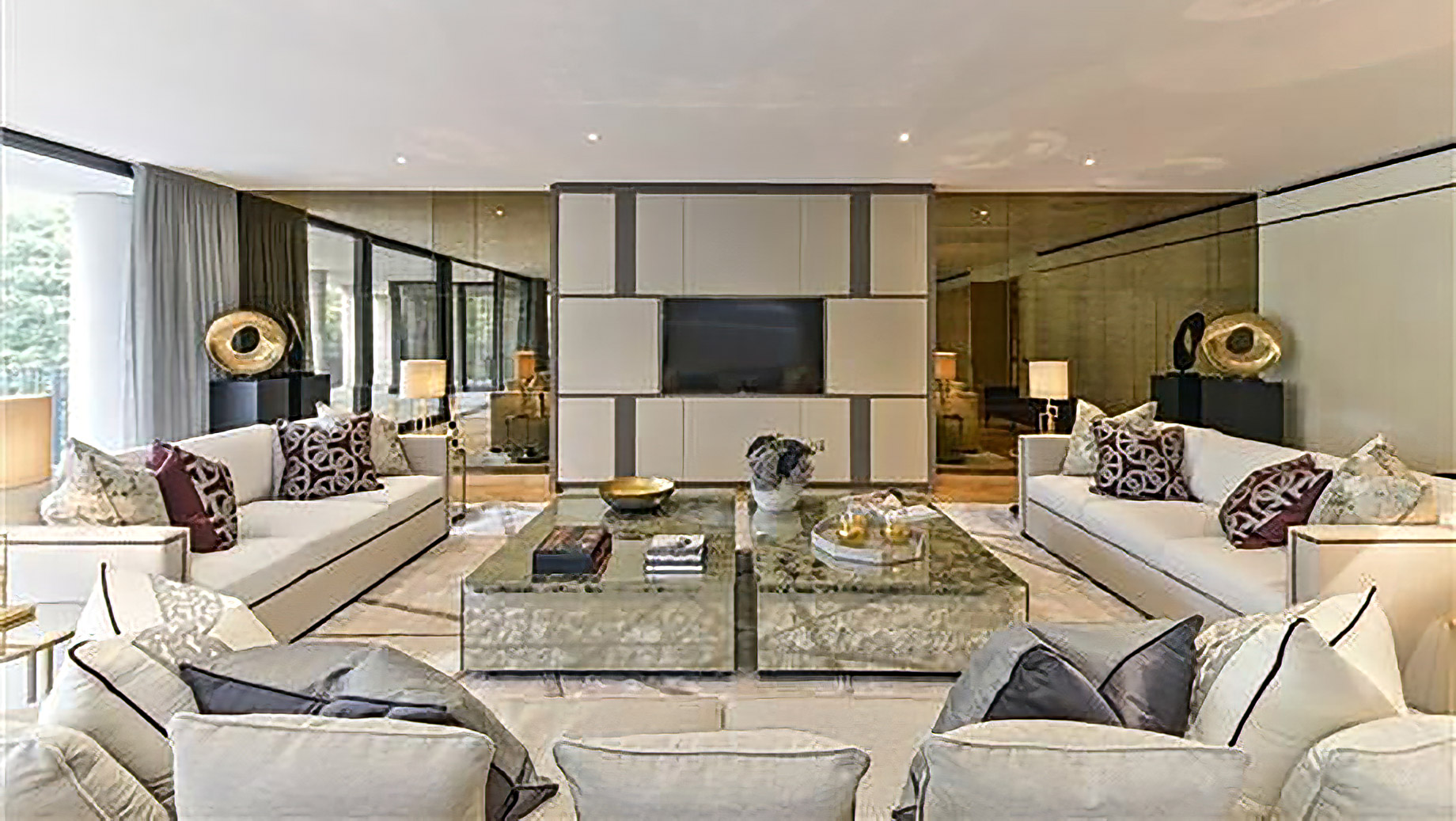 Price: £23,000,000
Property Type: Apartment
Bedrooms: 5
Bathrooms: 2
Floorspace: 510 sqm (5,490 sqft)
Location: One Kensington Gardens, London, England, United Kingdom
Situated in the heart of London, this luxurious five-bedroom apartment at One Kensington Gardens offers a unique lifestyle experience. Overlooking the historic Kensington Palace Gardens, residents have access to a professional concierge team available 24/7, a 25-metre indoor swimming pool complemented by a spa pool, sauna, and steam room, and a state-of-the-art gymnasium with personal training instructors at your disposal.
Designed by the renowned architect Sir David Chipperfield, this exceptional development comprises 97 high-end apartments, set against the backdrop of Kensington Palace and Gardens. World-class amenities enhance the living experience, which includes 24-hour dedicated concierge service, valet parking, and a private health and fitness center.
The opulent wellness facilities extend to a health spa, sauna, steam room, and private treatment rooms where residents can indulge in a variety of beauty treatments, massages, and complimentary therapies. The development is fully completed and ready for occupation, with show apartments available for viewing.
Indoor Features
Bar
Office
Fitness Center / Gym
Indoor Pool
Steam Room
Fireplace
Sauna
Outdoor Features
---
8. Somerset Court, Lexham Gardens, Kensington: A Unique Investment Opportunity in London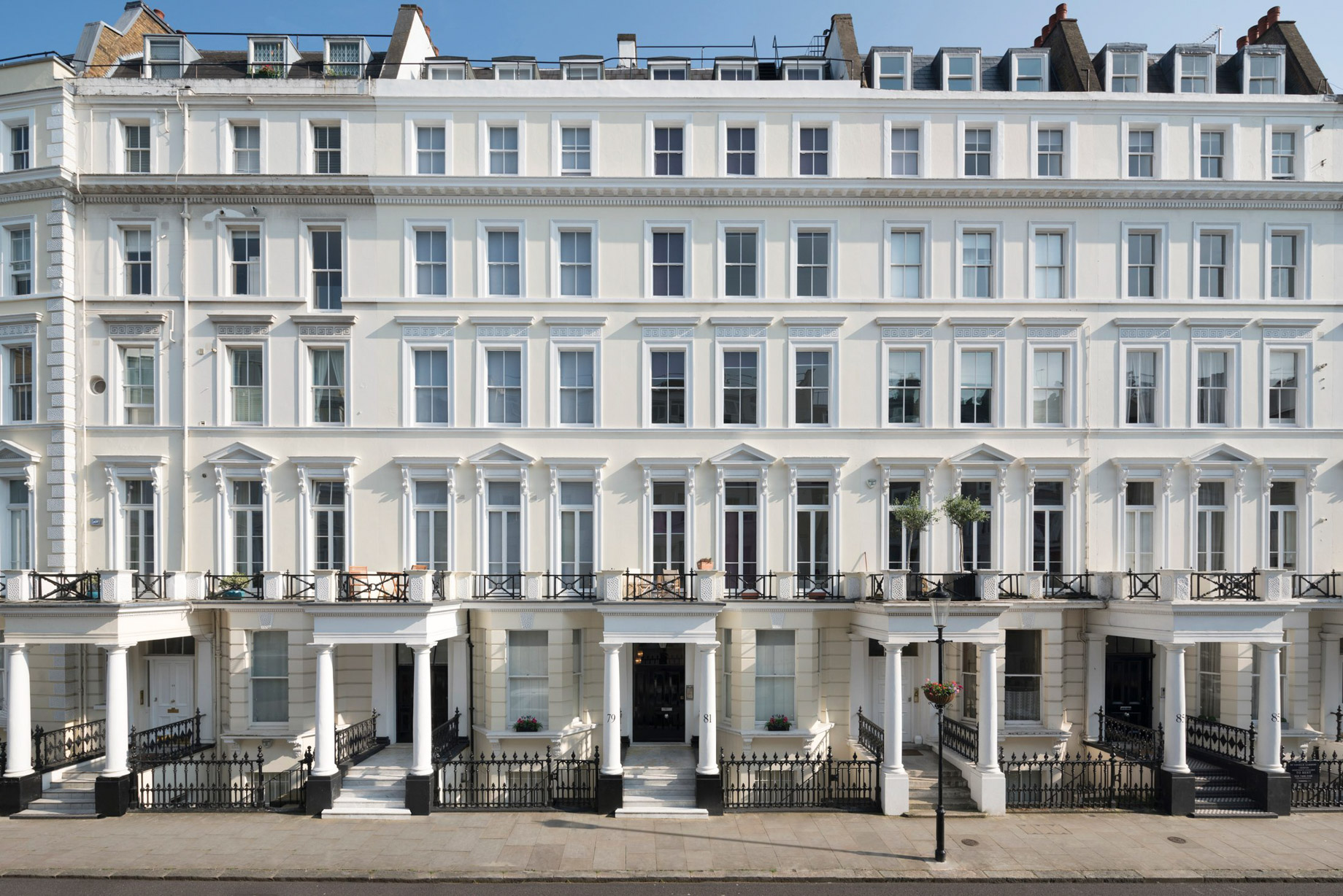 Price: £22,000,000
Property Type: Apartment
Bedrooms: 2
Bathrooms: 2
Floorspace: 1044 sqm (11,238 sqft)
Location: Somerset Court Lexham Gardens Kensington, London, England W8 6JN, United Kingdom
Presenting a unique investment opportunity in the heart of Kensington, Somerset Court on Lexham Gardens comprises two stucco-fronted Victorian Freehold terraced houses. These elegant buildings house 14 well-appointed apartments, including two 1-bedroom, ten 2-bedroom, and two 3-bedroom units, totalling 11,238 sq ft. The property has recently seen refurbishment in communal areas, and some apartments, presenting an opportunity for further modernization.
The apartments offer a potential rental value of £726,700 per annum, which could increase to approximately £1,090,050 per annum following full modernization. The property also features a recently installed passenger lift and a stunning double-width 80ft south-facing garden. Future development potential includes adding balconies to certain apartments, subject to planning permission.
Lexham Gardens is located in the affluent residential area of Kensington Village, within the London Borough of Kensington and Chelsea. The area is renowned for its tranquillity, green spaces, and proximity to popular attractions such as Holland Park and the iconic Natural History Museum. The property is also within walking distance of exclusive shopping and dining areas in Kensington, Chelsea, Knightsbridge, and Belgravia.
The property boasts excellent transport links, being in close proximity to High Street Kensington, Earl's Court, and Gloucester Road underground stations. The arrival of the Elizabeth Line at nearby Paddington Station has further enhanced cross-London travel. With the A4 close by, Somerset Court also offers easy access in and out of London.
Features
Terrace
Garden
Elevator
Duplex
Investment Property
Gas Stovetop
Parking
Balcony
---
9. Vicarage Gate: An Exquisite Six-Bedroom Family Residence in London
Price: £20,000,000
Property Type: House
Bedrooms: 6
Bathrooms: 5
Floorspace: 810 sqm (8,719 sqft)
Location: Vicarage Gate, London, England, United Kingdom
This outstanding six-bedroom family house on Vicarage Gate, London, impresses with its exquisite presentation and expansive living space, spanning approximately 8,717 sq ft. The property offers excellent facilities for entertaining, including a spacious drawing room and a formal dining room. A modern kitchen with a breakfast area and a relaxed family room provide the perfect setting for casual gatherings.
The master suite is a personal sanctuary, complete with a dressing area and a luxurious en suite bathroom. Five additional bedrooms, four bathrooms, and two shower rooms accommodate family and guests in comfort and style. An additional cloakroom, a treatment room, and a study offer further convenience and functionality.
Enhancing the appeal of this home are its leisure amenities. An indoor swimming pool and a gym cater to fitness and relaxation, while a passenger lift ensures easy access across the house's floors. A charming garden completes the appeal of this exceptional family home.
Features
Terrace
Garden
Fireplace
Fitness Center / Gym
Pool
Elevator
---
10. Cadogan Square: A Masterpiece of Architectural Design in London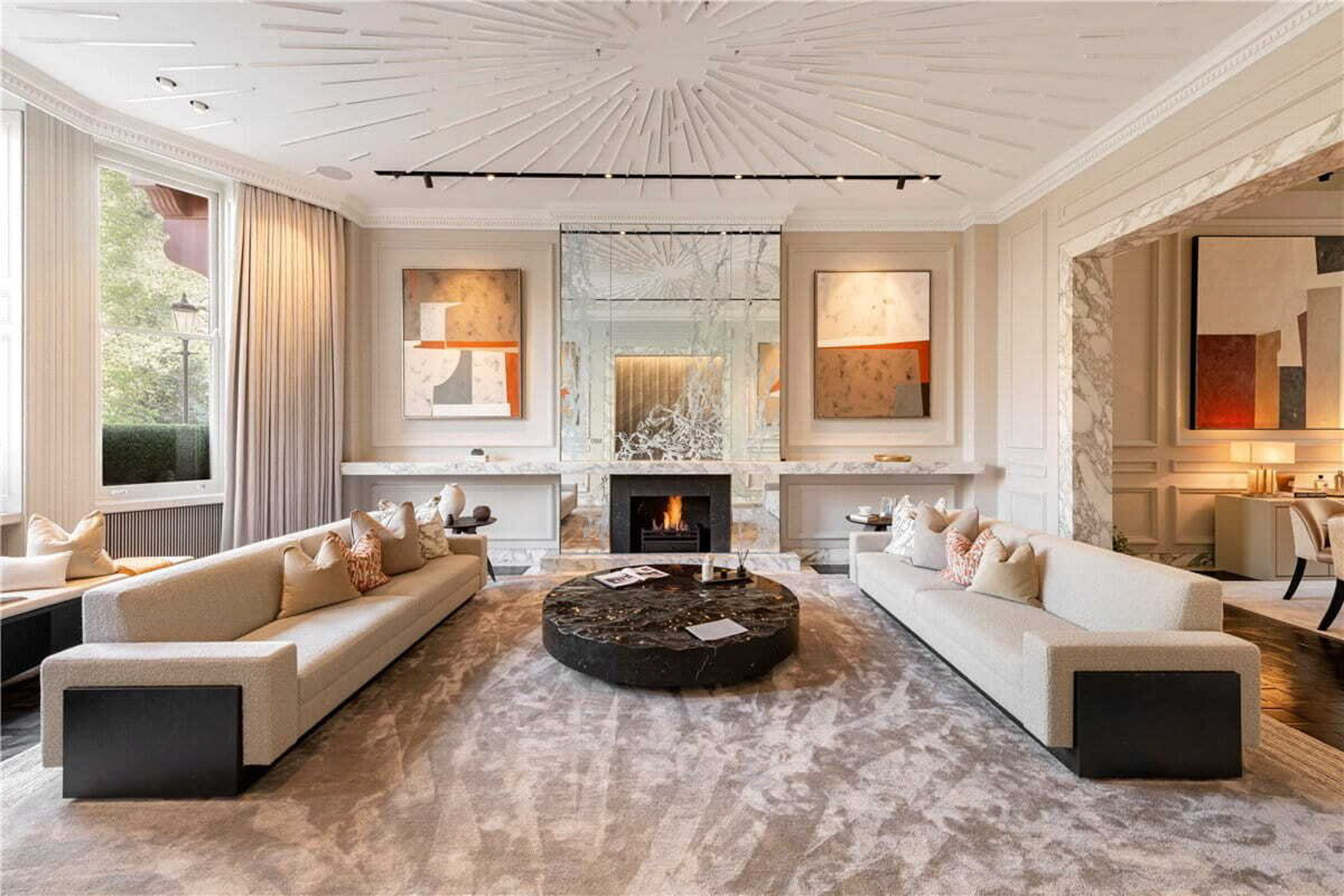 Price: £19,500,000
Property Type: Apartment
Bedrooms: 5
Bathrooms: 5
Floorspace: 410 sqm (4,413 sqft)
Location: Cadogan Square, London, England, United Kingdom
Overlooking the iconic Cadogan Square Gardens, this exceptional duplex apartment stands as a testament to the innovative and sustainable design principles of award-winning architect and interior designer, Victor Udzjenia. With its private entrance and handcrafted front door, the property opens onto a marbled entrance hall featuring a 3D Bardiglio sculpted marble curtain and Parquet hand-sculpted Versailles patterned dark lacquered floor. The elegant design and precision extend to a luxurious drawing room with an open fireplace, a spacious dining room, a custom-built kitchen breakfast room, a TV room, and the principal bedroom suites.
The lower ground floor has been thoughtfully designed to include en-suite bedrooms, a large study/office, and a sitting room with French doors opening onto a charming patio garden perfect for alfresco dining. Stained glass windows designed by Studio Job Gallery (Netherlands) adorn the kitchen/breakfast area and the family sitting room, while a steel shutter, also by Studio Job Gallery, enhances the dining room.
This architecturally crafted five-bedroom apartment seamlessly blends the property's classical features with modern amenities, creating a unique family home in the heart of Knightsbridge. The residence boasts top-of-the-range features, including bathroom fittings from Dornbracht (Germany), a smart lighting system by Lutron, Bang & Olufsen ceiling speakers, a fully automated home system, and a custom-built Siematic kitchen with Gaggenau appliances. The artistic touches and luxurious materials, such as various types of Italian marble and custom veneer by Campana Brothers, add to the exclusivity of this Grade II listed building.
Indoor Features
Bar
Office
Fitness Center / Gym
Wine Cellar
Fireplace
Outdoor Features
Terrace
Tennis Court
Garden
---
Conclusion
London continues to be a coveted destination for super-prime luxury real estate, offering a diverse range of prestigious residences that are as unique as they are opulent. Each of these luxury homes and apartments offers an unparalleled luxury lifestyle experience, brimming with exquisite architectural designs, state-of-the-art amenities, and unbeatable locations in some of the most sought-after neighbourhoods in the city.
These top ten most expensive properties for sale in London not only represent significant investments but are also embodiments of a lifestyle defined by comfort, elegance, and exclusivity. Whether it's the grandeur of historic architecture or the allure of modern design, each property tells its own unique story of luxury and refinement.
As the demand for super-prime real estate continues to grow, London remains at the forefront, demonstrating a robust market filled with exceptional opportunities. In this city, luxury is more than a simple aspiration—it is the standard, and these properties are the epitome of that standard. They serve as a testament to the enduring allure of London's luxury real estate market, enticing discerning buyers from around the globe with the promise of an unrivalled luxury living experience.