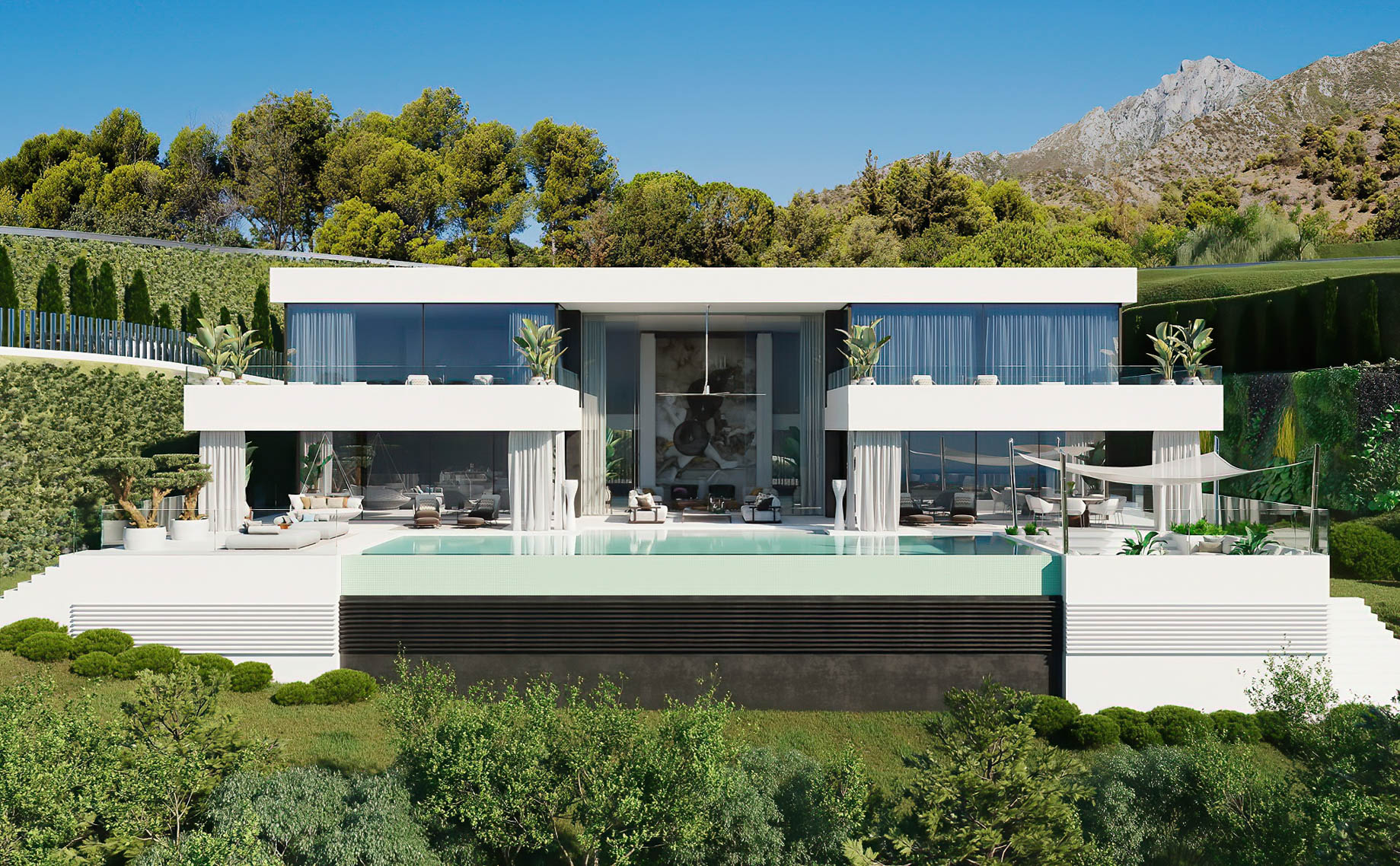 Name: Villa Alcuzcuz
Type: Modern Contemporary
Bedrooms: 5
Bathrooms: 6
Size: 12,432 sq. ft. (1,155 m²)
Lot: 38,211 sq. ft. (3,550 m²)
Built: 2021
Villa Alcuzcuz is Marbella's first avant-garde luxury house designed and built under Passive House regulations and standards. Just five minutes from the coast and ten minutes from Marbella, it is located in the gated community of the exclusive Reserva de Alcuzcuz, on the Ronda road. Masterfully combining luxury and sustainability, this is a villa that, quite simply, has it all.
The award-winning Villa Alcuzcuz is Marbella's first luxury avant garde home designed and built to Passive House Regulations and standards. It is a showcase villa, but it has a great deal more to show than any other property of its kind, not only on the Costa del Sol but world-wide.
Passive House means energy efficiency and environmental friendliness to an exceptional degree, guaranteeing more than 75 percent saving on energy costs (despite its large size), while also providing consistently fresh air throughout the house and structural longevity.
Besides the quality designer furniture, fixtures, fittings and lighting, Villa Alcuzcuz offers an entertainment space that is truly out of this world. Cinema area, sports bar, games area with pool table, VIP seating areas, DJ booth, state-of-the-art golf simulator, fully equipped gym, wellness zone with treatment rooms, relaxation areas and hairdressing salon.
Villa Alcuzcuz stands out for having exquisite design that is arranged around a large central glass living space (with windows 6.5m high, something unprecedented in this type of construction) with privileged views of the Mediterranean Sea and Africa beyond.
Developer: Bright Mediterranea SL
Visualization: U Design
Location: La Reserva del Alcuzcuz, Benahavis, Spain