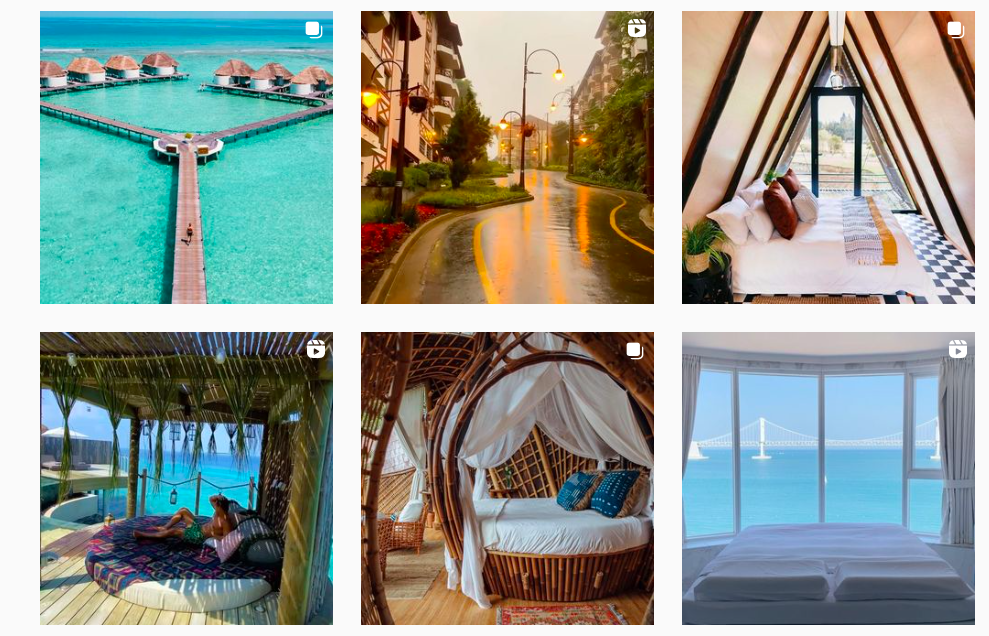 If you want to launch an amazing travel blog you don't need a lot of money to visit various countries to create content. Instagram now is full of ready-made visuals that you can use in your account. Fortunately, there is an opportunity to utilize an Instagram growth service to build a reputation as a travel blogger. Your main challenge is that you have to sort a lot of videos and photos for one specific niche. But this also will become your competitive advantage.
You can simply analyze Instagram accounts in this niche to determine what kind of content Instagram users like and engage with. Using a followers analysis tool for Instagram will help you to get the essential data and insights to start. 
With such free services, you will see the top-performing publication, the most commented content, and can pick up trends in your niche. It will also help you to define the optimal schedule for posting and the quantity of content. Thus, your content plan will be developed smartly from scratch.
Also, it's vital to know how to promote your account organically, without crazy ad bills for Instagram Ads.
Further, this article will tell you the basic principles of promoting and monetizing a travel blog. We will explore the best examples of travel feature accounts that curate third-party content and successfully make money from advertising and promoting hotels and travel companies.
Analyze Instagram Account: 5 Steps to Launch a Travel Blog
Step #1: Choose a Specific Niche
If you take a close look at the top blogs in traveling on Instagram, you will notice that each of them is dedicated to a certain topic. For example, it can be dedicated to luxury travel destinations, unusual hotels, or itineraries by destinations, like trips to Italy.
When you collect content on one specific topic as a blogger or account curator, people can easily understand whether they should follow or not. They should understand the topic at a glance when they first open your account.
Also, it will be easier to set up targeted advertising by interests, select hashtags, and research partners and bloggers for cooperation. Therefore, do not post everything in a row, choose one direction that you like and which will subsequently bring you income.
For example, if someone is interested in Greece, they will likely find your account via hashtags like #greece. If you open it and you like the content, you will probably subscribe right away because you immediately get the topic that coincides with your preferences.
Note: Pick a niche that will be easier for you to monetize thanks to inquiries from businesses. For example, if you create an Instagram magazine about hotels and resorts, many of them will be willing to pay for guest posts. Your target audience or followers are their potential clientele.
Step #2: Post as often as possible
If you pay attention to the number of publications in popular feature accounts, you will notice that this number is around 3-10K posts in total.
Therefore, your goal for the first time is to collect as many photos and videos that relate to your niche as possible. You can search for content in the following sources:
Travel blogger
Competitors' accounts
Account of hotels, resorts
Photographers
All you need to do next is to download the visuals you want to post in original quality. Never take screenshots for posting – they are low-quality. You can download any Instagram content with the help of various downloaders.
Step #3: Hashtags research
Hashtags are free promotion tools and SEO helpers on IG. Any post can reach more viewers without investing in ads. Tags are the only mechanism that helps Instagram users who are interested in specific topics to discover them via the search bar.
You can also make use of geolocation if you are focused on a specific destination in a travel blog. Often, before the journey, Instagrammers are exploring locations in the search menu – they can find your post, visit the profile, and subscribe.
The easiest way to find suitable hashtags is to analyze an Instagram account of a competitor. Copy some hashtags that are close in meaning and insert these ideas into a hashtag generator. Such tools will suggest myriad semantically similar ideas and synonyms.
Step #4: Advertise in bigger accounts
After you post 100-200 publications and your profile is ready for followers, start attracting traffic from other accounts. For example, you can DM to a feature account that lists over 1,000,000 followers about guest posts. You will see that a like-minded audience will become members of your community.
Step #5: Come up with activities to engage and attract followers
In 2021 contests and giveaways are very effective for gaining an audience on Instagram. In order to attract the target audience to the travel blog, you can give away discount coupons for tickets or for hotels and accommodation. Remember that the prize that you give away for new followers or for certain actions should be appealing for the target audience to relate to your topic.
For example, there is no point in giving away AirPods if you don't want people to unsubscribe from you immediately after the giveaway ends. When you offer prizes that align with your content, people will be excited to take part in the next contests and will be attentive to the posts.
Below you will see three examples of top travel blogs that only re-use visuals and earn from them.
3 Top Travel Blogs: Analyze and Get More Ideas
1. @travellingthroughtheworld
This account already attracted 2 million subscribers. The latest post is dedicated to the advertisement of the Daniel Wellington watch. It's an inspiring idea for you on how you can monetize a good community in the future.
We can click on the link in the bio that leads to a shop where you can purchase presets created by @travellingthroughtheworld.
A set of presets costs about 30 €, so you can imagine the potential profit from sales.
2. @beautifulhotels
This account is a good example of focusing on a certain niche. Here you will find exclusive hotels, so this account will be appealing for travelers looking for special accommodations.
Hotels will be interested in partnering, so this is a precious niche for launching a travel blog.
3. @luxurytravelandhotels
This account is dedicated to luxury travels so the audience that is looking for comfort journeys will likely follow to explore fresh ideas.
Also, if you click on the bio link, come across a book on how to promote an Instagram travel account. This is a smart trick that you can also apply to monetize on Instagram. Experiment on promoting one account, write a book with your insights, and sell it in order to have a stable income.
Lastly
Analyzing IG accounts before starting a blog will help you to specify a niche and get creative ideas. Be more attentive to competitors and adopt some ideas – they will pay off shortly.