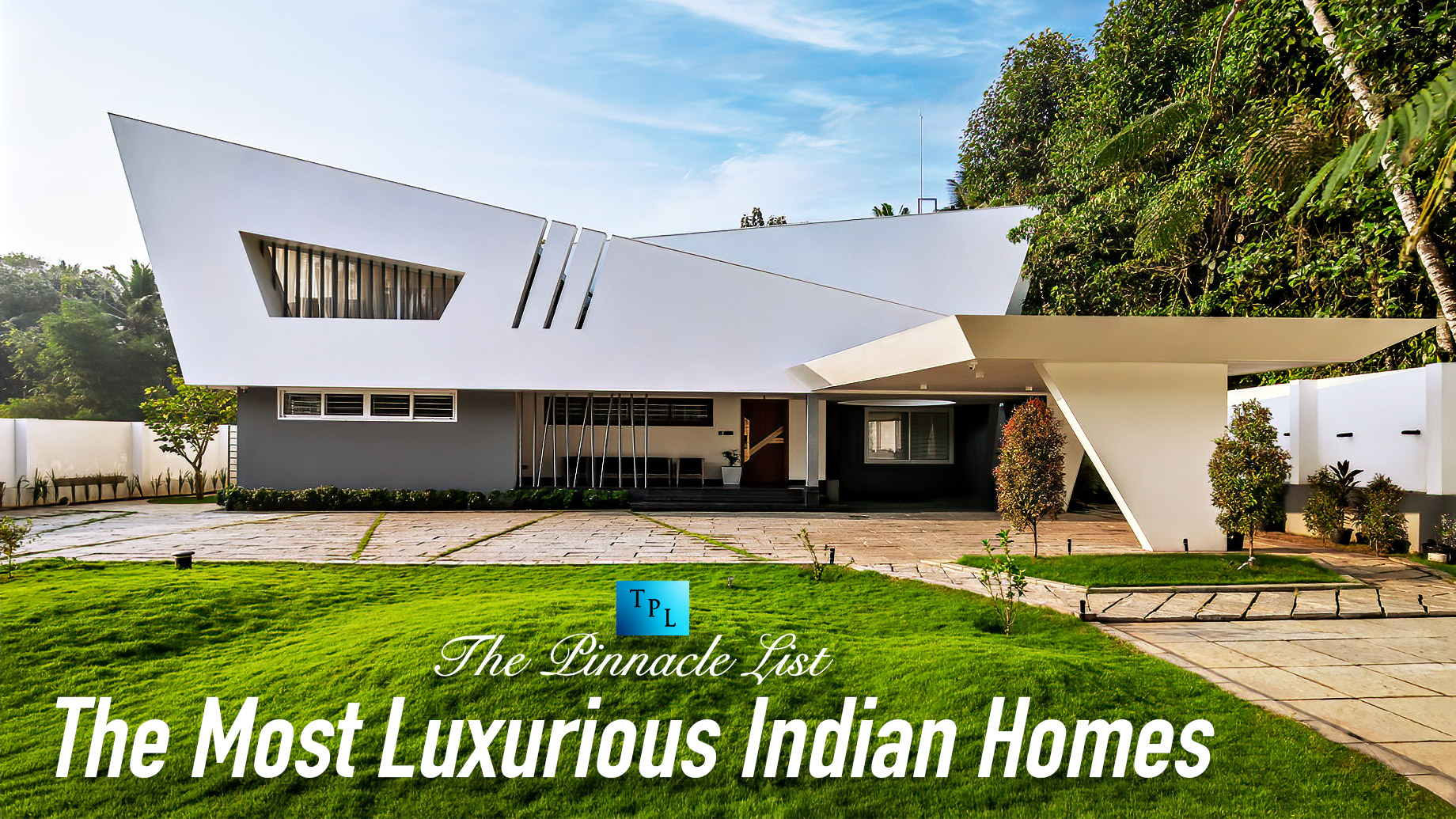 Luxury homes are the epitome of comfort and sophistication. In India, the concept of luxury homes has evolved over the years, reflecting the country's rich cultural heritage and modern architectural style. These homes not only offer a lavish lifestyle but also a sense of pride and status.
From sprawling palaces to opulent apartments, luxury Indian homes are a blend of traditional and contemporary elements, offering the perfect balance of old-world charm and modern amenities. In this blog, we'll explore the various types of luxury homes in India, their features, and what sets them apart from the rest. Get ready to immerse yourself in a world of luxury and grandeur.
1. Lucknow, Uttar Pradesh Firm: I – Design Studios
Pooja Gupta of I-Design Studios was tasked with creating a luxurious mansion that incorporated both colonial and Mediterranean styles to meet the clients' desires. The client, who had a background in politics, was fond of colonial architecture, but the younger generation preferred a more spa-like Mediterranean vibe. The challenge was to bring these two styles together.
Upon entering the mansion, one is greeted by a grand foyer that showcases a mix of grey, brown, and gold elements. This area separates the ground floor into two sections, one with a formal living room, kitchen, and guest room, and the other with a waiting room, powder room, and formal dining room.
The foyer, with its golden medallion mirror, statement console, and inlaid Italian marble flooring, exudes luxury and sets the tone for the entire home. As Gupta says, "The foyer looks like a Victorian photograph come to life."
2. New Delhi Firm: Ekta Khanna Design Studio
According to Ekta Khanna, the design of the bungalow was created to provide each member with their own private quarters. The bungalow was constructed in a C shape, with suites connected by a common corridor and a landscaped lawn occupying the centre. Each suite was equipped with its own lounge, bedrooms, washrooms, and kitchen, including the sons' suites which were designed to accommodate their future families.
Khanna explains that the homeowners preferred low-maintenance finishes for their coffee tables, leading to the use of glass or marble tops. The decor also included dark-walnut veneers and black-and-white PU finishes.
The lobby leads to a pooja room with a delicate floral wallpaper and marble altar, surrounded by marble floor and walls, and accented by brass lamps and copper-toned furniture. The circulation passage connects to the guest bedrooms, two master suites, inner courtyards, the main kitchen, the family lounge, and two sons' living suites. The main flooring is deep-grey marble, with black Marquino and Swiss white marble inlays at key junctions.
The younger son's private suite includes a kitchen with a black-and-white striped floor and moss-green subway tile walls, as well as a sleek marble-top island. In the older son's bathroom, light and dark Italian marble finishes are used for the floor and walls, with symmetrical mirrors and a central storage divider acting as a shelving unit.
3. Ajmer, Rajasthan Firm: VB Design Studio
Vipin Bakiwala of VB Design Studio designed a luxurious and culturally rich home for clients who sought a distinguished and graceful house that reflected their lifestyle. Art takes centre stage in many rooms, adding life and atmosphere to the space. The master bedroom features wall panelling, floral-geometric patterns on the ceiling, and pink marble flooring for a serene yet luxurious feel, while the younger son's bedroom has a soothing pistachio colour scheme with a pop of colour from a painting. The attached bathroom follows a soft-toned theme with cappuccino onyx marble and warm wooden details. Bakiwala said the clients trusted the studio to design a home that would convey the warmth and benevolence in their hearts for the town of Kekri.
4. Mumbai, Maharashtra Firm: ACDS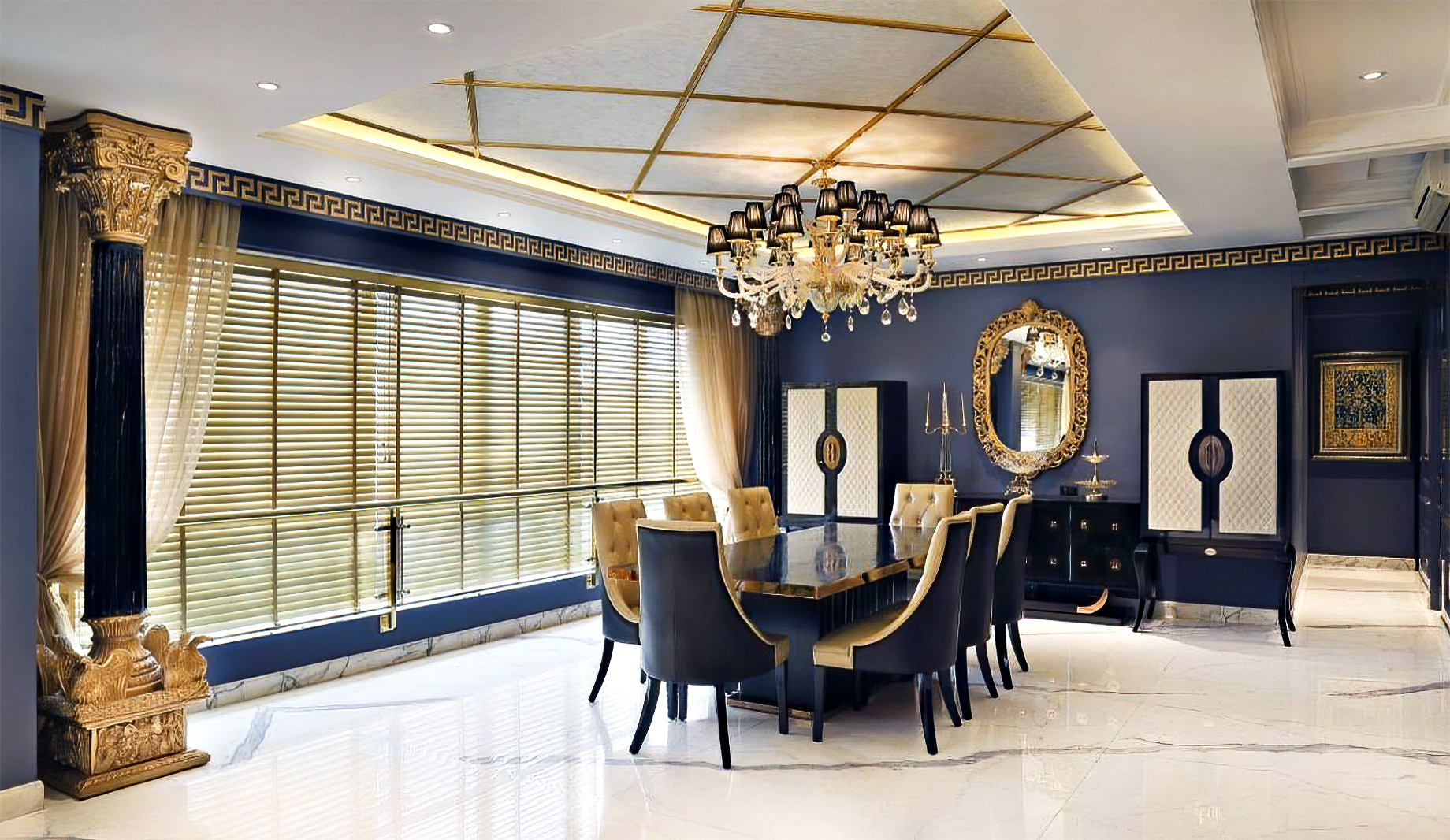 Nirav Shah, the principal designer of ACDS, was tasked with creating a luxurious and elegant two-story apartment with a European aristocratic ambiance. The client desired dedicated spaces for hosting get-togethers and asked for a design palette of neo-classical elements, incorporating shades of blue, black, white, and gold to symbolize royalty.
The challenge was to balance the desired colour scheme and grandeur in a small space. The entrance lobby, accessed through a private elevator, opens into the living and dining areas with a deep teal colour on the walls, doors, and ceiling beams, paired with gold light fixtures, door handles, and a statement console. The living and dining room, surrounded by Corinthian columns, is framed by full-length windows with gold blinds and sheer gold curtains and adorned with ornate chandeliers and tufted leather sofas. The materials used throughout the house include Statuario and Golden Portoro marble, wooden, and leather panelling. "The living room and dining room are the stars of the space," says Shah.
5. Ahmedabad, Gujarat Firm: S A K Designs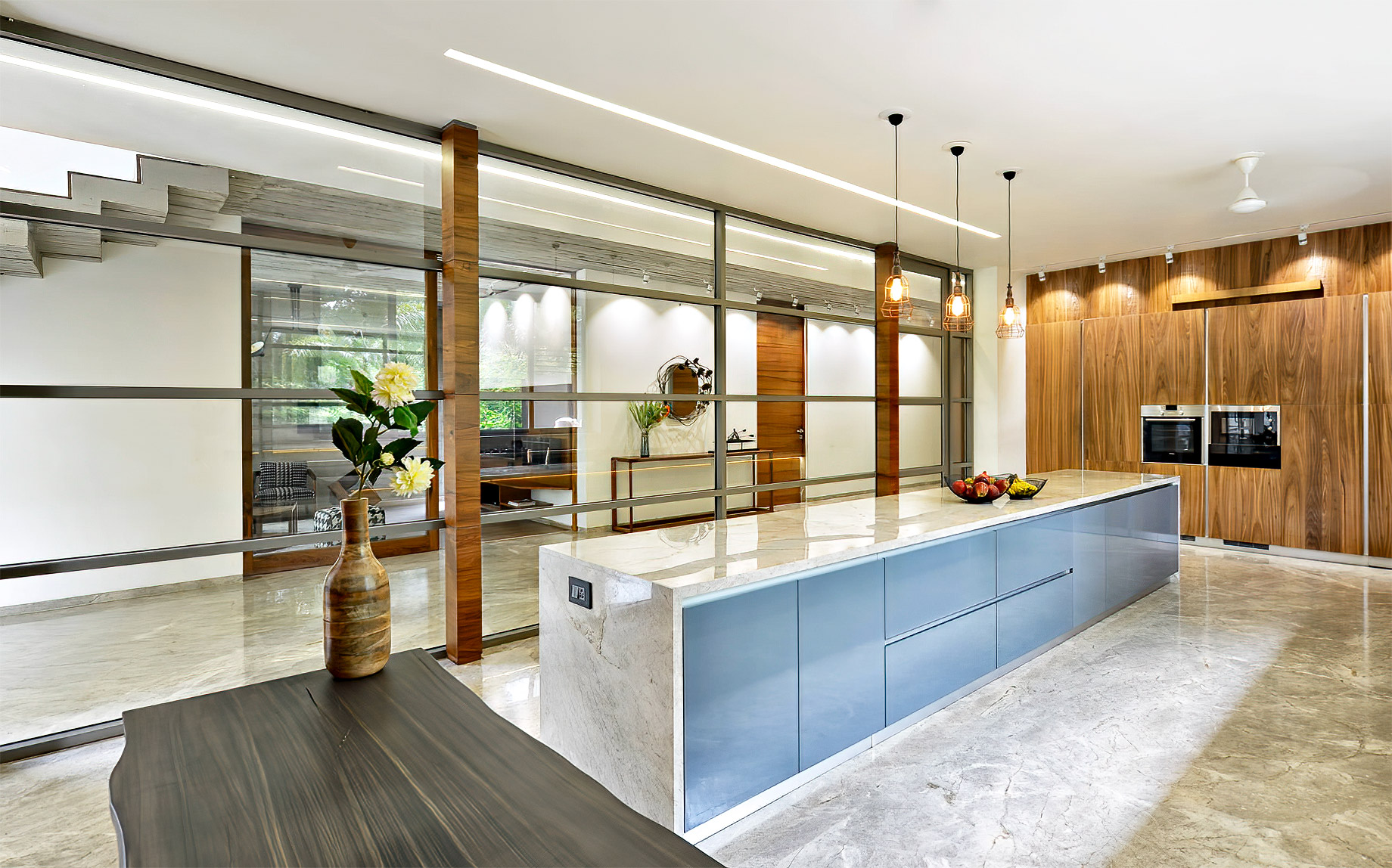 Ashish Kesurvala, the owner of S A K Designs, was assigned to design a large home in Ahmedabad. He was inspired by the abundant greenery and utilized the nearby neem trees in his design, using a combination of glass, concrete, and steel in the exterior. The interiors were decorated in a neutral palette of white, gray, and warm wood, with a few pops of colour.
The kitchen features a large central island made of the same marble as the floor, with blue cabinetry and three hanging lights. The walls have a closed storage unit with wood-finish veneer and appliance niches. Marble tiles were used throughout the house to create a luxurious look.
Final Thoughts
The most luxurious Indian homes are remarkable feats of modern architecture and engineering. They showcase the best of what India has to offer in terms of craftsmanship and design, while also providing an insight into the opulence and wealth enjoyed by many people in the nation. From grandiose palaces to state-of-the-art modern mansions, some of these homes can truly be described as works of art.