Designing a modern aesthetic for your luxury homes living space can often requires restraint. If your end result is a simple, sleek look with an impactful ambiance, you must be mindful of every design choice you make.
Here are some tips to help guide you through the process of creating a chic interior.
Simplify the Color Palette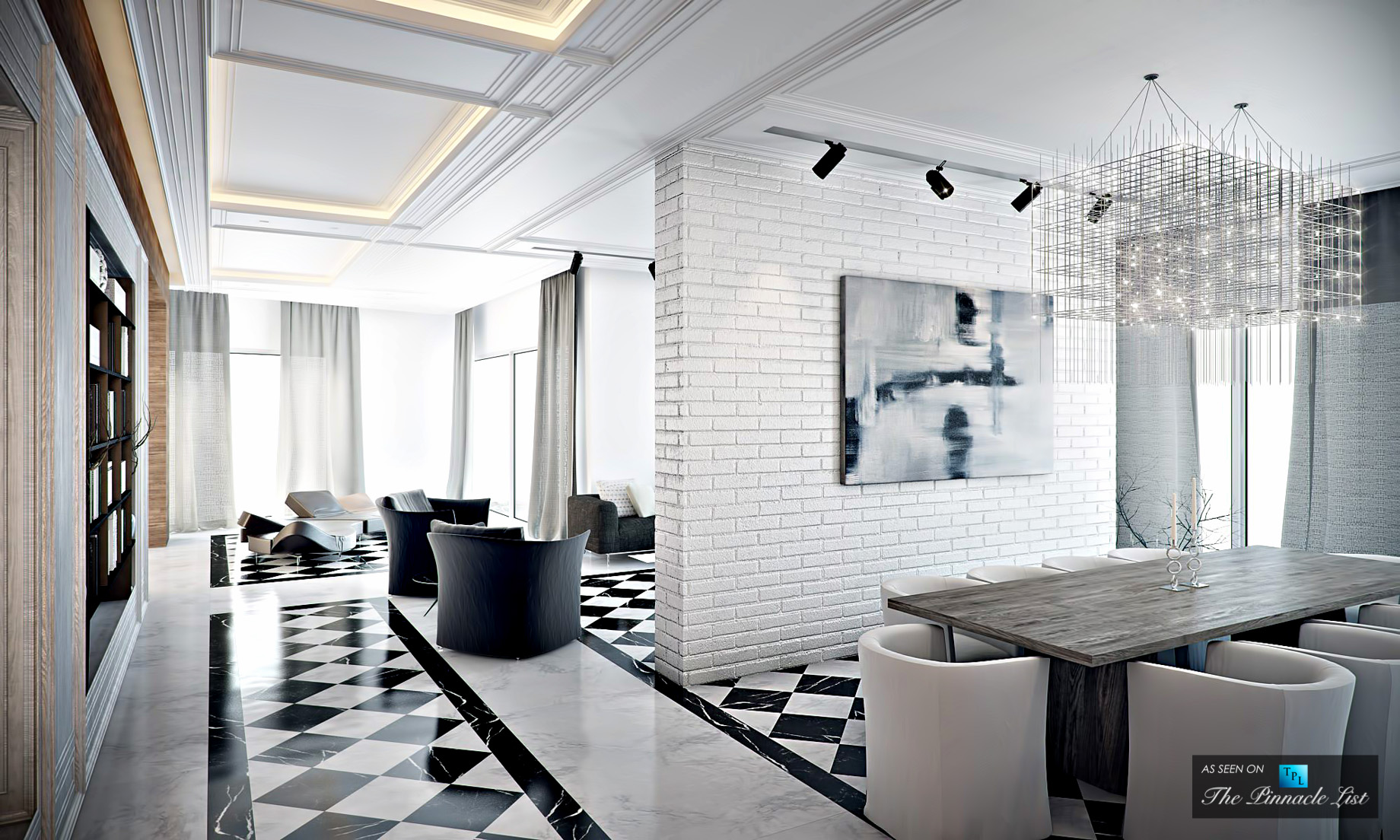 To maximize the clean feel of a modern aesthetic, it's crucial to cut as much visual clutter as you can, which is why simplifying your color palette is an easy starting point.
One classic option for a minimalist color palette is white, gray, black and wood. Paint all of the walls a crisp shade of ultra-white and choose light wood or gray flooring, using a material such as finished concrete, travertine or slate. Use black as an accent color for detailing, like door hardware, window mullions and cabinet pulls, as well as for more decorative details like picture frames, furniture and décor, such as black pillows on your soft recliner and light fixtures to set the mood. Gray also makes a great accent color in this palette, working particularly well as a color option for upholstered furniture.
As for wood, focus on keeping all of the wood that you use throughout your decor in the same color family, not necessarily in the same species. For instance, light-colored wood looks great mixed with a white, gray and black palette, and you can incorporate it by choosing items made from white oak and even finished baltic birch plywood. Wood also helps to add warmth to modern decor and prevents it from looking too sharp and cold.
If color is more your thing, don't be afraid to make this palette your own by adding a few pops of color. The key is to use it sparingly to maximize its impact. Add a pop of color with a bold-hued chair, a colorful rug or even a painted accent wall. Stick to one or two bold splashes of color per room, rather than forcing too much color in one room.
Reconsider Decor Elements
For many people, personal decor like framed photos, art and knickknacks are a favorite way to make a space ring true as "you." However, if you are going for a sleek, modern look in your home, these items must be used sparingly with the utmost restraint to avoid looking cluttered.
To keep the look of your space refined, avoid having too many of any one type of object. The goal is to keep the space feeling balanced, so skip the gallery wall of framed family photos for a few choice pictures strategically placed throughout the room, using a piece of art as a clean focal point instead. Use plants to liven up your space, while also adding softness to any sterility that a modern, clean palette can present. Top a table in each room with a bouquet of fresh roses and add a few indoor plants, like a money tree or a fiddle-leaf ficus, to your great room and foyer to infuse the space with fresh air and new life.
Add Consistency With Custom Built-In Millwork
When planning a renovation, invest in custom built-in millwork to install throughout the room. By using custom cabinetry instead of one-size-fits-all furniture, you can reduce bulk throughout the room to make the space feel airier and less cluttered. When working with a craftsman on the design, be sure to include more storage than you currently need to allow room to grow.
Some examples of beautiful interior design elements you can see on this site with 3D models.
If you are remodeling more than one room, include built-in cabinetry instead of furniture to create a more consistent look throughout your home. Having multiple pieces crafted from the same type of wood can also be an economical option, as the craftsman can minimize waste and maximize material usage.