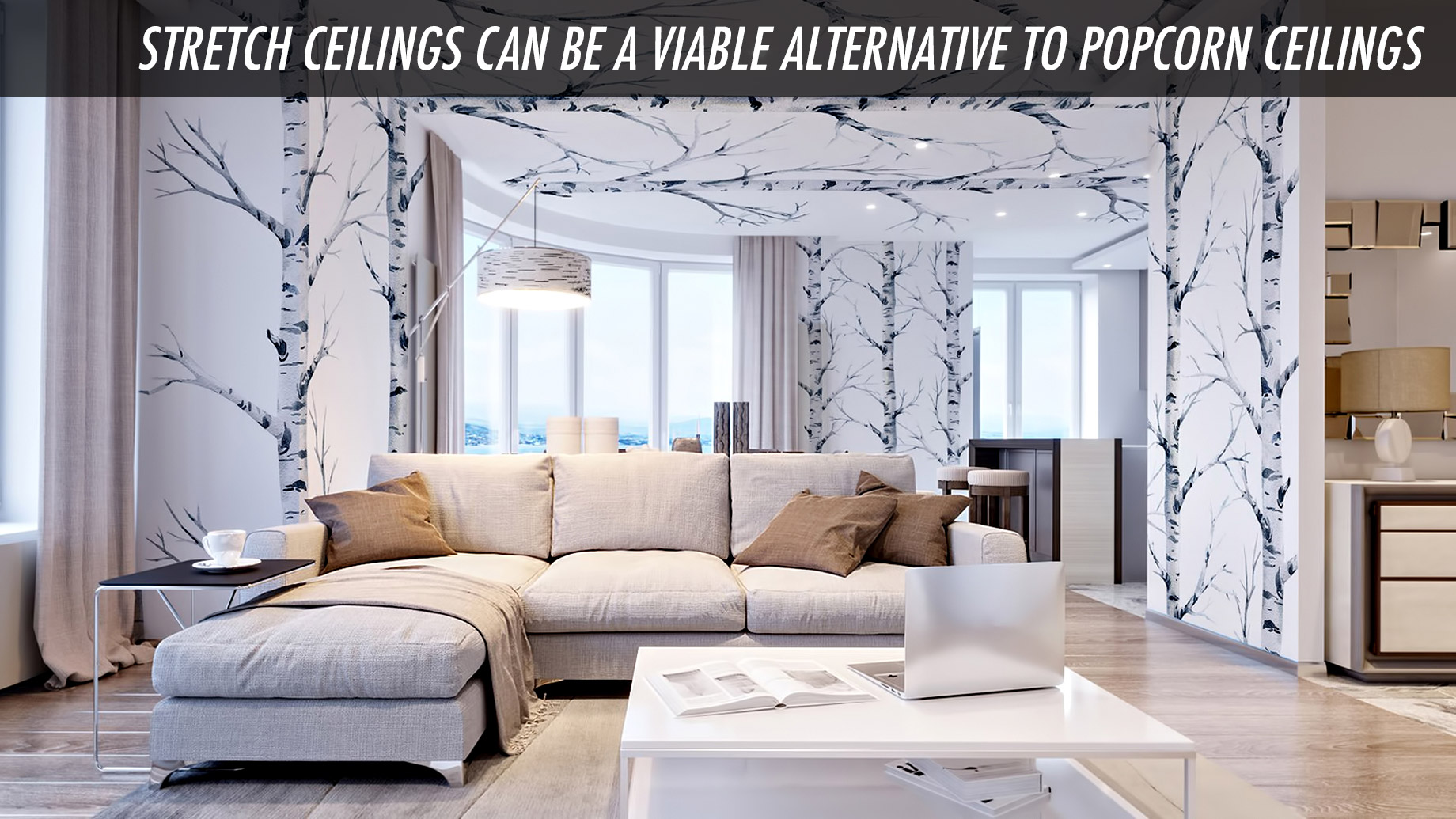 Stretch ceilings made from PVC or polyester fabrics can be a viable alternative to popcorn ceilings. They are quick and easy to install because it does not involve sophisticated engineering or fabrication. The one-piece fabric of the size of the ceiling sits a few inches under the roof. The 'harpoon,' which is an attachment fitted to the perimeter of the fabric, facilitates fixing it to the aluminum frame fitted along the circumference of the room. The process of the installation consists of heating the ceiling to 50oC, followed by stretching the film and inserting the harpoon into the locking channel of the aluminum profile. When the film cools, it shrinks to provide the perfect ceiling.
Asbestos in popcorn ceilings throughout many older homes is the reason for many homeowners to discard it and choose stretch ceilings instead. But discarding popcorn ceilings is neither easy nor pocket-friendly because asbestos removal can be a hazardous process that requires specially trained persons to do the job. Although a modern clean popcorn ceiling does not contain asbestos, as the advent of stretch ceilings gives more options for uniquely improving your homes aesthetics.
Here are some reasons why you should consider a new stretch ceiling according to Popcorn Ceiling Solution Philadelphia.
Get the desired style and finish
Only your imagination can limit your creativity when choosing stretch ceilings. You can create any design and texture, choose any color shade, and even print any image or artwork on stretch ceilings to make it look unique. Whether you prefer glossy or matt finish or like transparent, satin, and metallic finish, you can have your way. Such is the flexibility and versatility of stretch ceilings that you can create your style that bears the signs of your creativity.
Durability matters
Stretch ceilings are highly durable and come with a 10-year warranty from some manufacturers. It is excellent for use in any climate and environment, and you can safely use it in places with high humidity. PVC is moisture resistant and remains unaffected in high humid conditions and eliminates the problems of contraction, expansion of any other kind of deformity due to environmental changes. Most importantly, PVC is non-allergenic, which makes stretch ceilings utterly safe for use in homes, offices, and commercial buildings.
Very lightweight ceiling
Ceilings usually are quite heavy structures, but stretch ceilings are not only different in construction but also very lightweight. A square meter of PVC stretch ceiling weighs only 240 grams, which is incredibly low by any standard of other types of ceilings available. Installing stretch ceilings helps to minimize the load on the building structure, and it conforms to the fire classification UL 732, BS1D0 as well as BS2D0.
Easy to install utility and decorating devices
Stretch ceilings create a gap between the ceiling and the roof, which is a very useful space for running electrical wires and installing ventilation equipment and other utilities while keeping it concealed from view. It is easy to install downlighting systems from the ceiling and other devices like smoke detectors and ventilation grills without doing any drilling or cutting and helps to avoid debris generation.
Cleaning is easy, and because stretch ceilings are maintenance-free makes it is a very convenient choice.