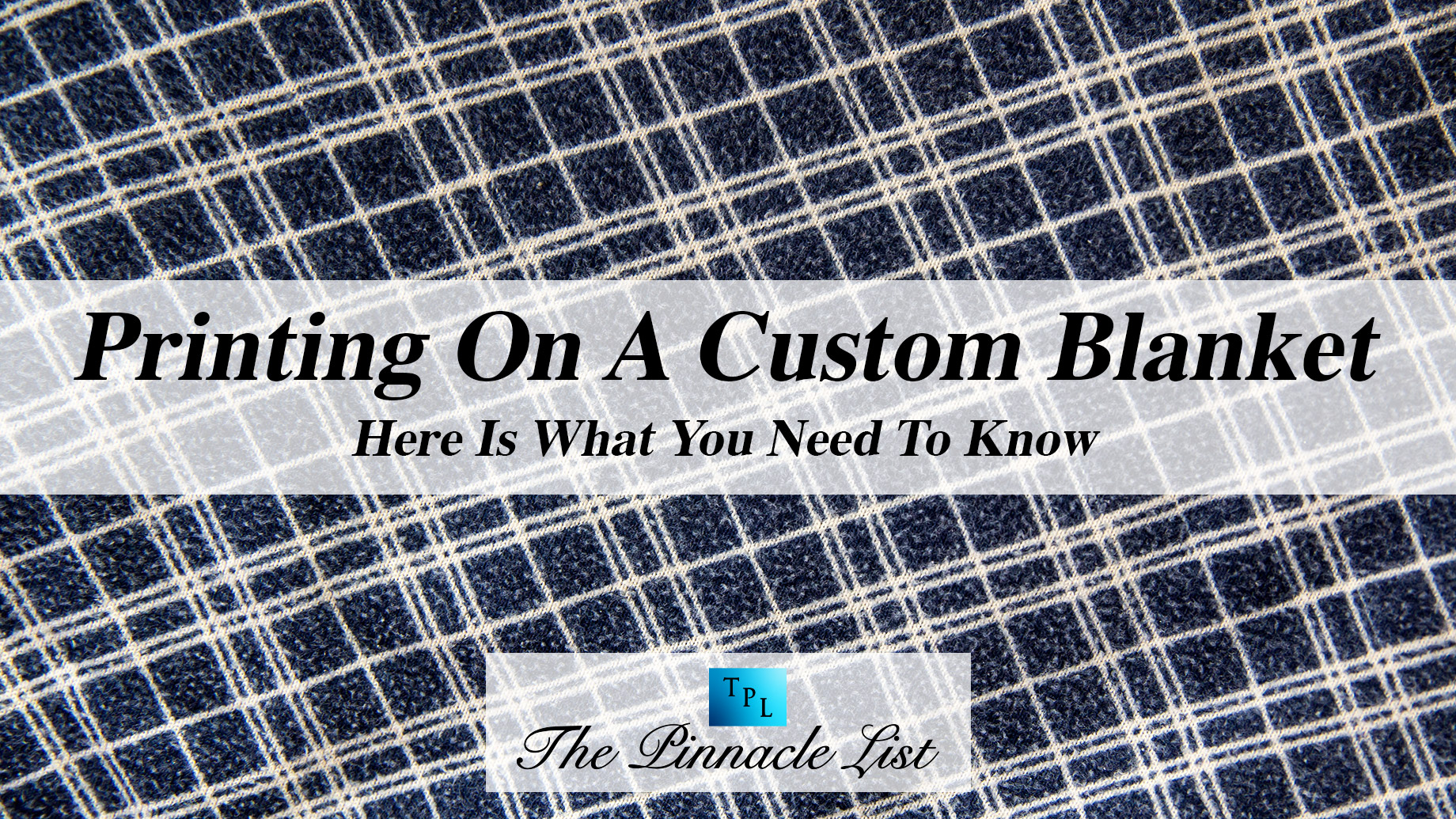 Custom blankets have been in the spotlight these days. Some people are just getting into the custom blanket trend, but it's been a long-term fashion for others. There are many reasons why custom blankets are becoming popular, and some of them include their style, flexibility, affordability, and personalization opportunities.
Besides, who doesn't love the comfort and coziness that custom blankets provide? You can choose from different fabric materials that offer different levels of warmth and comfort. So, whether you're staying at home or traveling for days, custom blankets should be on your list!
Choosing the design
Custom blankets offer a wide space for creativity and personalization. The end product or design of your blanket all depends on your taste. You can choose your preferred size, color, and design, including the picture you'd like to see printed.
Tips for selecting a design that matches your personal style
It's not always easy to select a design that fits your personal style but look at these steps to help you make a decision.
Choose your material from acrylic, chenille, cotton, fleece, knit, sherpa, knit, or polyester.
Decide the size you want to have. Do you want a large, small, or medium-sized blanket?
Pick a color scheme that inspires you the most!
Define the details you want for your blankets. Do you want to design it with logos, name, date, or photo?
What are custom blankets made of?
Custom blankets can be made from different materials. Note that each fabric or material offers a different level of comfort. Some of the materials used in manufacturing custom blankets include acrylic, chenille, cotton, fleece, mink, knit, polyester, and sherpa. You can also purchase blankets with a combination of these fabrics.
The manufacturing of a custom blanket starts with choosing the material to use. After that, the fabric will be cut depending on the client's preferred size. Then, the printing process of the design will start. It includes the background and layout. All that's left to do is to wait, and soon enough, you'll be enjoying your new custom blanket, printed exactly as you imagined.
Printing process
In the printing stage, there are also some options. For example, there are dye sublimation, embroidery, digital, and screen printing. Depending on the chosen printing provider, you'll have the freedom to choose whatever method you want to use. But among these, digital and screen printing is the widely-used methods.
Digital printing is different from screen printing. Digital printing uses a computer, thinner inks, and low vibrancy, but it's ideal for bulk orders. Meanwhile, screen printing uses hand-printing, thicker ink, and high vibrancy and isn't ideal for bulk orders.
Tips for selecting the best printing method for your design
You can choose any method, but screen printing is advisable when it comes to quality and durability. Likewise, before you choose, it's important to consider your budget first. Screen printing can be a bit more expensive than digital printing. Lastly, if your design includes complex details, we recommend choosing digital printing because it has many photographic features.
Custom blankets: care and maintenance
The type of wash and care for your custom blanket depends on its material. But the good news is that you can wash almost all types in the washing machine. Just make sure to read the instructions before setting the program.
But for a general preview of caring for and washing your blankets, here's what you need to do:
Wash each blanket separately.
Use cold water when washing and rinsing your blankets.
Use a gentle detergent for all fabric types.
For a crochet or knit blanket, use a mesh laundry bag.
Do not air-dry acrylic blankets.
Use the delicate wash cycle on your washing machine.
Preserving the print quality
Meanwhile, to preserve the print quality of your custom blankets, here's what you can do:
Avoid using bleach on your blankets.
Do not use strong detergents.
Hang it immediately on a clothesline after rinsing.
Separate white blankets from colored ones.
Conclusion
Photo blankets offer a unique and special way to celebrate memories and even commemorate special events. They are a great way to show someone you care and to show off your favorite photos. With the wide range of sizes, shapes and materials available, you can create an item that is perfect for any occasion.
Not only are these blankets beautiful and unique, but they also make a great and lasting impression. With so many options available, it's easy to create a photo blanket that is perfect for any occasion!