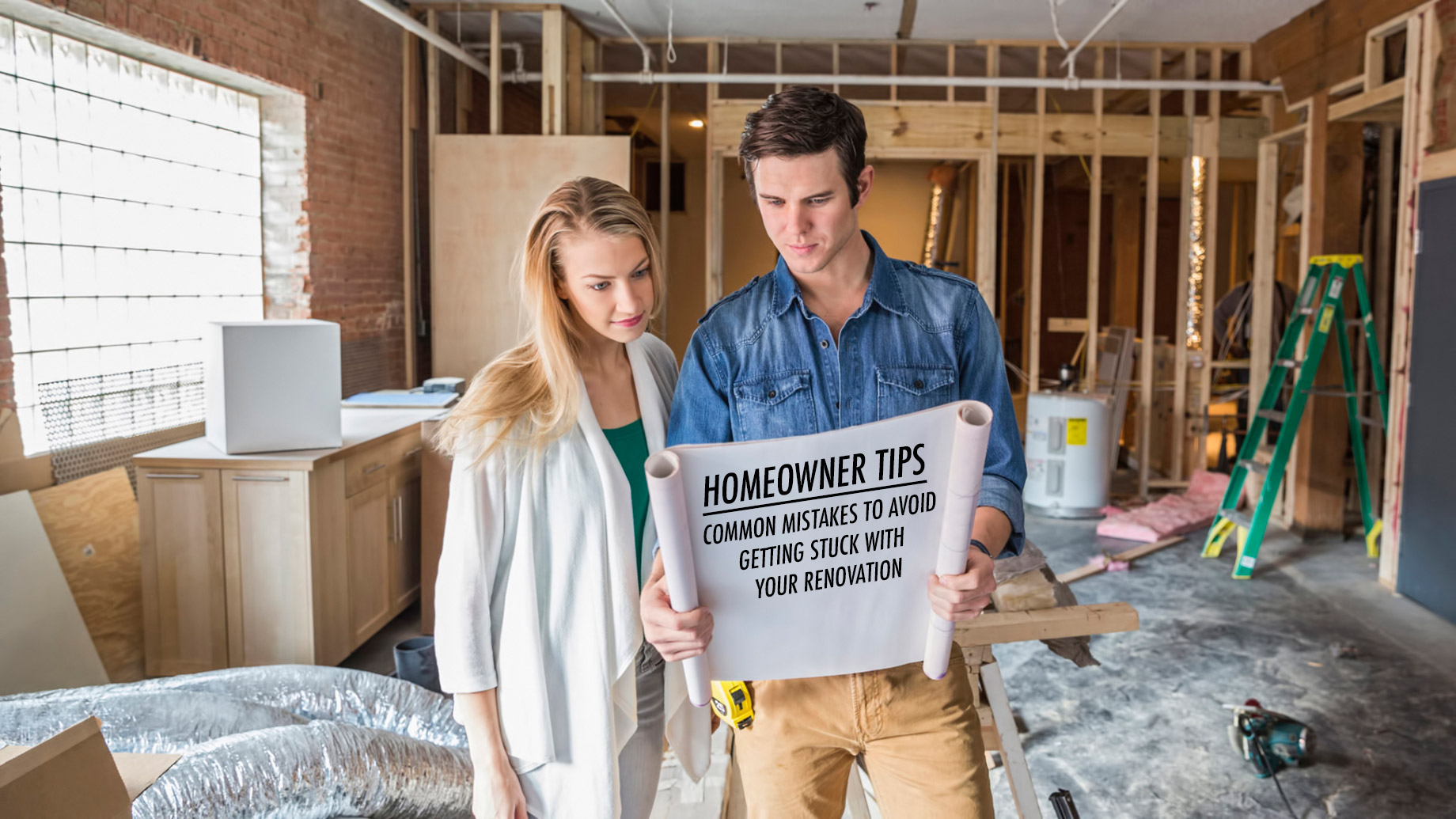 Undertaking a large-scale home renovation can be an extremely stressful time, especially if you're renovating to sell. It's a huge undertaking and can be a serious financial commitment. Even smaller projects can easily run into five figures. There's the process of selecting contractors, overseeing the plan, and carrying on with your life while your entire home is up in the air. Because there are so many margins for error when it comes to renovations, it's essential to go in knowing what some of the most common mistakes are.
Here are just a few common mistakes to avoid getting stuck with your home renovation.
Not being realistic
Don't be seduced by the easy-breezy process of home makeover shows. In real life, the process can be long, hard, and dirty. Depending on which rooms you're renovating, there may be times when you can't use your bathroom, kitchen, or bedroom, sometimes for days or even weeks at a time. You need to be prepared for all of these moments, so you can make sure to minimize stress and reduce the risk of running into problems. You should also expect the project to take a little longer than you anticipate, no matter how well you plan. If you're not ready for this, then you may be better off to sell your house fast in Riverside with a professional home buying service.
Thinking you know everything
Now that pages and pages of information are available in seconds on the Internet, it's easy to think that just because we've Googled something, we know exactly how to do it. But then, watching a tutorial is no match for years of experience. Remember that video tutorials and articles offer short, snappy versions of what actually happens during a home renovation. Make sure everything is completed by someone who knows what they're doing. You might be able to tile a bathroom yourself, but leave the plumbing to a professional. Don't be tempted to take on rewiring, either.
Going ahead without a plan
As with any big project, before you get started on a home renovation, you should have a clear plan, and make sure it's written down in detail. Any contractor or renovator who wants to just plow on without a plan isn't the contractor for you. Also, you need to make sure you provide your contractor with as much detail as possible about what you want, when you want it, and how much you can spend. Include even the smallest details, down to the finish you want on your toaster. It's all important.
Of course, even the best-laid plans sometimes go wrong. If something comes up that's 'off-plan' don't worry. Respond flexibly and try not to worry. No major project is ever going to go off entirely without a hitch! It's how you respond that matters.
Spending money in the wrong place
It goes without saying that you should have a solid idea of your overall budget before you start. But then, you also need to make sure you have an idea of what money will be spent where. Make sure you're spending more money on the right things – appliances that will get used every day, sofas, etc. You don't need to spend hundreds of dollars on items that are purely decorative or that will be used only occasionally.
A strict budget
Now, we don't mean that setting a strict budget is wrong. Of course, it isn't, but renovation projects often take longer and cost more than anticipated, as things can crop up over the course of the project. Don't set a budget that's more than what you can afford. However, do make sure you add about 20% to your projected final costs to cover any unforeseen circumstances. If you don't go over, then you'll have extra money for decor, or perhaps a vacation. Either way, it's better to be safe than sorry.
Choosing the wrong people
One of the most catastrophic mistakes you can make is to not research potential contractors properly. You should make a shortlist of potential contractors and interview each one, making sure they have all the skills and experience you need. You should also ask for testimonials from previous customers if you can. This will fill in the gaps of what it's actually like to work with that person, and make sure there has never been an occasion where they've gone over budget, or not paid for materials. If something feels off, don't hire them.
Not working cohesively
If you have an entire team of people working on your project, maybe from different companies, or doing different tasks, it's important to keep everyone in the loop at all times. Have regular meetings with your entire team so that any changes are communicated, or someone who hasn't been on site for a while knows what happened while they were away, or someone can make a suggestion for improvements to the original plan. This will help minimize the risk of problems cropping up because someone didn't have essential information.
Good communication is also important as it helps build rapport between the members of your team, and helps you and your family work through any stressful moments or disagreements that arise over the course of the renovation. It's not an easy time, and it's common for tempers to flare. Setting a precedent of good, regular communication helps avoid major blowouts.
Being too trendy
Home decor trends continuously change, as fashion trends do, but being too trendy with your home is a much bigger commitment than changing your wardrobe. Avoid following too many current fads in your decor, and stick to what you know you like – perhaps with trendy accessories or smaller furnishings such as lamps and rugs. That way, the result will be something you'll love for a long time, and not just until the trend changes. Stick to neutral colors and bespoke finishes that are practical and work for your lifestyle, and the result will be a renovation for the ages.