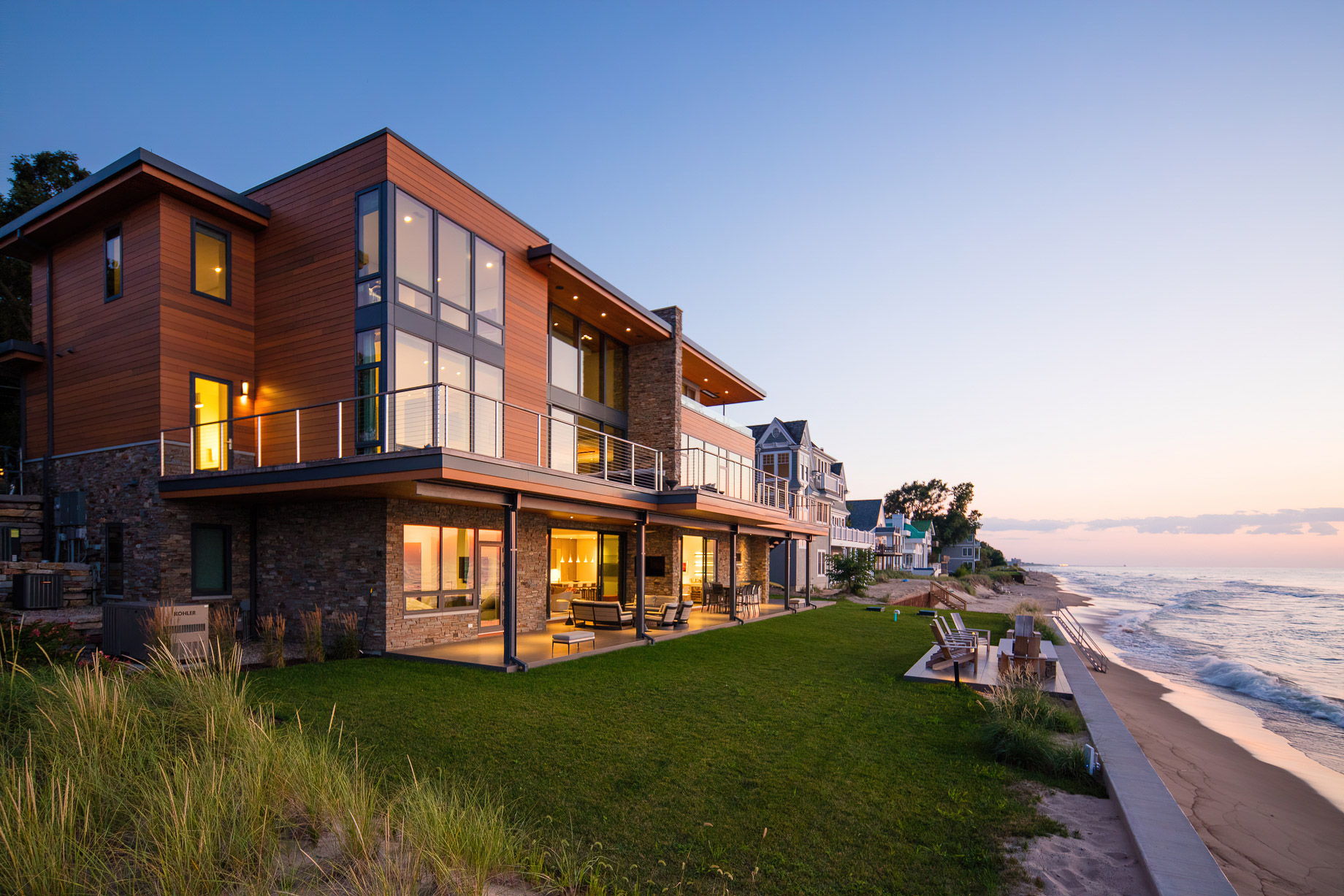 Name: Long Beach Residence
Bedrooms: 6
Bathrooms: 9.5
Size: 4,870 sq. ft.
Lot: 0.33 acres
Built: 2016
Long Beach Residence is a stunning modern family beach house situated on Lake Michigan's shore in Long Beach, Indiana. The house is designed by Lucid Architecture as a vacation residence for a family of nine siblings, their children, and grandchildren to gather from across the United States. Created to be distinctly unique, the interiors are warm, inviting, and spacious while also providing the intimate feeling of personal space.
The house features two levels of gathering zones, each with its own living room, kitchen, and dining rooms. The upper level accommodates formal entertainment and boasts spectacular views across the lake to Chicago's skyline. The lower level is more relaxed and suited to beach life. The home's design utilizes the steep slope from road level to beach level to allow each floor to open fully to the waterfront. Decks, patios, fireplaces, and outdoor cooking areas enhance the outdoor living experience.
The home's exterior features Western Red Cedar siding, which wraps the house and continues into the interior past the glazing. The tongue and groove cedar siding accents the recessed ceiling areas that define the dining and kitchen spaces. The cedar soffits blend into cedar ceilings in the two-story high space, creating a continuity that is obvious through the tall window wall.
The site for Long Beach Residence was a combination of three small lots along a tightly packed shoreline. The home appears low and linear from the street, with only two of the three floors visible. The long roof lines and material palette of stone, cedar, and cement board accentuate the home's horizontal qualities anchoring the unique design, which seamlessly ties together the interior and exterior finish palettes, makes it an exceptional retreat for the family, where they can gather and enjoy the beach life.
Architect: Lucid Architecture
Interiors: Thomas J. Landry & Associates
Builder: Mike Schaap Builders
Photography: Lucid Architecture
Location: Lake Shore Dr, Long Beach, IN, USA