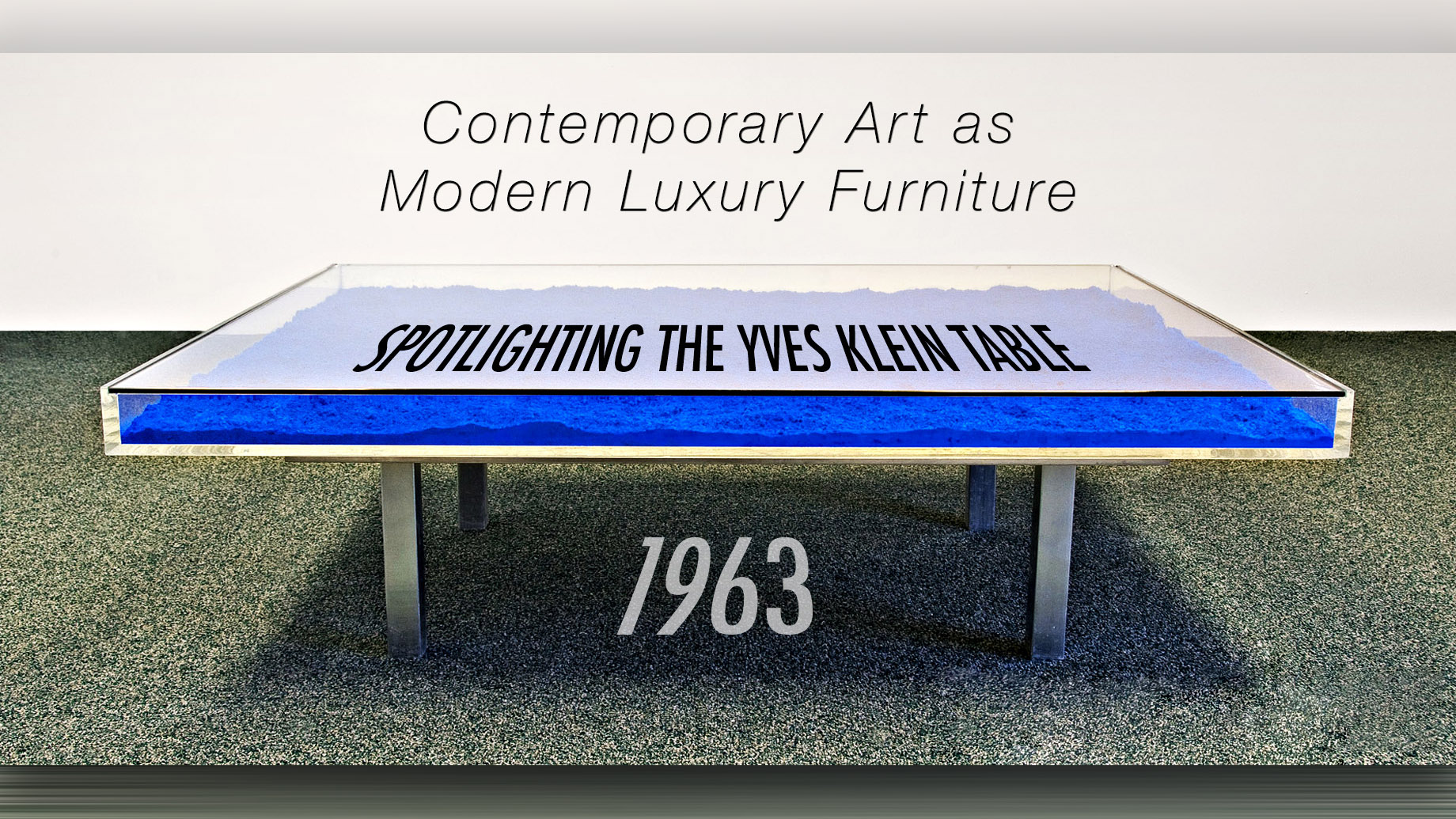 One of the premier artists of the post war generation in this century, Yves Klein was an influential figure in European art circles and a leading member of the French artistic movement of Nouveau réalisme founded in 1960 by art critic Pierre Restany. Following in the footsteps of his parents, who were both painters and very active in the Parisian avant-garde, Klein attended the École Nationale de la Marine Marchande. As a young artist, Klein's work evolved into a combination of conceptual art, performance art, and environmental art.
Preoccupied with the subject of infinity, Klein expressed the subject in his early works and writings. The spiritual significance of it ultimately led him to create his most significant artistic achievements. In 1961, Klein created a trademark ultramarine pigment with a signature shade of blue and patented it as International Klein Blue. "Blue…is beyond dimensions, whereas the other colors are not," Klein famously said. "All colors arouse specific ideas, while blue suggests at most the sea and the sky; and they, after all, are in actual, visible nature what is most abstract." Klein thought that the blue color in particular had qualities close to pure space and associated it with a realm beyond what could be seen or touched.
In the early 1960's Klein's artistic endeavors took a foray into the world of furniture design with his creation of an elegant trio of low Plexiglas, glass and steel tables filled with bold materials that appears to be suspended in space with a limitless depth. The result was a brilliant series of prototypes starting with Table Bleue in 1961, containing his iconic International Klein Blue (IKB) pigment, shortly before he died suddenly in 1962 at the age of 34 of a heart attack. Under the supervision of Yves Klein's widow, Rotraut Klein-Moquay, the Yves Klein Estate in Paris, France has overseen production of the Yves Klein coffee table editions from 1963 to present.
While each of the Yves Klein Tables contains the same type of pigment in a Plexiglas box, no two tables are alike as the dry powder creates a unique variety of textures and patterns with subtle surface variations. Still in production today, the iconic tables have become a status symbol of elegant style and décor in the high-priced world of luxury real estate where the significance of exclusivity reigns supreme. For those with the financial resources, the artistic tables are available for purchase today from the estate of Yves Klein Private Collection, New York.
The Yves Klein Estate produces a limited number of controlled edition tables each year that ship directly from Paris all over the world. Each of the Private Collection pieces receives a signed and numbered placard of authenticity issued by the estate. Prices for new Yves Klein Table Bleue start at a lofty $20,500 USD with early edition models regularly selling at auction for significantly more.
Blue is not the only color that you can choose from inside an Yves Klein Table, it just happens to be the most famous example of his work. Klein designed the table in the three materials most common to his work at the time: International Klein Blue (IKB) pigment (Table Bleue), rose pigment (Table Rose), and gold leaf (Table Or).
Table Rose uses the same pigment material inside the table as Table Bleue does, but it offers a complete opposite feeling of calm romance, in comparison to Bleue's sensation of being… beyond dimension.
The sheer visual power of the unmistakably brilliant Table d'Or, with its 3,000 gold-leaf sheets glittering below a glass surface, exemplifies a stunning representation of luxury extravagance. The affluent flare of Table d'Or blurs the lines between function and art. With this, Yves Klein created a coffee table that is a sculpture of "living matter" with an eye-catching display of dancing gold leaves that move light in abstract passage from visible to invisible.
Seemingly alive to the harmony of static motion in their space, the gold leaves within the Table d'Or evoke a surrealistic experience of art as decor. Often seen only in galleries across the globe, a 1963 edition Yves Klein Table d'Or recently sold for $125,000 USD on June 11, 2014 at a Design New York Auction.
A limited-edition Yves Klein Table can be considered the ultimate piece of contemporary art as modern furniture elevating the style and décor any home with an exclusive statement of timeless luxury. In fact, designer David Netto says, "You're not living until you have an Yves Klein coffee table."