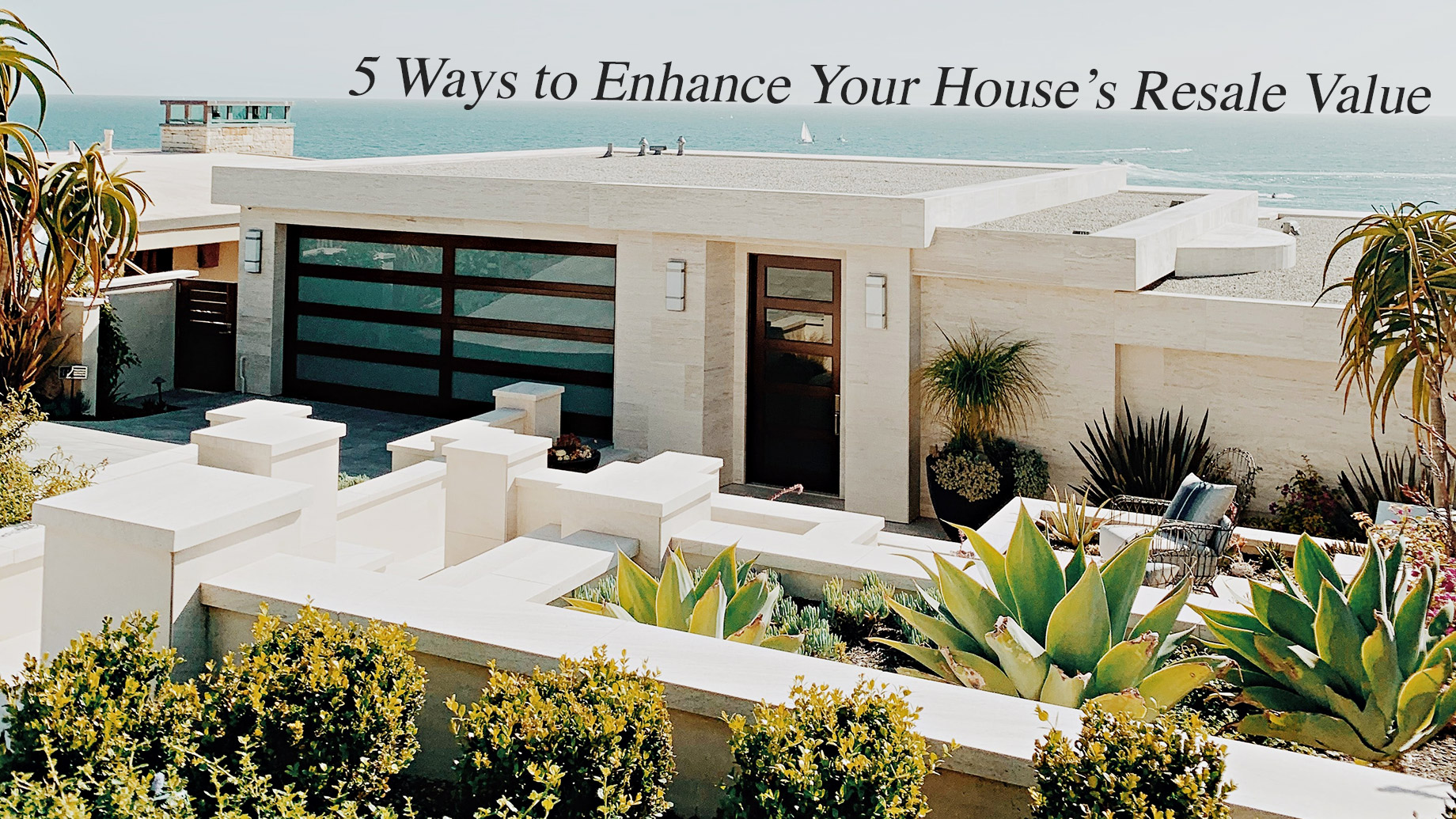 Houses are one of the most significant and expensive assets that people own throughout their lives. Therefore, everyone wants to own a home with the best value in the market. A place with a decent resale value provides you with financial security and the comfort of a luxury home. A house's resale value is indeed dependent on its area and the market. However, an intelligent owner knows that it's equally possible to enhance your home's resale value by investing in home improvements.
Unfortunately, it's pretty easy to make the wrong decisions and waste your investments. As a result of such wasteful investments, a house's resale value doesn't change at all. In some cases, resale values may even drop. So, it's crucial to avoid such investments. To help you in this purpose, here are five ways to enhance your house's resale value simply through home improvements.
Create more space
We all know people are always willing to pay better prices for more spacious homes. After all, more land allows the buyer to add more customizations while also having a more comfortable home. However, it seems to be impossible to increase the land of your house. Fortunately, expanding the area isn't the only way to increase space in your home. You can utilize existing areas and make them much more spacious in many different ways. One of the most common ways used to create space is breaking walls and joining rooms. In contrast, creating additional rooms may cost you more than the increase in resale value.
Another effective way of increasing space is to increase the area visually. Removing unwanted items or large items that take too much space can be a smart way to increase space visually. However, you can't just get rid of your belongings. For this purpose, a self storage facility can be of great help as you'll be able to store your belongings safely away from your home. Moreover, you can also try rearranging furniture in your house and adding more visually spacious paint colors.
Beautify your house
A beautiful and attractive house is appealing for everyone. People will always love to pay more for a better-looking place, compared to a dull one. So, investing in the appeal of your house will always prove to be an excellent investment, resulting in a greater resale value. There are numerous ways you can increase the attractiveness of your humble abode. Painting it with attractive colors is an effective and affordable method that you should certainly use. You can explore different color schemes and themes to make your house look even better.
Furthermore, you can also choose some specific areas to upgrade. 93% of people upgrade their living rooms, as an example. These upgrades can include better floorings, such as wooden sheets and even attractive lighting. Moreover, increasing the attractiveness of your house from the outside is another effective method to increase the resale value. Beautiful gardens can easily attract people willing to pay high prices. You can add colorful and attractive plants for landscaping that is also easy to maintain. Trees can also make a significant impact on your home's curb appeal. Captivating pathways and outdoor entertainment spaces are some other investments worth making.
Increase energy efficiency
In today's world, where everything requires electricity to run, it can be a great decision to increase the energy efficiency of your house. After all, who wouldn't want to pay more for a place that saves their money? 70% of real estate agents report that writing about energy efficiency in home listings is valuable. Perhaps one of the most compelling and affordable ways of increasing energy efficiency is by improving the insulation of your house. As a result, there will be better temperature control while also cutting the need for artificial cooling or heating that requires electricity. Some ways of insulation are roof insulation and vinyl window replacements. Furthermore, you can also get rid of inefficient appliances and lighting, replacing them with efficient ones. Solar panels can also prove to be quite effective and valuable in increasing efficiency and resale value.
Transform it into a smart home
With the influence of technology rising, people want to stay updated with all the new tech, even for their homes. Hence upgrading your home can massively increase its resale value. For this purpose, you'll need to integrate advanced systems that automatically take care of your home in different ways. An innovative temperature control system is a good investment as it's pretty useful for people. Additionally, a network of fire detectors, cameras, locks, and doors can work to keep residents away from all harm.
Moreover, you can also invest in innovative lighting systems to control lights without even getting up or set them to light up automatically. More importantly, you can also download a virtual assistant and manage your whole smart home with a few simple clicks on your phone. Such an impressive smart home will quickly increase your house's value.
Improve maintenance
Often making significant investments isn't the right way to increase your house's resale value. If your house lacks proper maintenance, even investments can't make much of a difference in the resale value. So, it's essential to take care of your house on a fundamental level. Your goal should be to make your home require as low maintenance as possible. For this purpose, you'll need to use high-quality materials wherever possible and keep them maintained at all times. Paint is one of the most common things that need maintenance. By applying high-quality paint, you can reduce the costs of painting your house frequently. Furthermore, you can also improve the quality of your flooring, as it also needs maintenance quite often. Adding in new and upgraded appliances will also help to make your house more low-maintenance.
Conclusion
If you're a homeowner, it's best to make some investments and efforts in home improvements. Not only will you increase the comfort but also significantly increase your home's resale value. However, make sure to invest carefully as not all investments are worth the money. People usually search for spacious and beautiful houses that require minor repair and maintenance. Apart from that, you can add value to your property by making it advanced and energy-efficient.