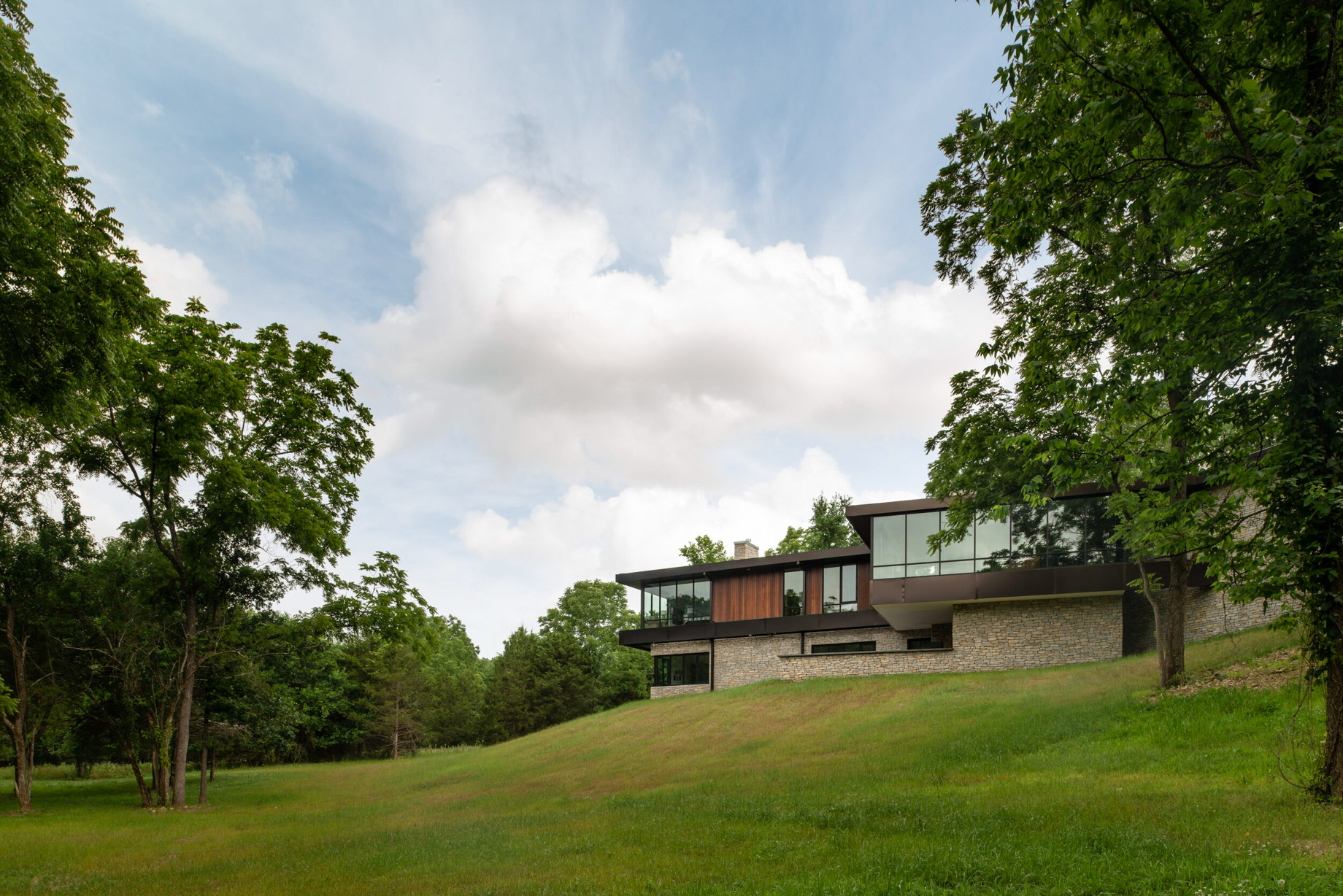 Name: Shaw Hollow House
Bedrooms: 4+
Bathrooms: 5+
Size: 6,000 sq. ft.
Built: 2018
The Shaw Hollow House is a fusion of nature, modern architecture, and history in the heart of the Missouri nestled amidst the undulating hills and hollows of the Ozarks. The home is an architectural marvel that harmoniously interlaces personal narratives into its very foundation. As the first light of dawn gently kisses the Ozark foothills, the Shaw Hollow House emerges, gracefully dissolving the remnants of morning fog. Its strategic placement within the hollow, where the lush forest surrenders to the sprawling prairie, is a testament to its seamless integration with the surrounding landscape.
At its core, the design of Shaw Hollow House is a poetic ode to the mesmerizing phenomenon of radiation fog, a natural occurrence that graces the Ozarks in the early hours. This ethereal inspiration breathes life into every facet of the residence, from its sweeping contours to the interplay of light and shadow that dance upon its surfaces. The architects have masterfully captured this ephemeral beauty, allowing it to become an integral part of the dwelling's identity.
Beyond its naturalistic allure, Shaw Hollow House pays homage to the diverse origins of its occupants. Drawing from the east and west coast roots of its owners, the secondary design initiative takes shape, creating a space that bridges the geographical and cultural gap. This 'in-between' space serves as a symbolic threshold, inviting inhabitants to traverse the divide between coasts and cultures within the sanctuary of their own home. With a generous 6,000 sq. ft. of meticulously designed living space, the home stands as a testament to the art of architectural storytelling, seamlessly weaving personal histories into the fabric of the Ozarks.
Architect: Arkifex Studios
Photography: Arkifex
Location: Rogersville, MO, USA