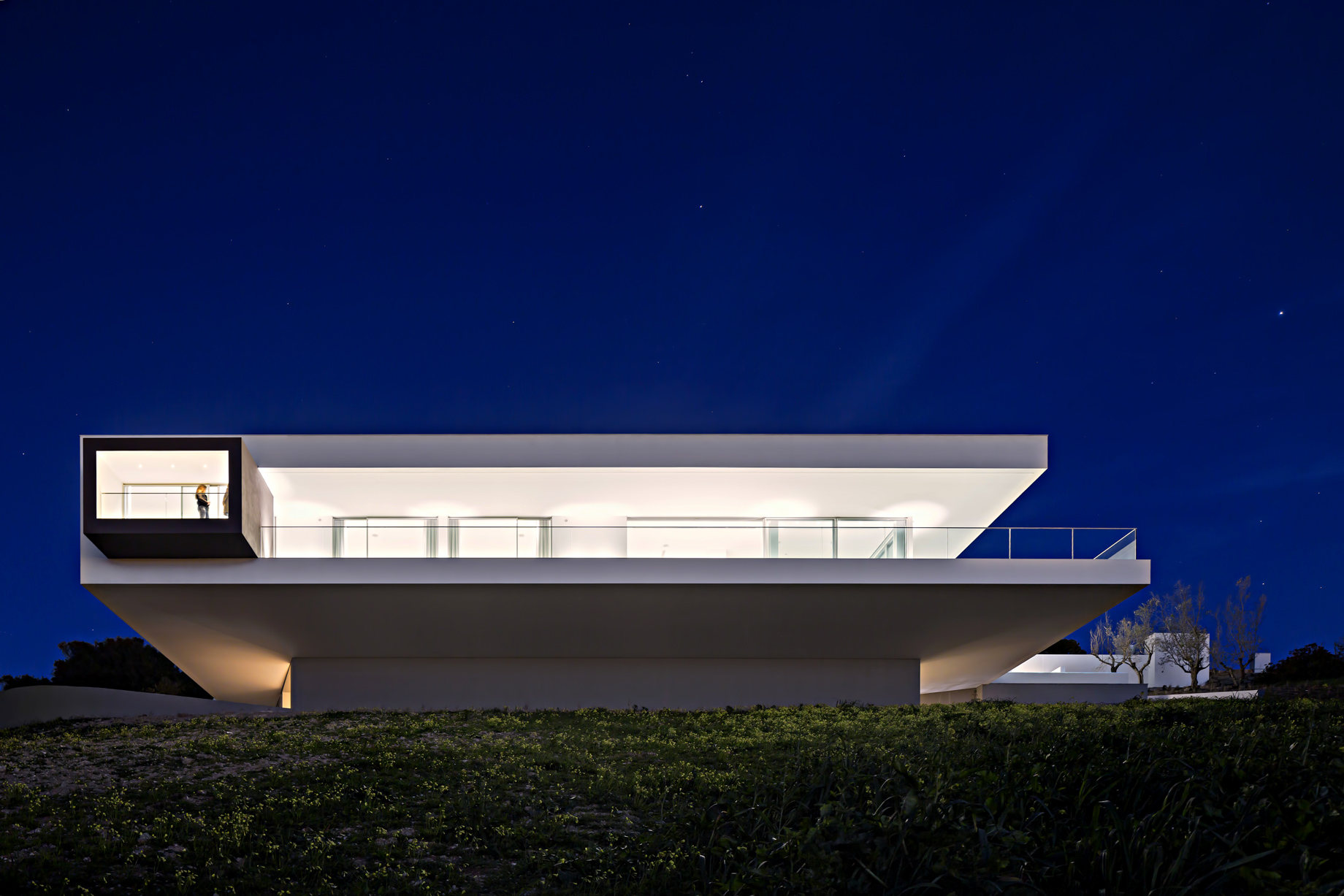 Name: The Floating House
Type: Contemporary Bauhaus Modern
Price: $3,700,000 USD – (November 2015)
Bedrooms: 5
Bathrooms: 5
Size: 8,826 sq. ft.
Lot: 92,569 sq. ft.
Built: 2012
Strikingly stylish and minimalistic modern, Villa Escarpa is a one-of-a-kind architectural showpiece boasting glorious seamless exterior terraces and sheltered courtyard spaces located on the exclusive cliff top location of Monte Santo Estevao with magical views over the escarpment meadows and the Algarvian coastline in Praia da Luz, Portugal. Purposely designed to maximize light and the transparency of space, this stunning villa exudes luxury with a bauhaus aesthetic that is permeated with unrivalled views over the sea.
Known locally as "the floating house" the innovative design uses the contours of the land to create the impression of a single level property projecting unsupported cantilevered from the hillside. The extensive use of glass further develops the idea of a 'floating' house. The property is an unflinchingly linear, stark white modernist-style structure apparently cantilevered out of a hillside, with immense terraces, one of them dominated by twin solar-heated saltwater infinity swimming pools and shaded by floating roofs to obviate the need for parasols and their attendant clutter.
Pure white lines, open floor plans and easy indoor-outdoor flow, combine with an abundance of glass for the residents to admire the ocean and countryside views. A long water mirror that borders the entrance hall lies between the living room and the kitchen dominates the structure, with the reflections of glass to the sea and pool further developing the feeling of transparency and light accentuating the visual lightness of the building floating within its landscape. In an architectural language that is both pure and contemporary, Villa Escarpa is an innovative statement of modern luxury.
Architect: Mario Martins Architecture
Designer: Tom Cornwell – Oakridge Partnership
Photography: Pedro Rodrigues
Location: Praia da Luz, Algarve, Portugal