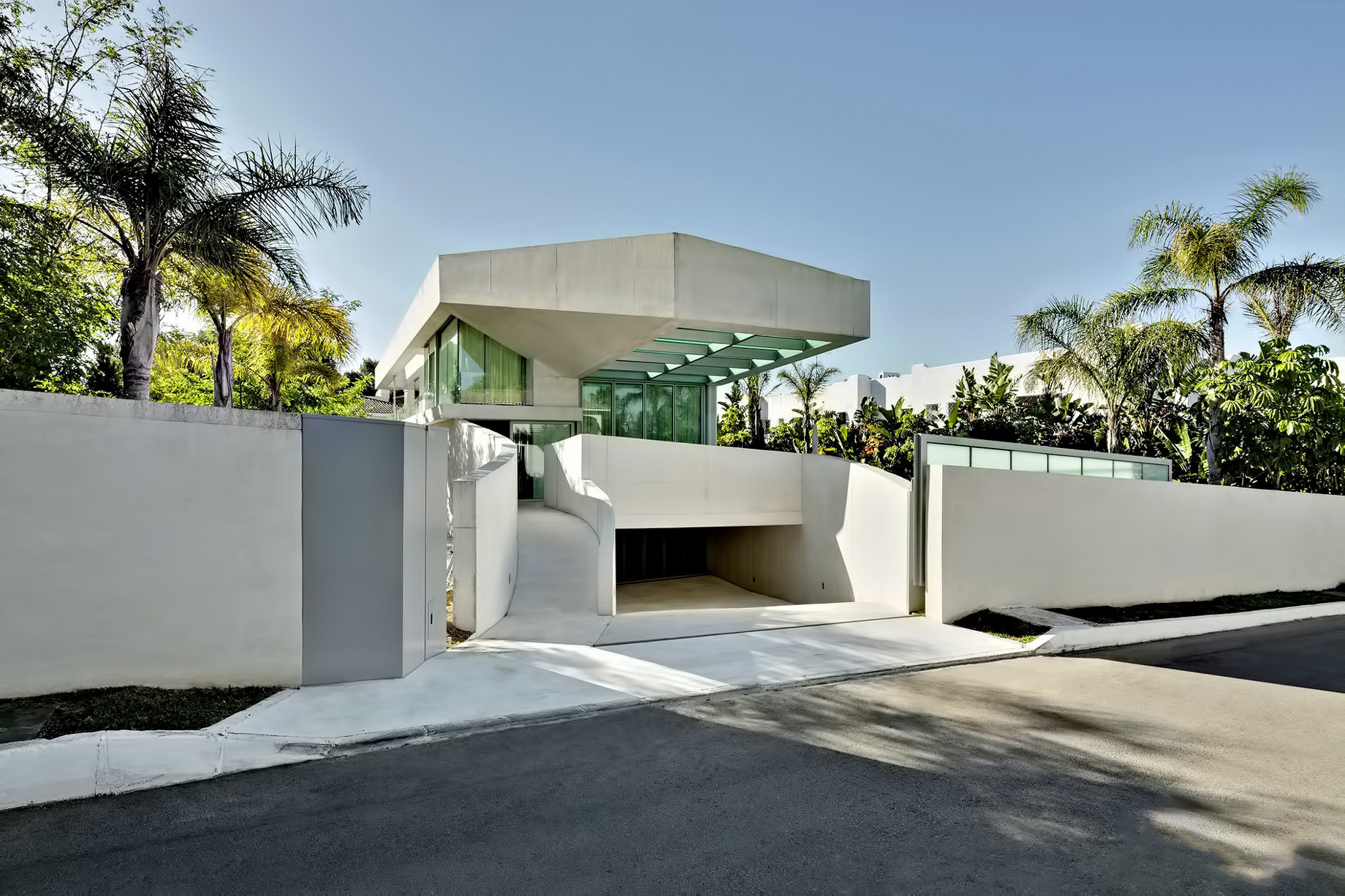 Name: Jellyfish House
Type: Modern Contemporary
Bedrooms: 5
Bathrooms: 7
Size: 6,996 sq. ft.
Lot: 27,986 sq. ft.
Built: 2013
A spectacular avant-garde expression of luxurious living on southern Spain's Costa del Sol, the Jellyfish House takes full advantage of the ever-present Spanish sun with a sensational translucent see-through rooftop cantilevered pool deck. Shifting the boundaries between inside and outside most of this marvelous home's façades can be opened further amplifying the house's capacity for 'interiority' creating an exuberant expression of luxury.
The residence is organized around two paths of circulation with a fast and slow set of stairs that intertwine and traverse the house's four levels of living. The fast stairs are completely enclosed in glass and physically separated from the house's interior lead from the exterior directly to the roof, yet they are simultaneously open to the exterior elements so that sand is not brought into the house when returning from the beach. The slow stairs, whose long treads and short risers lend it its name, span the entire length of the house, from ground floor main entry to roof that is indoors yet also open to the exterior elements making for a intriguing yet ingenious path that is curiously blurred.
Five bedrooms are located throughout the house, with two guest bedrooms situated on the basement level that face outward onto an extensive private terrace for the exclusive use of guests. As the slow stairs lead from the main entry to the guest bedrooms below, this area of the house is able to function as a separate entity. The kitchen is strung along the southern façade of the house's first floor, with all secondary appliances built-into an adjacent and perpendicular hallway. The first floor is also the location of the sauna and steam bath. A small service elevator also allows, for instance, food and drink to be brought from the kitchen, or any other floor, up to the rooftop pool and terrace. This roof terrace features an oversized and custom-designed concrete table with an adjoining bench, which is contiguous to an angular chair for reclining while sunbathing.
The house's rooftop pool is cantilevered 9 m southwest–toward the Sierra Blanca mountain range in the distance. Equipped with an infinity-edge, its water merges with the sea in the distance. This pool has a glass-bottom floor and a panoramic window at its interior facing edge allowing a voyeuristically view of those swimming from below. The searing Spanish sun constantly filters through the pool's glass wall and floor such that the pool can be seen and experienced from nearly all areas of the house creating an ever-present serene grand opus of shimmering ripples of iridescent turquoise reflections throughout the entire residence.
Architect: Wiel Arets Architects
Photography: Jan Bitter
Location: Urb. Los Monteros, 123, 29603 Marbella, Málaga, Spain