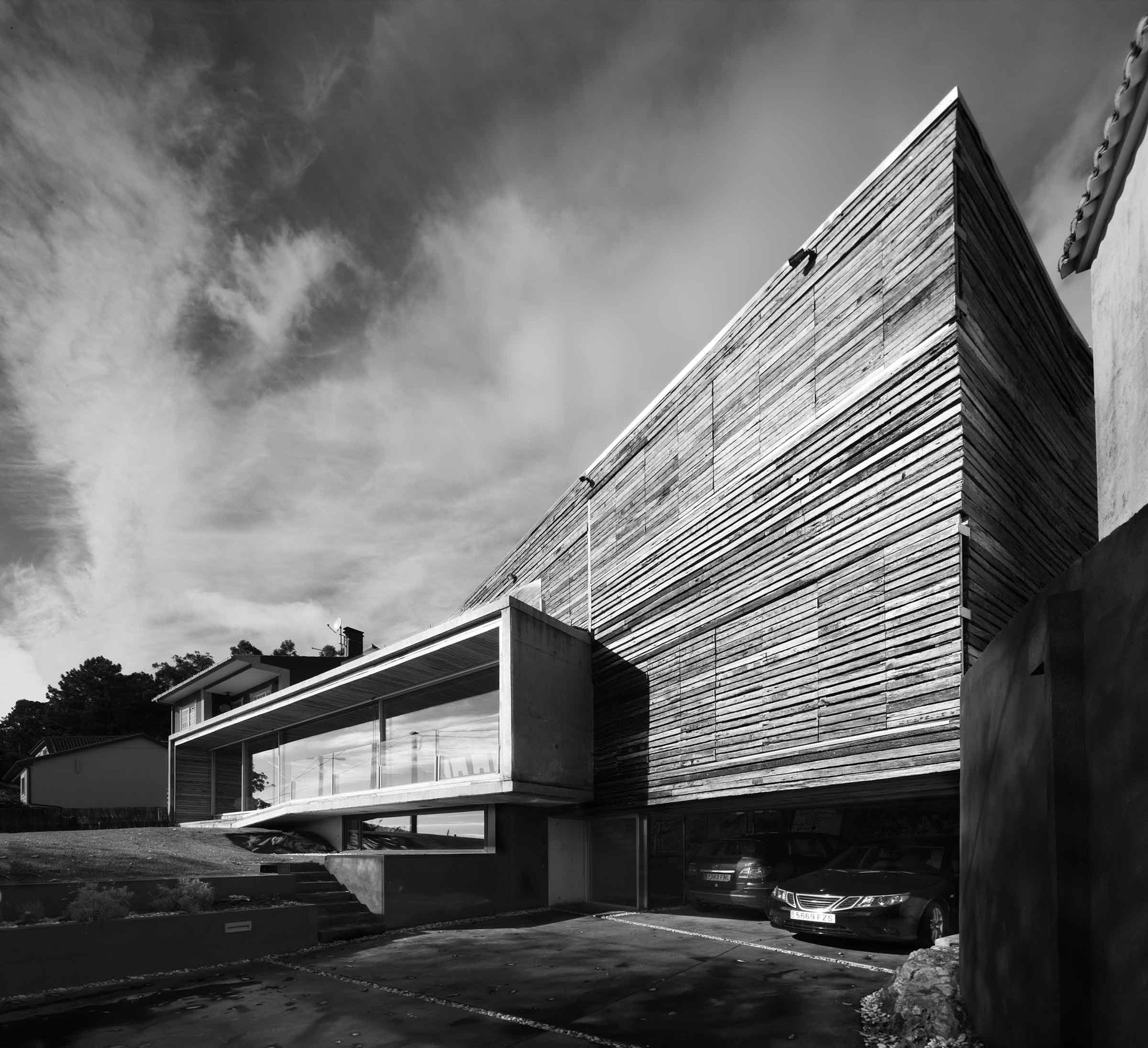 Type: Modern Contemporary
Bedrooms: 4
Bathrooms: 4
Built: 2013
The Dezanove House takes its inspiration from its surroundings. Located in Galicia, Spain, one of the most important local industries of the region is mussel production. The surrounding coastline and is scattered with mussel farms: neatly arranged platforms made of Eucalyptus wood, off which ropes are hung with the oysters and mussels for which the region is famed. The house, tucked into the rocky coastline with stunning sea views, borrows from the traditions of its surroundings using this same Eucalyptus wood. Integrating the local culture was very important in the design.
The design process did not come without its challenges. A sloping plot, rocky setting and newly enacted planning restrictions all threatened to make the project very challenging. However, these difficulties were overcome, and even used to an advantage, resulting in a house that is sheltered by the rock and open to the sea.
The façade is a mixture of Eucalyptus wood, glass and concrete, with shutters that open along the length of the Southern side to flood the home with light. The recycled nature of the wood, taken from former mussel farms, gives the building a rough and natural aesthetic, made contemporary by the glass and concrete. The same materials run throughout the inside of the home, but the wood used is a smoother, warmer cut. On the ground floor sits a large living room, dining area and kitchen. Wooden ceilings give the space a cozy atmosphere and pay homage to its coastal surroundings.
Natural light floods into the home through skylights, light wells, expansive windows and the clever use of glass on the interior. Energy efficiency and sustainability were also key to the design. In addition to using recycled materials, the home is highly efficient through ground source heat pump for underfloor heating and cooling, as well as mechanical ventilation with recovery system and three heat exchangers (evaporative patio, Canadian shaft and fireplace exchanger). Four bedrooms provide ample living space for family and friends.
Architect: Inaki Leite Design
Photography: Adrián Vázquez, Juán Rodriguez and Héctor Santos
Location: Rua 2, 19, 15948 A Ribeirina, C, Spain