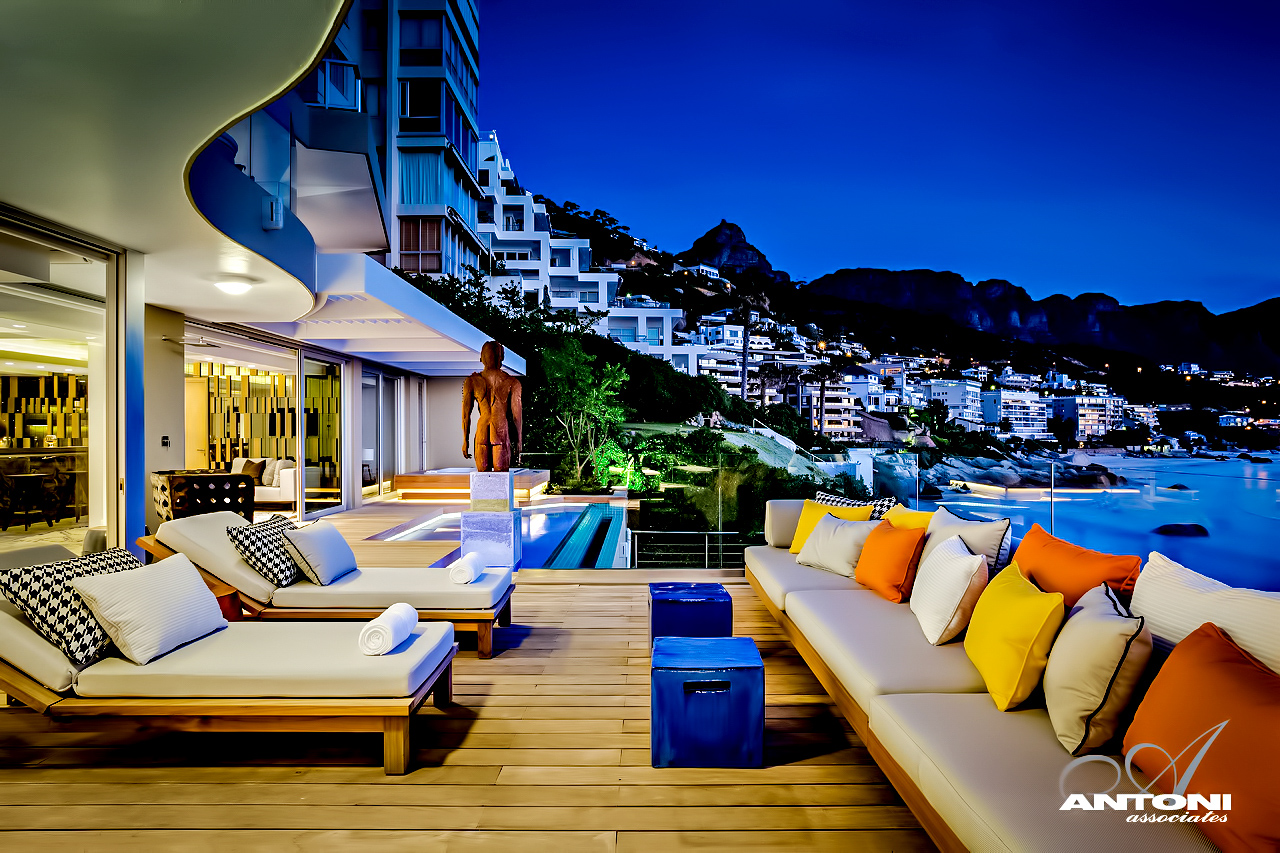 Name: Clifton View 7
Type: Modern Contemporary
Bedrooms: 4
Completed: 2012
This stunning four-bedroom double-floor top-level luxury apartment is located in an elite beachfront building, in the exclusive residential enclave of Clifton, an affluent suburb of Cape Town. Perched high over dramatic boulders with breathtaking, uninterrupted views of the Atlantic Ocean and sweeping vistas of the incredible Clifton beaches and the Twelve Apostles mountain range, this location has one of the most exclusive addresses in Cape Town, as it is home to some of the most expensive luxury real estate in South Africa.
The epitome of luxury and style, the Clifton View 7 apartment is named for the first of two levels it occupies, within the premier position of a landmark multi-level cascading Clifton beachfront luxury apartment building. The stunning ocean vistas overlooking the infinity pool meld with a backdrop of crashing waves and cooling sea breezes to create an unparalleled luxury waterfront lifestyle experience in an unequaled location, evoking visceral tranquility.
A spectacular contemporary vision of casual African opulence, with a taste of Bohemian style, the bespoke design and detailing of the apartment include stylistic juxtapositions and dramatic layers of magnificent interior design, achieving a fusion with bold art pieces that create a curated feel with unexpected layers of 'wow' factor. As you explore the interior, you feel as if you are a connoisseur of creativity, participating in a graphic symphony of stunning architecture and natural beauty, with a mesmerizing spectacle of ocean views seamlessly blending with the sounds of the sea and the soaring spectrum of the sky, arousing a continual inspirational appreciation of discovery.
Architects: Antoni Associates
Interior Architecture: Mark Rielly
Interior Décor: Adam Court
Photography: Adam Letch
Location: 10 Victoria Road, Clifton, Cape Town, Western Cape 8005, South Africa