Many locations across the United States lay claim to harboring a luxury lifestyle for the uber-rich, but none so pronounced for the super elite echelon of clientele, like in Miami, where construction starts valued at $4.5 billion were up 31%, year-over-year in the first half of 2022. This is where the rich and famous come to spend their wealth.
With modern minimalism in full swing, the gravitas of unique architectural building concepts, coupled with intriguing interior design, has classified Miami as a hub for architects, designers, and project developers to build products that go beyond the status quo of luxury real estate. The Miami area has become the place where anything is possible for project developments in South Florida.
Below, we highlight the pinnacle of Miami, with four residential developments that exemplify modern elegance and timeless luxury in the Miami real estate market:
---
Eighty Seven Park | Miami Beach
A place bound by land and sea, but rising free of both. Eighty Seven Park is more than a building, it's a landmark that blurs the line between imagination and knowledge.
Year Built: 2019
Bedrooms: 1-5
Total Floors: 18
Location: Positioned on the edge of North Beach's Oceanside Park and the Atlantic Ocean.
Spanning 70 residences across 18 stories, and measuring 233 feet in height, the Eighty Seven Park Condo offers a seamless connection between lavish landscaping, modern architectural style, and tropical elegance in the vibrant community of Miami Beach. Inviting natural light and air into an expansively refined living space with ten-foot ceilings, these luxury condos were conceived by an architect with a poet's touch. This elemental approach brings together architecture, design, and natural vistas with unobstructed views of the ocean, coastline, park, and the Miami skyline.
Services at Eighty Seven Park include an attentive 24-hour concierge, valet parking, 24-hour security, a program director, and a pool and beach service – all contributing to the allure that entails living a quality luxury life. Amenities add to the breadth of opulence, with two oceanfront swimming pools, poolside cabanas, a soul center and full-service spa, a salon for residents, a state-of-the-art fitness center, botanical gardens, wine bars, a business center, and private garden areas.
Eighty Seven Park is where serenity is found in the tension between sky and earth, eloquently captured in a state of tranquility and ascension.
---
57 Ocean | Miami Beach
A haven for quality time, introspection, and tranquility. Here, the cadence of the Atlantic sets the pace for a life lived in full. At 57 Ocean, water is a source of well-being, inspiration, and harmony. The Ocean as Muse.
Year Built: 2021
Bedrooms: 2-4
Total Floors: 18
Location: Positioned on the magnificent Millionaire's Row, a stretch of oceanfront opulence along Collins Avenue, the epicenter of Miami Beach.
Located along Millionaire's Row in Miami Beach, an exclusive strip of white sand beachfront, its exuberant nature and warm ocean breezes surround 57 Ocean in Miami, an elite collection of luxury properties, developed by Brazilian billionaire Jose Isaac Peres. Neighborhood culinary destinations for the perfect night out and hidden local favorites with impeccable charm are plentiful here. 57 Ocean offers a lifestyle of well-being and convenience, with proximity to golf, boating, and shopping experiences. Condo residences at 57 Ocean are surrounded by local salons, spas, and fitness destinations to further your wellness journey.
To provide residents with the optimal environment for healthful living, 57 Ocean takes a holistic approach to wellness—from its location on the ocean, to the choice of natural materials, to the countless opportunities for achieving wellness goals for mind, body, and soul. Relax inside the Wellness Pavilion Spa, featuring a thermal suite, aromatherapy saunas, steam rooms, and a secluded vitality tub surrounded by lush greenery.
The third floor features a state-of-the-art fitness facility designed for indoor-outdoor training, along with an adjacent children's entertainment room. The indoor fitness center is fully equipped with Technogym personalized equipment, a dedicated personal training area, and a juice bar. Innovative MyIsle training equipment by MyEquilibria makes open-air workouts easy to achieve. Additionally, a spa pool helps residents feel restored and rejuvenated. 57 Ocean also pampers its residents with two spacious, cabana-lined oceanfront swimming pools, including a poolside bar and social lounge, plus pool-and-beachside concession services.
57 Ocean affords you to live your best life in The Sunshine State of Florida.
---
Muse Residences | Sunny Isles Beach
Emphasizing a rare union of artistic inspiration, superlative home technology features, and exclusive oceanfront property, MUSE offers residents a life concealed from rushes, lines, and crowds.
Year Built: 2018
Bedrooms: 2-3
Total Floors: 50
Location: Positioned in the heart of Sunny Isles Beach, located on a barrier island in northeast Miami-Dade County, Florida.
In a sea of luxury residential developments, it takes a never-before-met level of quality, innovation, and excellence to push the envelope. Muse Residences Sunny Isles is a high-end luxury boutique building that does just that, with 68 super prime residences that are spread by only two units per floor. Situated in a strikingly gorgeous bay line setting between coastal waterways and the Atlantic Ocean, condo residents at Muse enjoy relaxing sunny days and white sand beaches, along with a vivacious nightlife.
Muse units come fully finished with advanced Smart Tech 2.0 state-of-the-art technologies, 12-feet ceilings, Italian marble or wood floors, complete terraces with summer kitchens, and private elevators with biometric technology, among other private privileges. With stunning panoramic ocean views, each residence includes outdoor living spaces. Interiors feature beautiful 8-feet Italian entry doors, exquisite marble and wood flooring, custom Italian cabinetry, and personalized art from Helidon Xhixha.
Unprecedented technology brings futuristic elements of convenience to these smart homes. From climate and lighting, to safety and security, a fully automated home, effortlessly customizable, leaves you with peace of mind and more time to enjoy your own slice of paradise.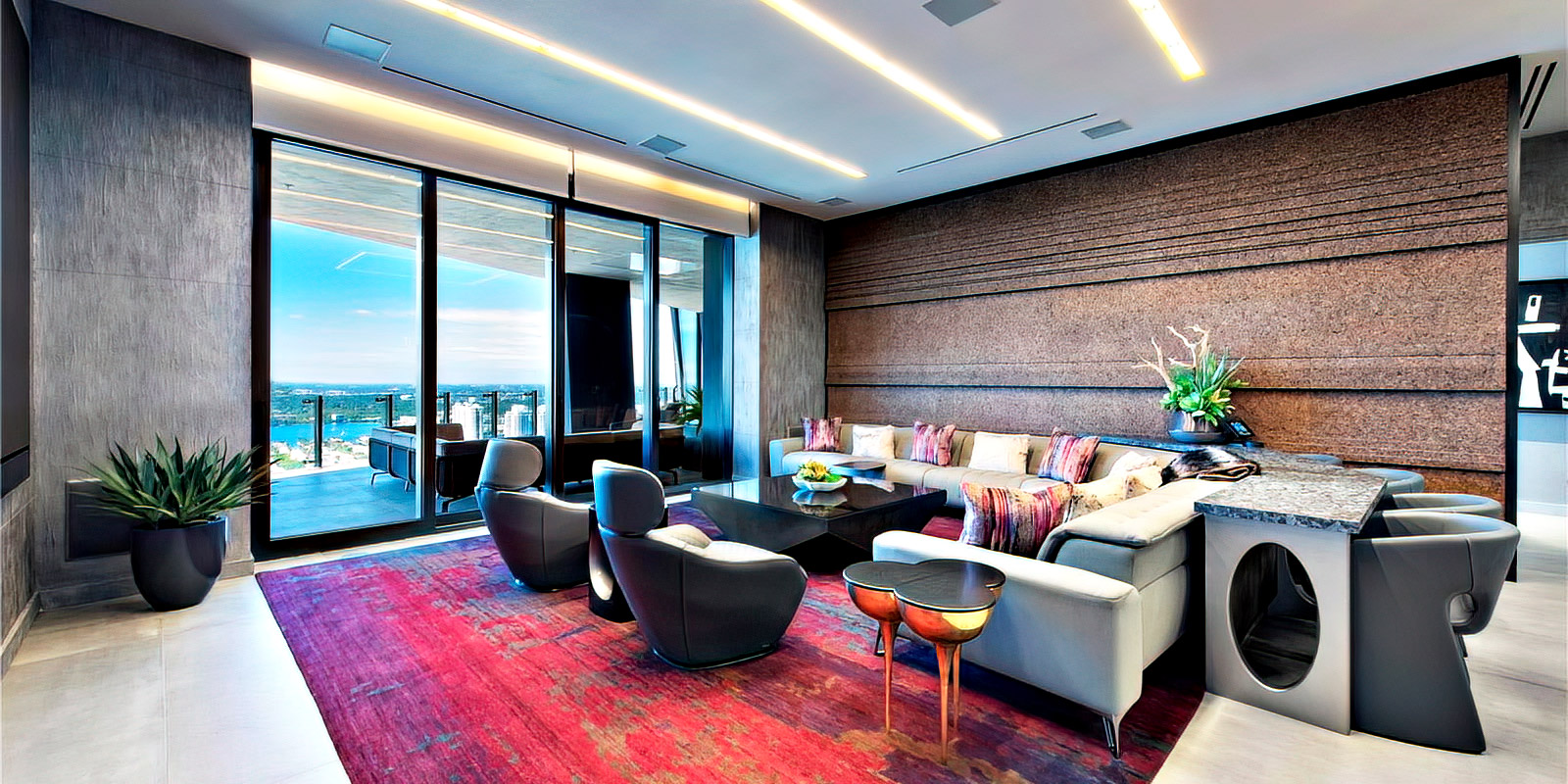 ---
Regalia | Sunny Isles Beach
Situated along a private, one-acre stretch in Sunny Isles Beach, Regalia Miami is the perfect representation of limited-edition living.
Year Built: 2014
Bedrooms: 4-5
Total Floors: 46
Location: Nested on the northern edge of Sunny Isles Beach, just south of the quiet oceanfront town of Golden Beach.
Inspired by the wind and waves organically sculpting the building, architect Bernardo Fort-Brescia's Arquitectonica transformed this visionary concept into an award-winning reality. Regalia is the essence of contemporary aesthetic – a unique form of powerful imagery in singular harmony with its environment.
Located along a private-one-acre stretch in Sunny Isles Beach, Regalia Miami is a contemporary oceanfront masterpiece, in the form of an ultra-luxury condo complex, built to impress as a Miami skyscraper. In fact, Regalia was designated Best Residential High-Rise Development in the United States by the International Property Awards in London, United Kingdom. It's no surprise with the extensive and impressive amenities that are included at Regalia, such as an infinity-edge swimming pool that is set amidst lush gardens and fountains, an exclusive spa for residents with multiple treatments, pools, and a tranquility area with aromatherapy and chromotherapy, a media room, theater, billiards room with a cigar lounge and wine bar, a children's activity room, private beach with poolside service, and much more.
Regalia ties together the timeless aura of luxury with the timely manner of modern contemporary design, to encapsulate the ultimate expression of living a life with prime privilege for successful elites.