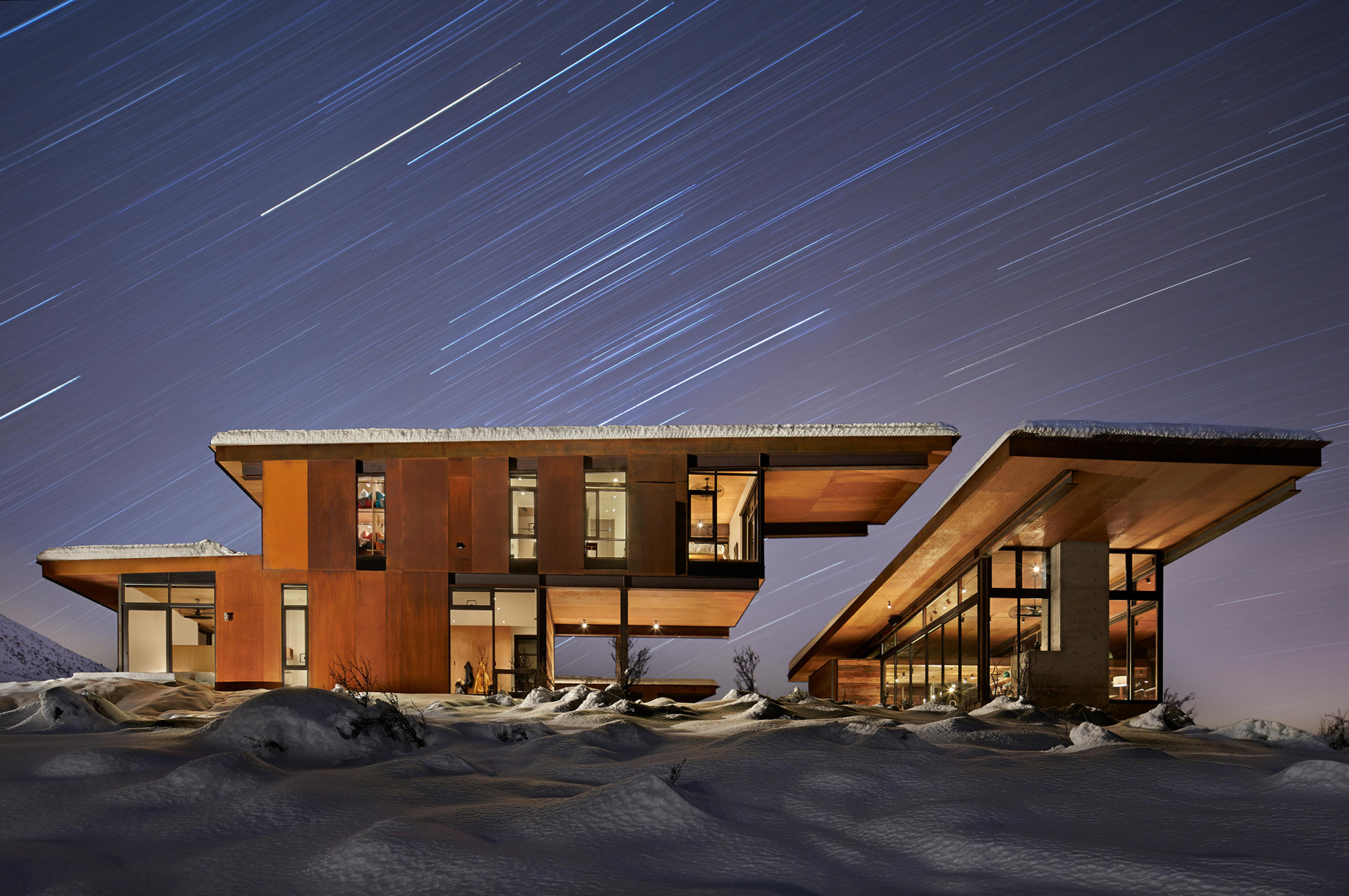 Name: Studhorse Estate
Bedrooms: 4
Bathrooms: 4
Size: 4,078 sq. ft.
Lot: 20.06 acres
Built: 2015
Studhorse is a family retreat located in the Methow Valley, northern Cascades, Washington state. This location is known for its diverse climate, ranging from hot summers to winters with heavy snow. Designed with family life and entertainment in mind, this vacation home was conceived to encourage an active engagement with the seasons, which is why the house is constructed in a way that forces occupants to go outside to get inside. This approach adds to the adventure and reaffirms where the family lives. Studhorse consists of four buildings that are unattached but grouped together to form a little campground. The exterior materials are tough, while the interior is cozy and warm. The residence is an exceptional family retreat, built mostly of steel and glass, with a swimming pool, a hot tub, and an exterior concrete courtyard.
The central courtyard and pool are the focal point of the design, with each building offering an amazing view of the surrounding Studhorse Ridge and Pearrygin Lake. The pavilion includes the family room, kitchen, and bar, while the master bedroom, kids' bedroom, and den are located in another building. A third building serves as a guest room, while a fourth building contains a sauna with a private, framed view of the valley. The design blurs the traditional boundaries between the built structure and its surroundings, allowing the family to experience nature throughout all four seasons.
The design of Studhorse provides an approachable living space that blends indoor and outdoor living, providing a memorable adventure for the family while offering various features that encourage spending time outside, such as a wall with a TV that can face either inside or outside to the courtyard. Additionally, the bar has a Coney Island aspect to it, where you push a button, and the walls open up. The wood siding used throughout the project was salvaged from an old barn in Spokane, with varying tones of the wood revealing its history and use. Glass is also essential to the design, as it connects the interior to the outside. The interior is a perfect combination of old and new, with vintage Danish modern sitting chairs upholstered in antique blankets complementing eclectic furnishings, from mid-1950s teak floor lamps to a blackened steel console table from the Tom Kundig Collection.
Architect: Olson Kundig Architects
Contractor: Schuchart / Dow Construction
Photography: Benjamin Benschneider
Location: 25 Sunflower Hill Rd, Winthrop, WA 98862, USA