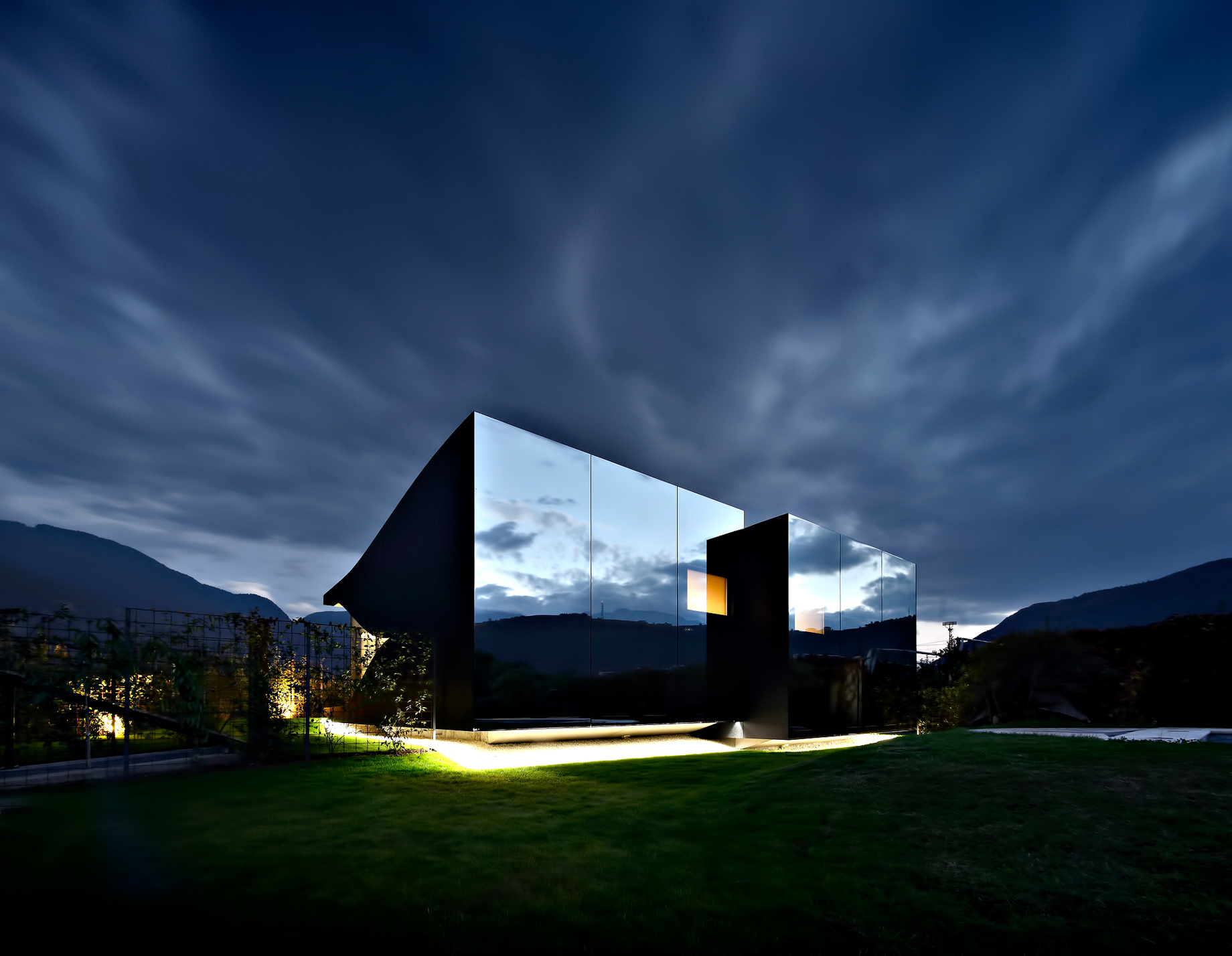 Name: Mirror Houses
Type: Contemporary Modern
Bedrooms: 4
Bathrooms: 2
Levels: 1
Built: 2014
The Mirror Houses is a pair of strikingly modern, high-class luxurious vacation homes in South Tyrol, Italy. Situated amidst the marvelous surroundings of the Dolomites, the beautiful contemporary architecture of the residences is a spectacular backdrop for the marvelous landscape just outside the city of Bolzano.
Separated by a green garden wall, the houses are slightly elevated to provide better views. The front of the houses is a glass façade that can be opened up completely so that the terrace and living room become one open space. The whole house is basically an open space with a bedroom, which has sliding doors that can be pushed into the walls. There's a bedroom, bathroom, and living room with a full kitchen that opens up to the balcony. You can use sun beds in the garden that is surrounded by apple trees and just admire the incredible landscape and the spectacular views of the Dolomites Mountains.
Both homes are floating above the ground evoking lightness and symmetry with cantilevering terraces to enhance the impressive views of the surrounding landscape. The stunning architecture volumes open towards the east with a big glass facade that fades with curvilinear lines into the black aluminum shell with mirrored glass on the west facade that catches the surrounding panorama while making the units almost invisible. The Mirror houses offer a unique chance to spend a beautiful vacation surrounded by contemporary architecture of the highest standards and the most astonishing Landscape and beauty nature has to offer.
Architect: Peter Pichler Architecture
Photography: Oscar Da Riz
Location: Via Agruzzo 75, 39100 Bolzano, Italy