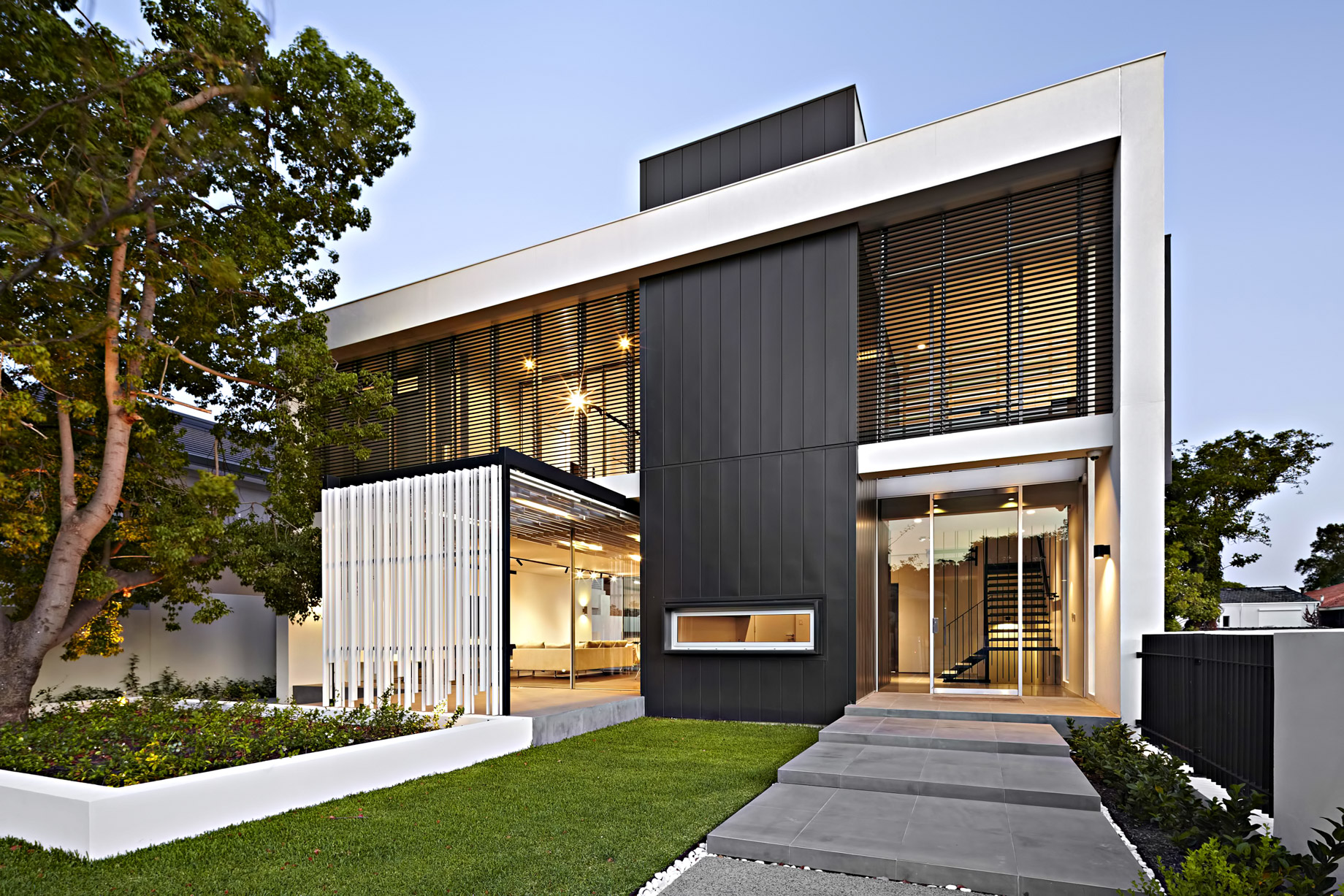 Name: 1021 Gallery House
Type: Modern Contemporary
Bedrooms: 5
Bathrooms: 4
Size: 6,921 sq. ft.
Lot: 5,000 sq. ft.
Built: 2014
This spectacular luxury residence has a distinct minimalist but warm expression of contemporary architecture with clean lines and cubic forms. Located on a picturesque site on The Avenue in Nedlands, overlooking the Swan River in Perth's western suburbs, the home was designed as a series of pavilions that are fused together with a linear pergola that physically and visually links the internal living spaces of the structure with the inviting outdoor areas.
The buildings longitudinal volume is organized into two distinct pavilion forms oriented around a central courtyard. The entry pavilion houses the main living area to the ground floor and the main suite above, with both levels accessing river and suburban views. Natural light and privacy from the street is controlled, when necessary, with the use of mechanical louvres to the main suite, which provide a play on light and shadow to this tranquil retreat. The rear pavilion was designed to accommodate a family area incorporating a large living room connected to an outdoor living area and four identical bedroom pods with separate external access, providing visual and physical connections to the main living spaces.
A transitional gallery space accommodates a large kitchen that opens onto the central courtyard and swimming pool and provides a central communal hub for the family to come together to enjoy meals and quality family time. Along the spine of this program the service rooms including the scullery, laundry and powder room are tucked away, concealed within large white, floor to ceiling panels of cabinetry to retain the emphasis on the elegant gallery aesthetic that draws you through the buildings' program. In the evening this language is further articulated via continuous LED strip lighting discreetly hidden within the cabinetry.
The use of a linear pergola structure creates a dialogue between spaces, fusing the pavilions together providing a physical and visual link between indoor and outdoor spaces. This seamless connection affords shelter and the delineation of space to the outdoor living areas, whilst adding the function of front and rear privacy screening as the structure folds down and anchors itself to the ground.
Architect: Craig Steere Architects
Photography: Jack Lovel
Location: 40 The Avenue, Nedlands, WA 6009, Australia