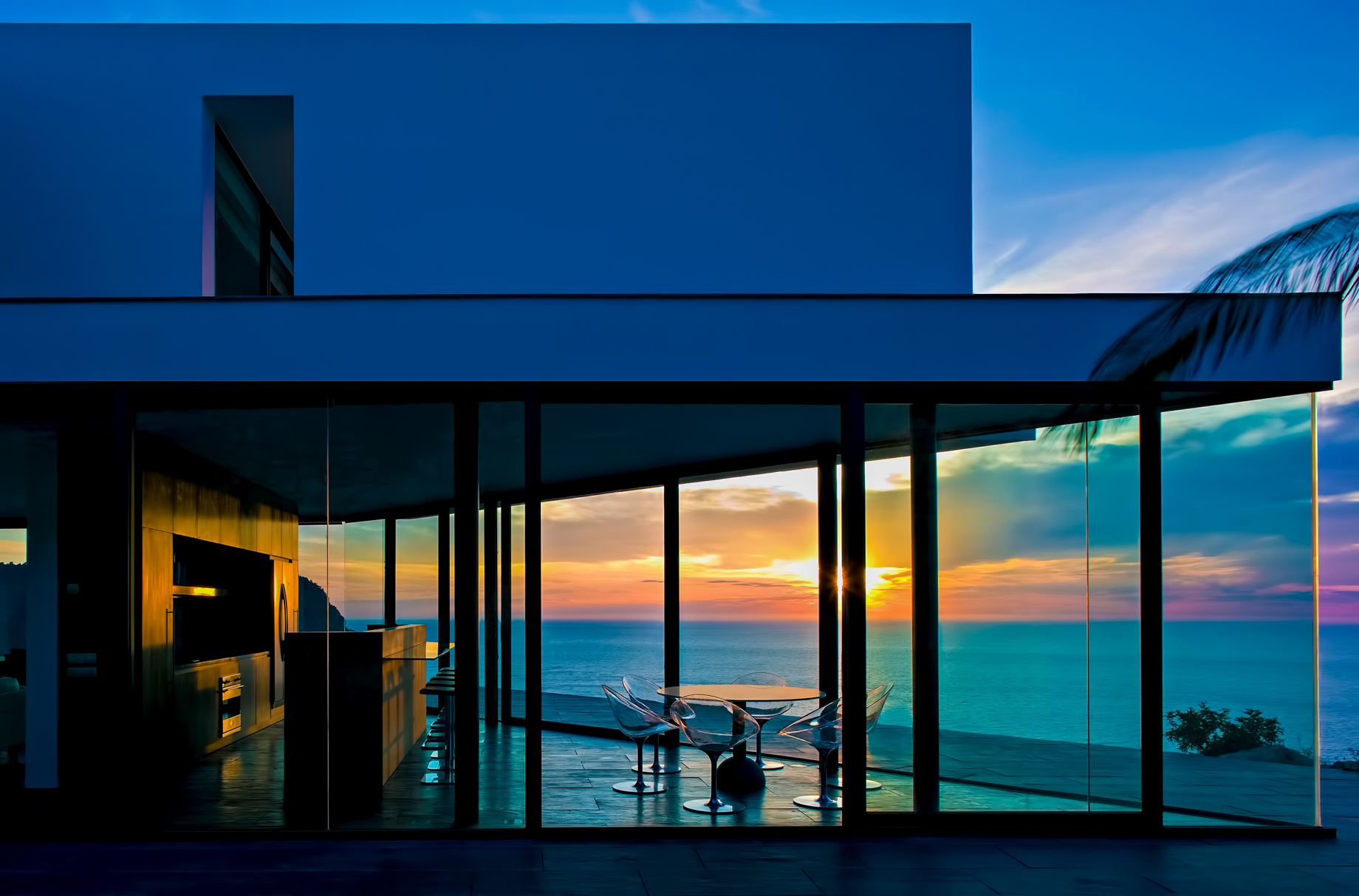 Name: AIBS House
Type: Modern Contemporary
Bedrooms: 4
Bathrooms: 5
Size: 4,305 sq. ft.
Built: 2002
Framing the serendipity of its spectacular Cliffside location over 520 feet above the water on the island of Ibiza, the striking AIBS House revels in astonishingly breathtaking panoramic sea views that seem both serene and calm from this altitude. Just like a path or road which comes to a dead end, the land becomes a poetic ripple that lies before this stunning luxury residence turning into a staircase for your senses that leads you down with transparent clarity and enlightenment to a view that demands attention and makes you appreciate the landscape in all its beauty and perfection.
The building constitutes a design in which the main level living area is enclosed by a single large window frame that is both a portal to the brilliance of the exterior but also a translucent layer of protection against the environment. The cliff, which has an olive tree on top, provides a second wall for the patio away from view. A strategically placed infinity pool lies to the side of the building beyond the terrace, surrounded by the natural environment and the
Life at this level is a dream realized by few. Under the bright blue of the sky above and the turquoise waters below, a mingling cast of shadows, light and water dance in unison with monumental views that seemingly stretch beyond the horizon out to infinity. This is architecture built not solely for the purpose of aesthetics and function, but for the appreciation of a truly spectacular natural setting that creates a virtuous expression of exuberant luxury living.
Architect: Atelier d'Architecture Bruno Erpicum & Partners
Photography: Jean-Luc Laloux
Location: Ibiza, Balearic Islands, Spain