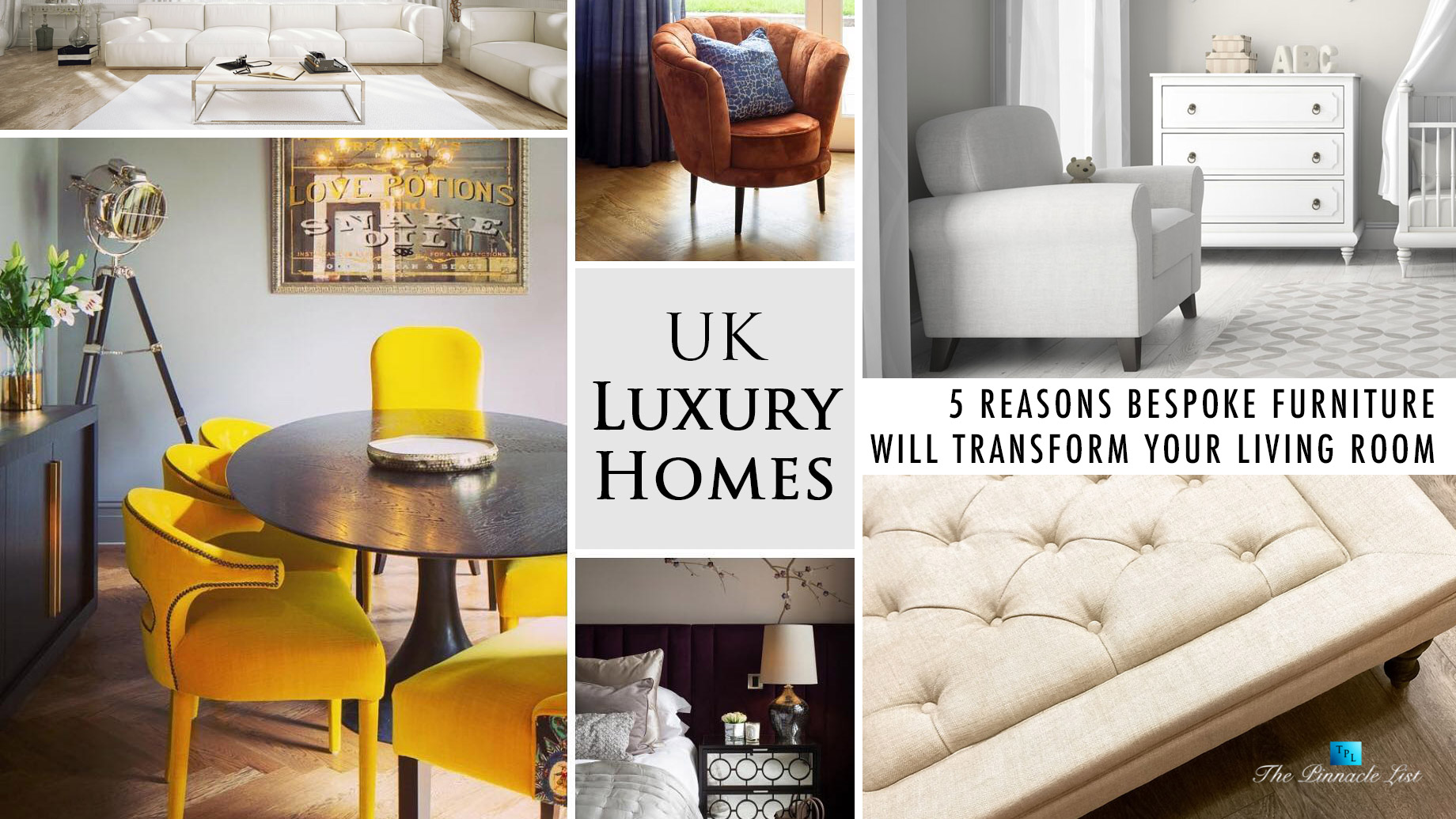 As we head towards the end of the year, you may be looking to giving your home a bit of a revamp or even completely redecorating it and also refurnishing it. That means you are probably giving some thought towards the type of furniture you might have in your living room. As it is the place where you are likely to spend the majority of your time and where your guests will be most frequently when they visit your home, it makes sense that you'd want to take the time to think carefully about the kind of furniture you will fill it with.
It can be tempting to try and save a little bit of money and buy something from a high street shop or flatpack. However, you could be throwing away your money, as often mass-produced furniture is false economy. You pay less upfront than something built from scratch, but you inevitably have to have it repaired (if that's even possible) or replaced (more likely) sooner than a bespoke piece of furniture. With that in mind, we are going to discuss the 5 reasons we believe bespoke furniture will help to transform your living room better than alternative options.
Higher Quality than Mass Produced High Street and Flatpack Furniture
First things first are the quality. As we've established, the living room is one of the most used rooms in most people's homes. Therefore, you want furniture that is of a high quality. Even if you cut corners in other rooms, you will want to spend well on furniture for your lounge. As bespoke furniture is designed and built with more care and consideration than the alternatives, you can be sure it is made to a higher quality. Particularly if natural and robust materials are used, bespoke furniture can last many years, even decades.
Better Aftercare Services
Generally speaking, you will find that the work of most reputable bespoke furniture makers is not over once your piece leaves their workshop or warehouse and takes up residency in your home. As many pieces need to be re-upholstered and repaired or restored in time, you will find that the bespoke furniture you have paid for is more than just a piece of furniture, but a long-term investment.
More Choice and Flexibility
If you go down the route of choosing mass produced or flatpack furniture, you are very much at the mercy of the retailers you are looking at as to the style, size and colour of the pieces you can buy. There is generally a limited amount of choice available. Whereas, if you decide to buy bespoke furniture, you often have control over everything from the size, design and even the finish and fabric used. That means you can choose something that fits your decor and the rest of the furnishings in your house perfectly.
Incredible Range of Fabrics
Speaking of fabrics, and particularly when you are buying items like bespoke chairs and sofas, you will find that again the choice is limited if you are looking at mass produced furniture, However, investing in bespoke furniture can give you the freedom to choose the exact fabric you like the best for your home and living room. There is a multitude of types, colours and patterns you can choose from.
Personalised Service from Start to Finish
Buying furniture from a flatpack store or that is mass produced is very impersonal. Which is what some people like and prefer. However, if you want to spend a little more and get a better investment for your money, it's reassuring to know that from start to finish, with a bespoke furniture firm, you will receive a very personal and intimate service.
From the moment you start choosing the style and design of your furniture, from the delivery and, if required, installation of those pieces for your living room, you will have the help and support of qualified and friendly people. There is no need therefore to walk around aimlessly for hours on end trying to decipher Swedish and work out whether the sizes are right for your home or how you are even going to assemble them (if flatpack is not your thing at all).
It is not always a lot of fun trying to choose the right furniture pieces for your home. Particularly the living room, as this is a key meeting and socialising area for the members of your household and anyone who stops by for a visit. That is, if you rely on mass-produced or flatpack furniture. We've hopefully been able to show though, that there are various great reasons for investing in bespoke instead.