Dubai is one of the most spectacular destinations in the world. Its more than just iconic architecture, magnificent skylines, exclusive shopping and a beautiful coastline that make Dubai so stunning. Visitors from all over the globe have the luxury of staying in some of the most opulent hotels and resorts in the world and the opportunity to enjoy unique activities such as taking in a hot sunny desert safari in the morning and then hit the slopes for some skiing or snowboarding on real snow at the indoor Ski Dubai Resort located at the Mall of the Emirates. While you're there you can visit with some penguins and explore more than 630 retail outlets, over 100 restaurants & Cafes, 80 luxury stores and 250 flagship stores.
Yes, everything in Dubai is over-the-top. If you are someone who loves partying, spending time in a trendy lounge or just enjoy the bright vibrancy and energy of this ultra-modern city, Dubai has something to offer as well. As a result, Dubai has attracted a large amount of foreign interest to its luxury property market.
Prime properties abound in Dubai with luxury real estate offerings that include opulent private villas, exquisite penthouses, luxurious apartments and off plan residences. Top tier properties can be found throughout the city, however as with any city, Dubai has specific neighbourhoods that include some of the best and most sought after locations for luxury real estate.
In this article, we will shed some light on some of themost expensive neighbourhoods to buy or rent in Dubai.
Let's get started…
1. Palm Jumeirah Island
Looking for ultimate glamour? This real estate wonder is bound to take your breath away. The unique layout and the surreal vistas of the Persian Gulf will make you instantly fall in love with the place. This neighbourhood is loaded with premium villas, ritzy hotels and the exclusive island community is a little wonder itself in the colourful city of Dubai. There is a plethora of things you can do there. From hiking at the Palm Jumeirah Boardwalk to getting a little tanned on the Aquaventure beach. This neighbourhood as it all to make your trip something you have always dreamed of.
2. Emirates Hills
Named after the famous Beverly Hills in L.A, this area resides some of the wealthiest expatriates in Dubai. The community features the first-ever freehold properties to offer to investors and buyers. the best part about this neighbourhood is the marble-clad villas that are situated among the lush green golf course. If you want to experience the true luxury you cannot miss experiencing the extravagance this area has to offer. Every property here is the very sight of luxury.
3. Dubai Marina
The largest man-made marina ever, the Dubai Marina is one of the most visited places in Dubai. It is built on the Interchange 5 on the Jebel Ali Port surrounds by Al Barsha, Emirates Golf Club, Dubai Media City, Dubai Internet City and the American University in Dubai. From customized penthouses to exclusive apartments and other luxurious lifestyle experiences, Dubai Marina has grown to be the home for one of the most sought-after areas for people who are on the lookout for a luxurious vacation in Dubai.
4. Umm Suqeim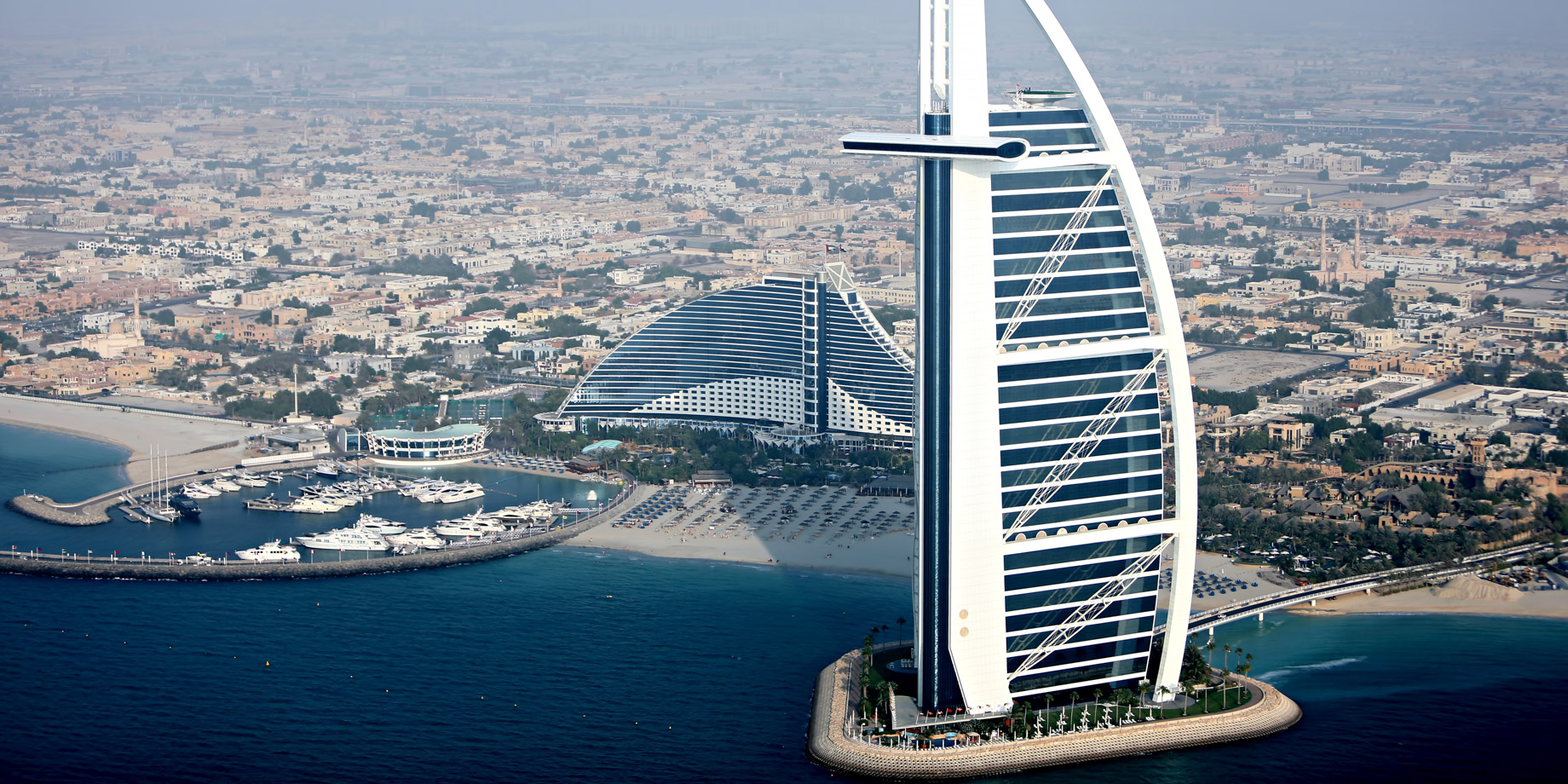 This classy neighbourhood is located near the sail shaped Burj Al Arab hotel. This property is mostly loved by people who are in Dubai for a family vacation. Umm Suqeim is celebrated for its luxurious beach-side homes. This place offers some amazing beach activities and tourists' attractions to offer. The ever so famous Wild Wadi Water Park, kayak rentals, a beeline of artisan cafes and beach-side diners, volleyball courts, and skate park – Umm Suqeim is apt for those who are looking for a premium holiday.
5. Jumeirah Golf Estate
This is yet another luxury residential area of Dubai which is spread across 1119 hectares of greenery and open landscape. It has its gold community which is developed within. This place has more than 15 different kinds of residential options. Each of these accommodations has its exclusive amenities and signature offerings. Every apartment, villa, or townhouse has incredible views of the rolling golf courses and ponds. What's unique about the golf courses that lie within this estate is that they were conceptualized by the legendary Australian golfer and entrepreneur- Greg Norman. Each of these golf courses here is given an environmental theme. They are based on the vital elements of nature, like Earth and Fire.
6. Downtown Dubai
Downtown Dubai remains the most expensive area to rent while you are in the city. An average property in this area rents out at approximately Dh117 per square foot which is 31 per cent more expensive than the normal areas in Dubai. This is due to several factors such as location next to The Dubai Mall, Burj Khalifa, and a couple of metro stations. Hence these aspects play an important role in justifying the high rents in Downtown Dubai.
7. The Views
This apartment community features lakeside apartments with uninterrupted views on the Emirates Golf Club. The Views has marked its name in 10 of the most expensive areas in Dubai. This is because of the amazing features it has to offer. When you stay here, you can get easy access to Dubai Marina, Dubai Media City, Dubai Internet City, Knowledge Village, and The American University in Dubai.