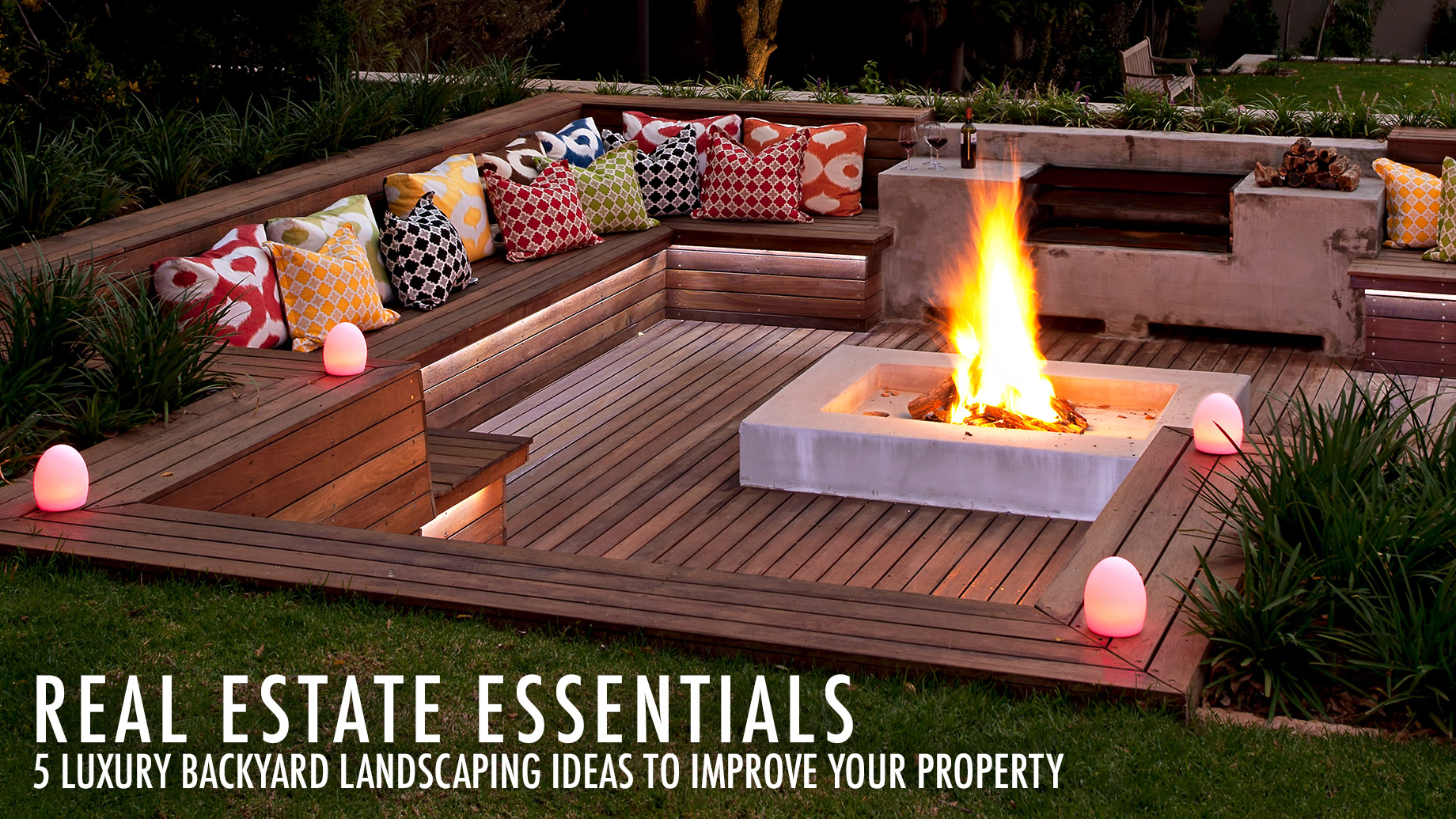 Although it's true that the little things make a difference, upgrading your property to prep your home for sale, can sometimes also involve a bit more work and effort to make it stand out in a crowded real estate market. While the natural thought is to spend effort and money on the interior, what can you do if that is already taken care of? Well, then it might be time to turn your attention to some backyard improvements that will really get your property noticed. For instance, planting wildflowers using useful gardening tools will immensely beautify your backyard.
Here are 5 ideas to make your backyard a bit more luxurious and tempting for buyers.
1. Add a Pool
If you can afford it and it's a feature that people will appreciate in your area, adding an outdoor pool might be a great feature that will make your home stand out and the one to have in your neighbourhood. Whether it be a sleek geometric pool, lap pool, or infinity pool, any of these will add a sophisticated touch to your property and be a focal point for day and night entertainment.
2. Add a Garden
Why waste all that outdoor space in your backyard with a field of grass that you have to cut every week. How about adding an organic garden to get a potential buyer's greenery vibe satisfied. Plant organic flowers, herbs, and vegetables in your backyard or if you want a rusk look, you can raise the flower, herb, and vegetable beds from scaffolding to make it even more appealing to a true garden lover. Till the soil, install garden sprinklers for automatic irrigation.
If you want to spruce up your living space, a garden is a great addition to the same. All you need to do is decide on which kind of garden you want to set up and get going. Decorate your backyard with lilies, roses, tulips, or buttercups and improve the look of your residence. No doubt, flowers diffuse the magical spell that relaxes your mind. Experts like Outland Living and BackyardMash suggest that people can go for either a terrace garden or a vertical garden, depending on the availability of their spaces and budgets.
We spoke to a representative from the busters group who does pest control in Nottingham, they said, "No matter how green-fingered you are, all gardens are affected by pests from time to time. And as much as we'd like to keep our plots creature friendly, these pests can also start causing problems for our plants. Dealing with these pests before they become a major problem is very important."
According to a Northampton pest control expert, pests can have a negative impact on your property. These creatures can make even the most beautiful place look unpleasant. Therefore, getting rid of these creatures the minute you notice their presence is a must.
3. Add a Tropical Lagoon
If you want to really upstage your backyard on a budget because you are also investing security with alarms, then how about adding a tropical lagoon. You can convert your backyard into a lush lagoon shaded with a canopy of overarching trees to create a tranquil, laid-back vibe that is sure to get noticed. If your budget allows, you can add a stairway with a Baja ledge, or a soothing rock waterfall that features a bolder accent and stone wall edging to complete the tropical oasis.
4. Add a Bamboo Wall
Here's an idea that is perfect for those that want to add some seclusion to a backyard. You can create a private retreat by constructing a Bamboo walled-off area for your privacy. Yes, we said Bamboo. This wall will offer privacy while it creates the vibe of a wild botanical garden. You can also install a light feature to spotlight your greenery. Moreover, you can accent the bamboo wall with some green points including some oversized potted grass or topiaries. If you own a pet, you can contain them in your backyard with any reliable wireless dog fence. Or here's the long tail pros and cons of cinder block raised beds.
5. Add a Fire Pit
Some people take entertaining very seriously, and what is better than the open flame to create a unique nighttime entertainment ambiance or even a personal oasis that provides an escape from the daily routine. You can install a sunken fire pit or raised fire bowl, depending on your needs and property, this will definitely be the centrepiece of your backyard entertaining space, or try these DIY fire pit ideas for more budget-friendly options. Add a modern wood deck with built-in seating and lighting, to really take this idea to the next level.
Bonus: Add an Umbrella
The most amazing backyards are those that make you feel like you're on vacation. An outdoor umbrella is not only functional, providing protection from sun and rain, but also adds to the overall aesthetic of your luxurious backyard. For example, a permanently mounted cantilever umbrella over your outdoor dining area (a.k.a offset umbrella) adds a modern feel while providing shade to a large area without the obstruction of a centre pole. Most luxurious backyards have a pool, and nothing says "relaxing poolside" like a wooden market umbrella. No matter your style and function needs, a patio umbrella can add comfort and a pop of colour to your oasis.
How bad decisions can affect your selling potential
Of course, it's just as easy to diminish the overall value of your property through backyard developments (or neglect) as it is to increase it through the ones listed above.
Improper treatment or implementation of these features can leave a valuable part of your home looking less than impressive to potential buyers. It's not just cosmetic issues you need to worry about either — invasive species, structure-damaging roots beneath the surface of your lawn, and poorly-made permanent additions such as pools and fire pits can see you being forced to lower your asking price. They can become irritating to neighbours and lead to issues such as increased pollution and damage to the exterior of your property.
Meanwhile, buyers looking at your home will find comparing rates from providers like Breezeful and other leading mortgage brokers to be a less fruitful experience when looking into properties with this damage, tightening the funnel at both ends. A property burdened with outdoor issues is one few lenders want to trust people with the money for. The solution to this is always to bring in a landscape-specific surveyor to access your backyard before listing the property.