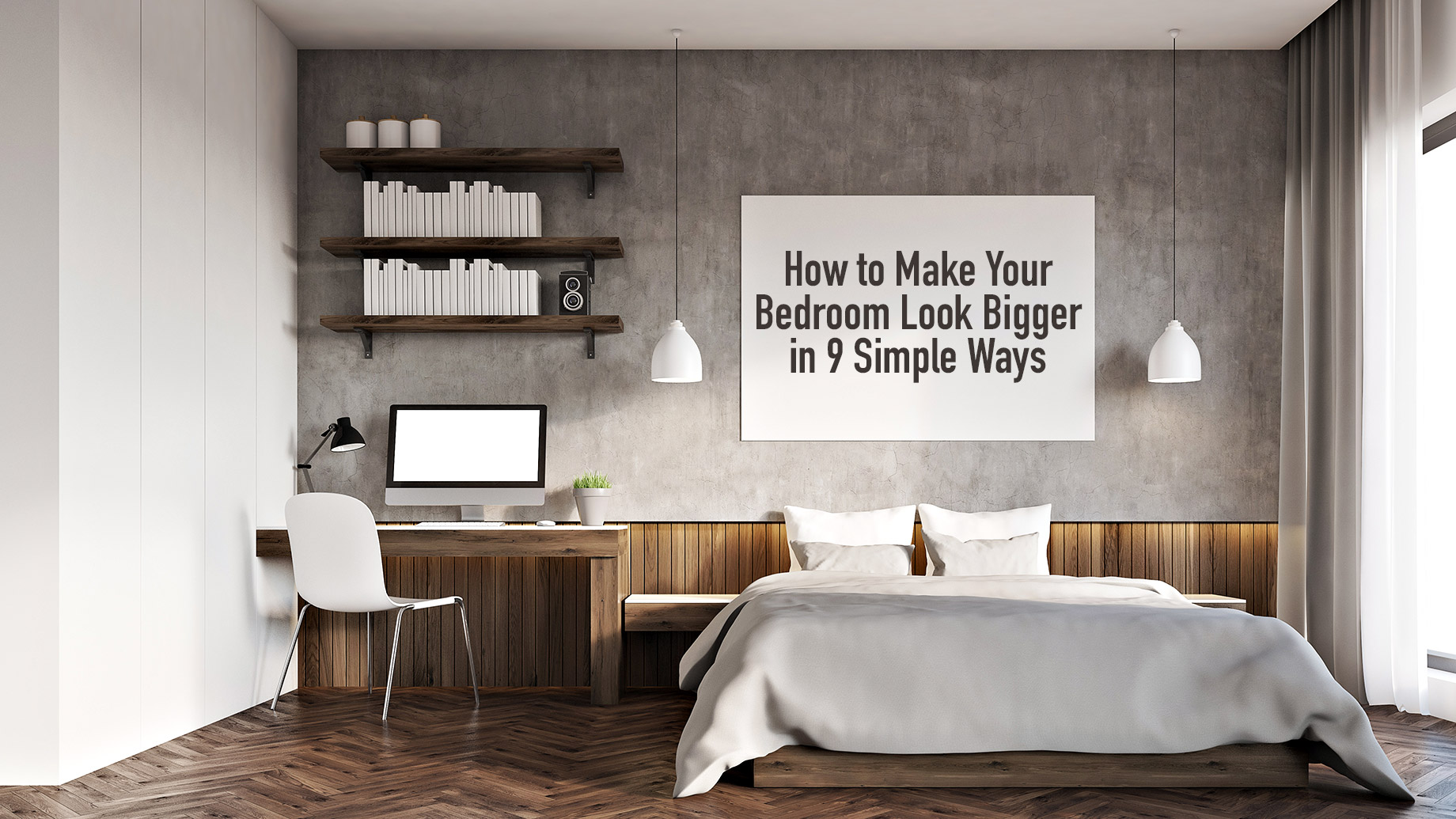 Is your bedroom feeling cramped lately? You're not alone, considering that the average size of a bedroom in U.S. homes measures only 11 feet by 12 feet. That's barely any room for a queen-sized bed, let alone other furniture.
By getting creative, however, there are a lot of hacks you can try that will create the illusion of a larger room. Here are nine tips on how to make your bedroom look bigger.
1. Declutter
Clutter not only makes a room look messy but it can make it feel smaller, too. Removing excess items from the bedroom is a good first step towards helping it appear larger.
Start with the floor. Clear it of wayward toys, clothing, magazines, footwear, and anything else that doesn't belong or that could be stored in another room or a closet. You'll eliminate tripping hazards, clear a pathway, and will be able to rearrange your furniture more easily.
Take advantage of this task to throw away, recycle, donate, or sell anything you no longer want or need. Decluttering can be addictive and you may just find yourself doing it to every room in your home to free up space.
2. Paint the Walls a Light Color
Painting is one of the quickest ways to not only transform a room's mood but make it look bigger or smaller. To make a small bedroom feel larger, paint the walls a light color. White really works best for its light-reflecting properties.
You also can't go wrong with other neutrals including off-white, gray, or taupe. But pastel or soft shades such as a light buttery yellow or pale green will work, too. Just be sure to avoid anything bright or energetic—they can make it more difficult to fall asleep.
3. Pare Down Furniture
Your bedroom may simply have too much furniture crammed into it. Take a look around and see if there are pieces that you really don't need, such as a chair or extra end table (you may be able to get away with only one.)
Swap out larger pieces of furniture for smaller versions. For example, you may be able to get away with using a simple desk or table for your laptop versus an office-sized model.
Choose bedroom furniture that leaves a good amount of wall space. If it gets too close to the ceiling or takes up most of a wall, it's too big for the room.
Another trick is to go low and sleek when it comes to furnishing a smaller room. Avoid including a large statement piece that is just going to eat up precious space. Keep artwork away from the top half of your walls to make the area feel more spacious.
4. Get Sneaky With Storage
When choosing bedroom furniture, try to find pieces that contain storage compartments. A chair with a concealed space is perfect for storing reading material, while most beds allow you to stash clothing and other items underneath them.
You can also use up less space in a room by using vertically placed storage such as bookcases and shelves. Try to place them around your bed's headboard to minimize the real estate they take up in the room.
5. Hang a Mirror
A well-placed mirror is a noted home decorating hack for making any small room instantly feel expanded. Mirrors reflect not only the view but light to open the area up. And the best part is you can get creative by hanging up one large mirror by itself or several small ones in a cluster.
6. Remove the TV
Unless your television is mounted on a wall or the ceiling or hidden inside a storage unit, you may want to banish it from your bedroom. Today's large screen TVs can take up a lot of excess space and make it more difficult to fall asleep as well. Many people prefer to keep them out of the bedroom to keep the room a sacred one for sleeping and having sex.
7. Go Transparent
Transparent furniture such as a lucite chair or table is a clever hack for creating the illusion of a bigger room. Not only does clear furniture appear to take up less space, but it gives off a 1970s vibe that isn't out of place in today's modern homes, and it matches just about any decor. Just go easy by incorporating one or two pieces if you're concerned that it may make your bedroom look too retro.
8. Use the Right Lighting
Even the lighting you use in your bedroom can have an effect on how large it feels. If you can get away with it, use smaller lamps placed on tables or dressers instead of large floor lighting that takes up a lot of space.
Even better is installing modern bedroom lighting such as chandeliers or recessed or pendant lighting in the ceiling that takes up zero space and illuminates the entire room evenly.
9. Lose the Rug and Drapes
Window treatments and rugs just make a room feel smaller. If you don't have wall-to-wall carpeting, resist adding a rug to your bedroom. Bare floors will go a long way towards expanding the space.
If you need privacy, opt for sleek blinds or airy, sheer curtains instead of heavy drapes to keep the room feeling light.
Now You Know How to Make Your Bedroom Look Bigger
You're not doomed to live with a small bedroom that always feels constricted. Just follow these tips on how to make your bedroom look bigger. The best part is you can incorporate these tricks in just about any room in your home to make the living space feel larger.
For more home decorating tips, read our home interior posts in our articles section.