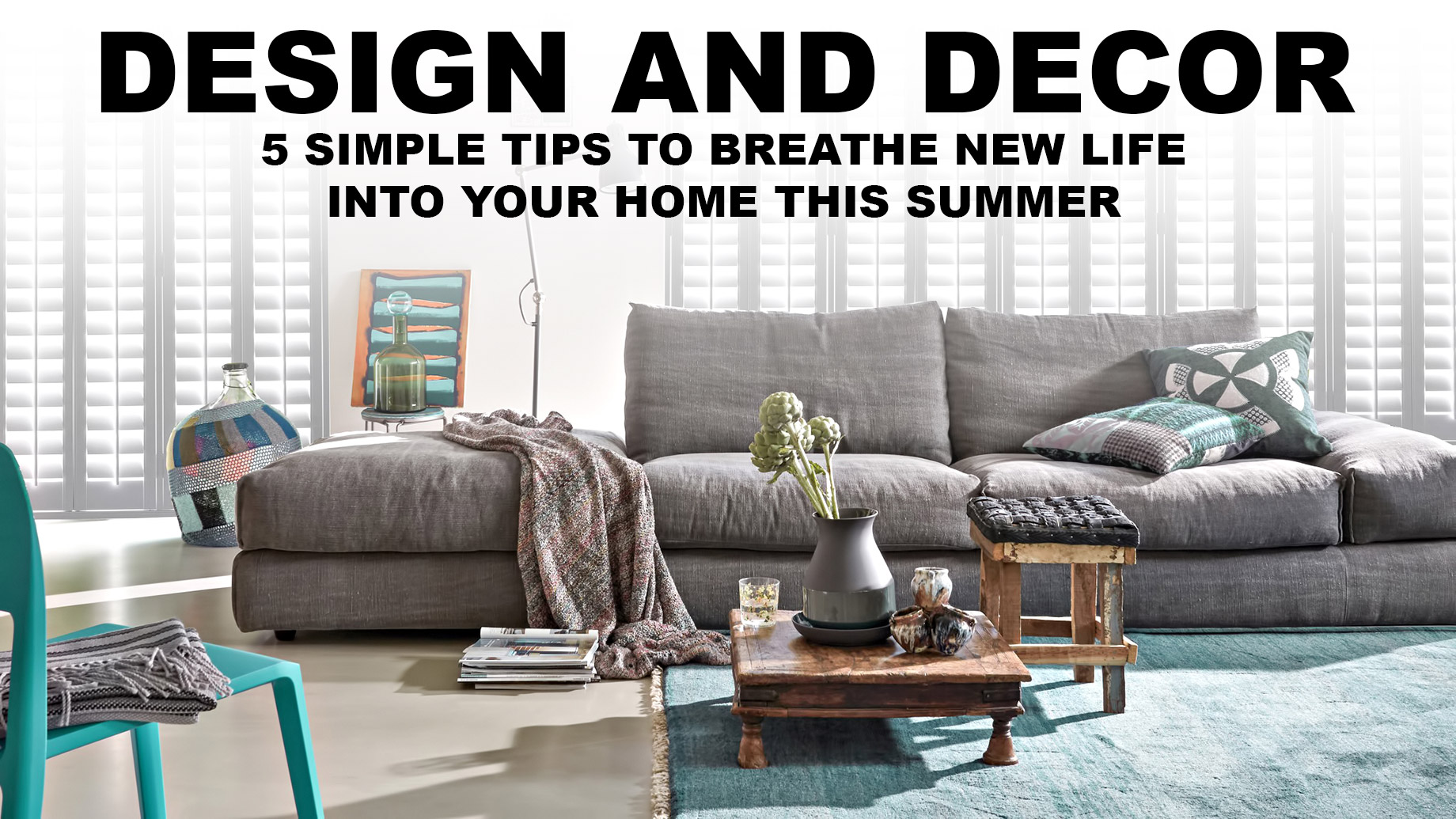 In many parts of the world, there are four distinct seasons and summer is all about home entertaining, enjoying longer evenings, and relishing in a fresh breezy sunny vibe. Rather than get away this summer, maybe it's time to add some freshness to your home so that you can enjoy the season with a new sense of bravura and style. A few simple changes and updates geared towards fun in the sun this summer can breathe new life into any home.
Here are five simple tips that you can get started on the right track.
Window shutters
No matter the size, your windows govern the light and airflow that filter through your home, so this is an area that you should look at first to liven the look and feel of your home this Summer. A typically trend is to see Plantation Shutters splashed through the pages of home living magazines during the summer, and with good reason. The simple and stylish design of these shutters adds a classic summer look to any window. Allowing a multitude of light into any space with large slats and openings, these blinds immediately breath new life into any room.
Rearrange the space
They say change is as good as a holiday, and when you take the time to re-compose spaces within your home, it can feel like just that. If the idea of shuffling your perfectly positioned furniture and decor scares you, maybe it's the nudge you need. It's unrealistic to change everything, but you may find that moving your television and couch to a new spot or angle gives you a nice new flow throughout your living space. Start re-arranging your home now and let the experimentation begin! You may find that it's just what you need to get a fresh start without a lot of effort this summer.
Keep it clean
Ok, this isn't a lecture. The fact is, if you are regularly cleaning and tidying your home, you will have no problem when you visit this website. The senses are so entwined, that simply improving the look and feel of an area can lift your mood and make the space appear lighter. When was the last time you did a shampoo of your carpet, or washed your walls? Making this a priority will instantly breathe life in your home and make it a more inviting space. So this is a perfect summertime spruce up for any home.
New finishing's
Although It's not practical to change everything within our homes, there are things that can be changed quite regularly. Your throws, cushions, rugs and decor items can be swapped out during the seasons so they are always reflecting the lightness or warmth that you need them to impart. Given it's Summer, you may even find that you can get away with having a minimalist smattering of items in your living space. Whatever you decide, keep the textures light and breezy.
Light and bright pallet
It wouldn't be Summer if there wasn't a light and bright color pallet welcoming us home each night. Summer is a great time to experiment, so don't waste an opportunity and inject some fun-loving colours into your home. If you are unsure of how to do this, consider a bright feature wall, bold rug or even a few eclectic coloured books for your coffee table. So, get out your paintbrush and get to work. Adding a new coat of paint to your interior spaces with fresh new décor accents will almost make you feel as if you are living in a new home.