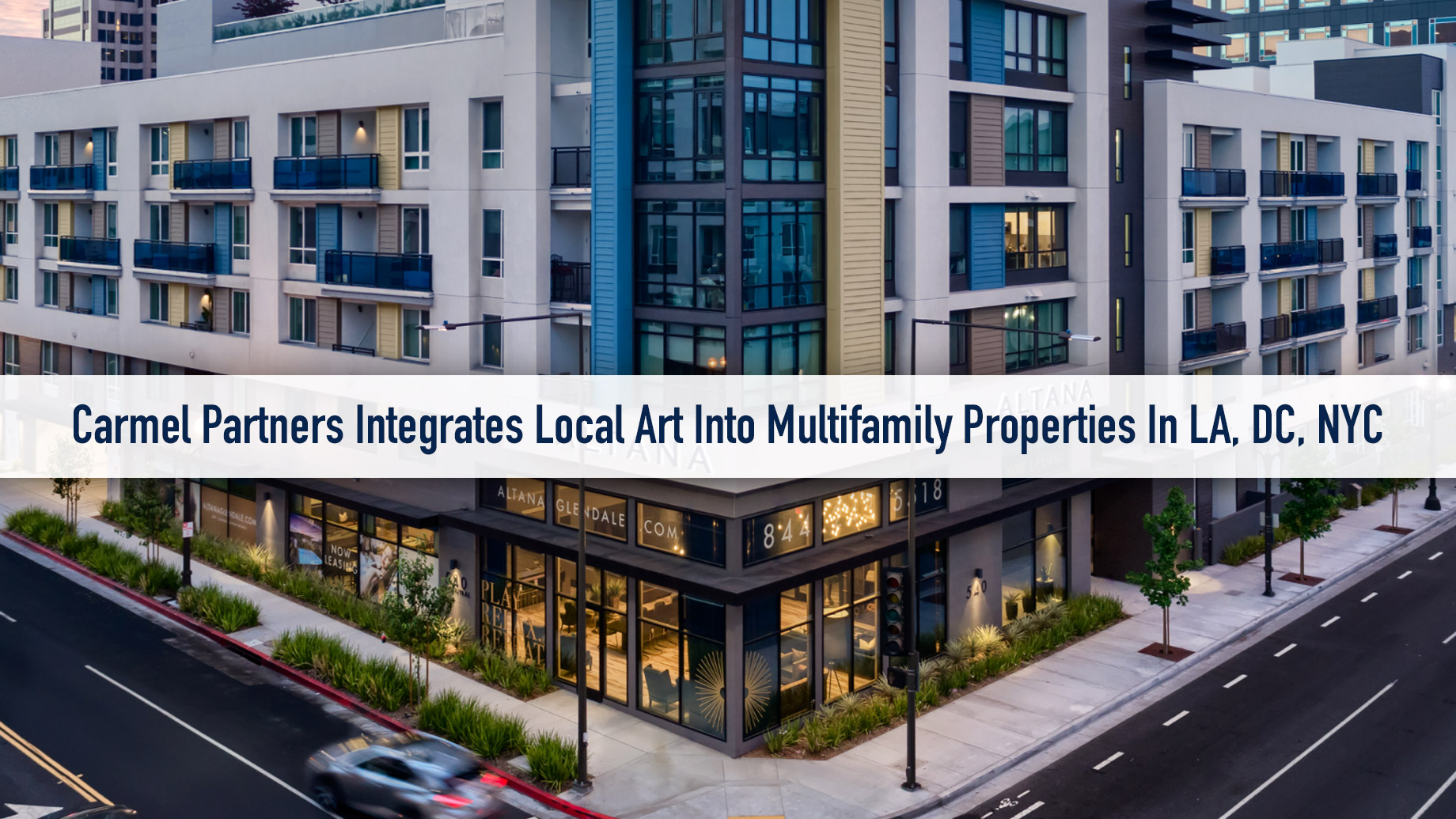 Since 1996, Carmel Partners has explored the meaning of luxury within multifamily properties, finding a perfect balance between refinement and comfort. Striking this balance are East and West coast properties that make an eye-catching first impression from the moment residents step foot in the grand entry lobby, maintaining a high-end presence throughout amenity spaces and into apartment units. To enhance and elevate these spaces, the firm continues to evolve its design by incorporating art into their newest New York, Los Angeles and Washington D.C. properties. Commissioning more than 65 pieces by local artists to appear at 19 Dutch, ARQ, VOX, Platform and Linea, Carmel Partners adds tasteful details to common spaces, while incorporating hints of neighborhood history.
At 19 Dutch, a 63-story tower in Manhattan's Financial District, Carmel Partners commissioned a local artist to cover the front desk in traditional Dutch delftware, adding a modern interpretation within each illustration. Depicting Manhattan's Old Dutch history in its blue and white detailed tiles, the front desk is a striking emblem of local heritage, setting the tone for remaining spaces, such as elevator cabs, conference room walls, the resident lounge and the fitness room. As residents enjoy moments of contemporary watercolor, scratchboard illustrations and acrylic paintings throughout 19 Dutch, Carmel Partners uses locally-sourced art to bring a sophisticated atmosphere to the new high-rise apartment.
Also featuring an art-filled lobby is ARQ in Los Angeles, Carmel Partners' 31-story luxury property between Culver City and West Adams. Upon entering the upscale property, residents are greeted with a dynamic sculpture of marquina marble and Japanese kinsugi gold, made by Carla Cascales Alimbau. Sitting atop a carved stone reception desk, the sculpture aligns with the atmosphere of sleek sophistication. Beyond the lobby, art is strategically placed throughout common areas made from diverse materials such as ceramic, steel, wood and paper, pointing to Carmel Partners' eye for design and detailed creativity.
Building a presence of luxury on opposing coasts, Carmel Partners also incorporates art into common amenity spaces at Platform and VOX. A 628-unit apartment complex in Old Town Alexandria, just 3 metro stops from the heart of Washington D.C., Platform establishes an industrial-chic aesthetic, with walls that are decorated with black and white photographs of local architecture by various photographers. Other gathering spaces incorporate art as subtle complements to the art deco-inspired furnishings, such as a series of pieces by Local Language, an Oakland-based studio. In Los Angeles property VOX, Carmel Partners collaborated with West Adams gallery Band of Vices for art that makes a statement. Many made with oil or acrylic on canvas, art pieces bring bright colors to VOX's interior and a connection to the surrounding community of musicians and creatives.
Finally, Carmel Partners showcases a total of 26 pieces of art at Linea, a West Los Angeles community known for state-of-the-art amenities and a resort-like lifestyle. Bringing intrigue to its 55,000-square-feet of common amenity spaces, Carmel Partners strategically places art on surfaces and walls, ranging from a white sculpture by Astrid Dahl to a striking three-toned installation by Dusa Jesih. Using an abundance of abstract art, Carmel Partners creates a bright and energy-filled atmosphere at Linea.
As art becomes an essential piece of Carmel Partners' design strategy, the firm invites residents and visitors to explore the local roots behind many of the pieces. Adding art as decorative touches to 19 Dutch, ARQ, VOX, Platform and Linea, Carmel Partners creates interior spaces nothing short of luxurious.
About Carmel Partners
Carmel Partners is one of the leading specialists in real estate investment management with a focus on U.S. multifamily acquisition and renovation, and development and construction. The company also specializes in debt and lending opportunities. Carmel Partners, LLC was founded in 1996 and has offices across the country, including San Francisco, Los Angeles, Irvine, New York City, Seattle, Washington D.C., and Denver. For more information, please visit www.carmelpartners.com.