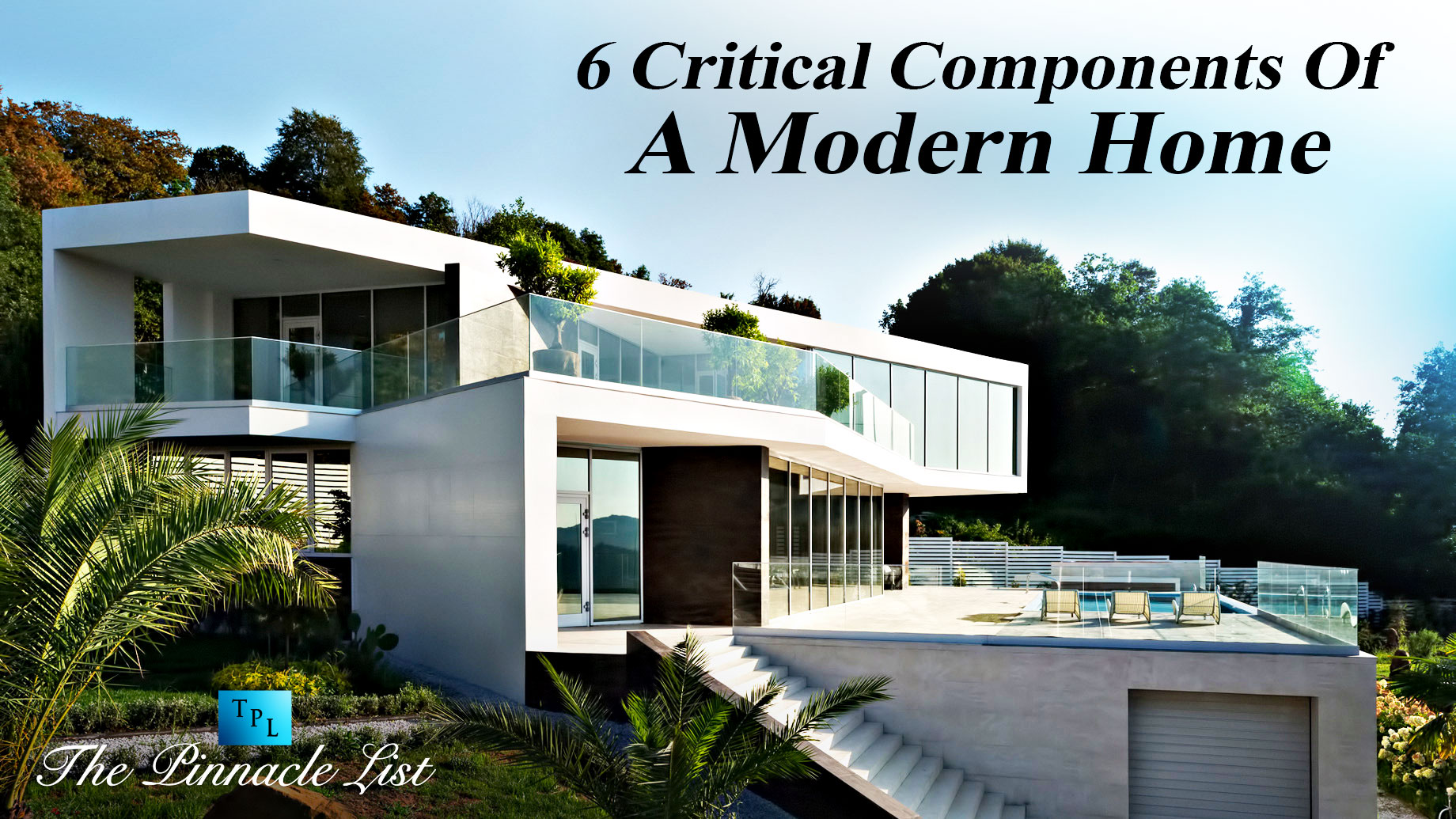 A modern home means more than just a stylish interior. It's about creating an environment that meets your needs while maintaining energy efficiency and comfort. You must know your current and future needs, the necessary components, and how to integrate them. It's also about creating a space adaptable to the changing trends in design and technology. Here are the six critical components of a modern home:
1. Energy Efficiency
The most significant concern many homeowners have is how to be energy efficient. Energy efficiency in a modern home means using renewable resources and technology that minimizes energy waste, like solar panels, LED lighting, and smart thermostats. Look into all of the available options. Talk to experts like Phoenix Valley Solar to maximize your investments' benefits. Some suggestions are:
Use Solar To Power Outdoor Lights
Your outdoor lighting is vital as it deters intruders from accessing the property, even when you're away. However, it's costly running multiple bulbs through the night. A solar-powered outdoor lighting system is a great way to be energy efficient and save money in the long run.
You can install solar panels on the roof or a sturdy stand in your garden, then set up as many lights as needed. These lights use the sun's power to charge during the day and switch on at night. You will never worry about the electric bill ever again. You can use the extra solar energy to power devices such as a pool pump or outdoor appliances.
Switching to energy-efficient bulbs is also one of the most effective ways to reduce energy consumption. They use less electricity and last longer compared to traditional incandescent bulbs. They're also available in various shapes, sizes, and styles to suit any lighting fixture.
Opt for Motion Sensor Lights
Running lights throughout the night is costly. Motion sensor lights can detect movement and switch on automatically when someone approaches. This way, you don't have to worry about lights left on all night or having to switch them on and off manually. Other than saving energy, motion sensor lights provide an extra layer of security. When someone approaches the property, the lights switch on, alerting you of their presence.
Energy Efficient Systems
Upgrade the HVAC and other energy-consuming systems to save power. Older systems run longer to maintain the set temperature or function, resulting in higher energy consumption. They also emit more greenhouse gasses, break down often, and are less dependable. Ultimately, it's more expensive to keep them around. Investing in newer systems means lower utility bills and increased savings over the long term. Your home also becomes more efficient, healthier, and comfortable.
2. Smart Home Technology
Innovative home technology is the backbone of an energy-efficient modern home. It automates many household tasks, such as controlling heating and cooling, lighting, security systems, and everyday chores. It also enhances convenience and comfort. You don't have to physically operate switches and knobs to change the temperature or adjust lighting levels.
Smart home devices respond to cues such as voice commands, motion sensors, and environmental conditions. The technology also diagnoses, predicts, and prevents problems before they arise. Opt for options that integrate with all or most of the property's systems or are compatible with your home network. This allows for a more streamlined and automated experience. Innovative home technology will also increase the value of your home.
3. Modern Home Security System
Modern home security does more than sound an alarm when someone enters your home. Smart security systems include 24/7 monitoring, motion sensors, facial recognition, and pet-sensing technology. You can program the system to call a list of predetermined contacts in an emergency. Some systems allow you to arm/disarm remotely or check in from your smartphone. Passwords or codes are required to disarm the system, so you won't have to worry about triggering it by mistake.
4. A Spacious, Modern Kitchen and Bathrooms
Design a modern kitchen and bathroom with function, convenience, and style in mind. Have enough space to maneuver around the kitchen while cooking, and use fixtures that are easy to clean. Select countertops made of stone or quartz for a durable finish. Install energy-efficient appliances that provide plenty of counter space. A large window over the kitchen sink will provide plenty of natural light.
Opt for wall-mounted or floating sinks and showers with marble or neutral tile accents in the bathrooms. Another option is a shower with separate shampoo, body wash spaces, and built-in storage shelves. Low-flow toilets and faucets are excellent choices for an eco-friendly bathroom. A well-lit vanity and recessed lighting offer plenty of illumination. Moreover, add more bathrooms to make it more convenient and comfortable for all family members.
5. A Minimalistic Approach
A minimalistic approach emphasizes simplicity in design and decor. This trend is characterized by clean lines, neutral colors, and natural materials such as wood, stone, and glass. To achieve this look, choose furniture with clean lines and neutral colors. Use light fixtures such as recessed lighting and wall sconces to provide illumination without cluttering up the space.
To create a calming atmosphere, utilize natural materials and textures, such as wood accents, stone countertops, and glass surfaces. Most importantly, keep the design focused and clutter-free by avoiding unnecessary items that detract from the overall look. For instance, avoid very decorative accessories. You'll have a contemporary look that will impress you for years.
6. Ample Storage Options
Clutter is a huge concern, especially in smaller spaces. Integrated storage solutions are a great way to keep your belongings organized and out of sight. Add modern cabinets or shelves for larger spaces to keep items from becoming visually overwhelming. Make sure each room has enough storage options to function comfortably and stylishly.
Turning your home into a modern oasis doesn't have to be intimidating. You'll create an enduring contemporary look lasting for years with the right combination of systems, materials, and finishes. Focus on quality, energy efficiency, smart solutions, and a timeless style. For best results, consult different professionals to find suitable options for your needs.