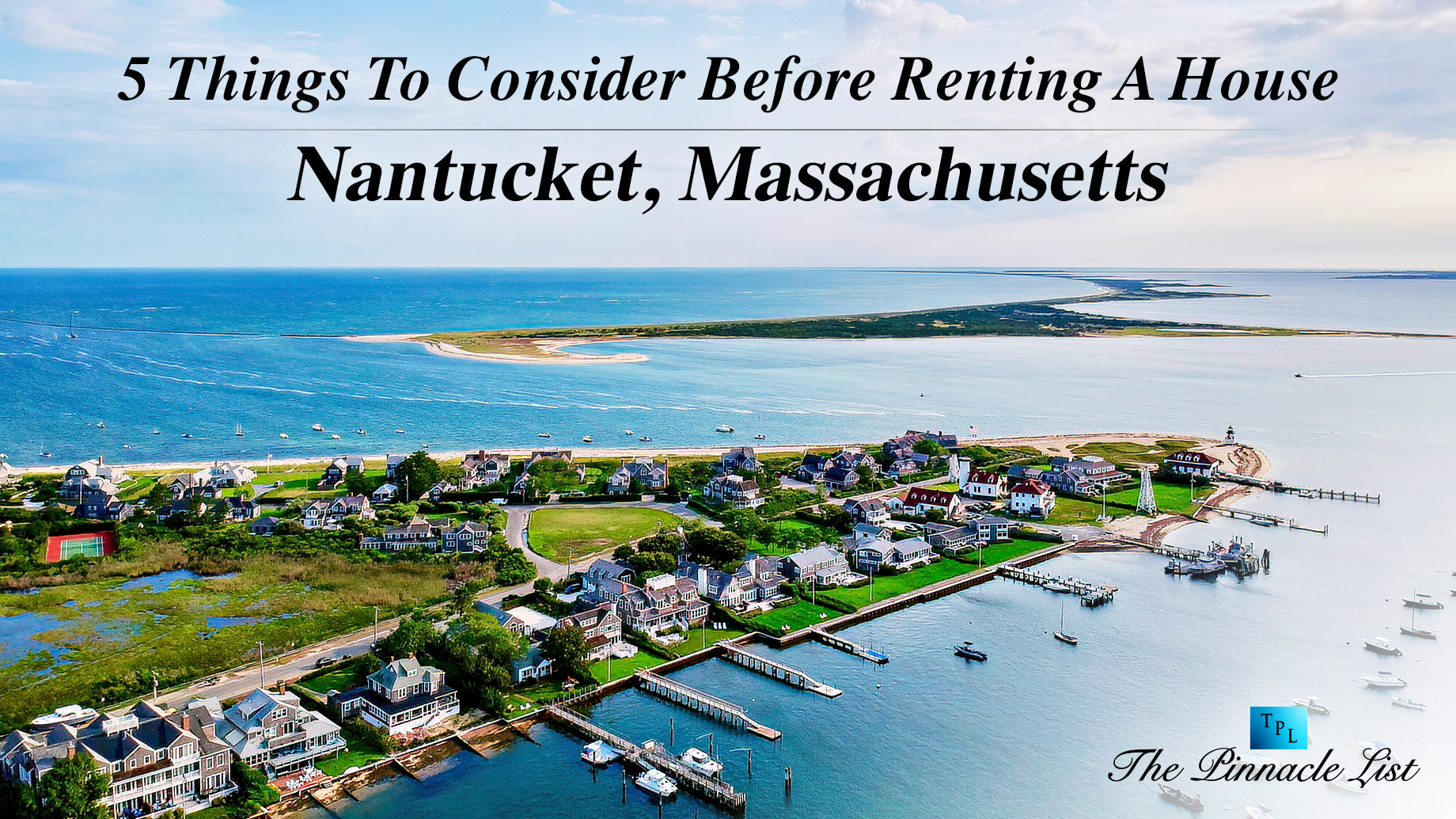 The island of Nantucket, Massachusetts, is on the bucket list as a dream vacation destination for many.
While buying your own seaport property or another dwelling on this idyllic island may be very expensive and not so easy due to the limited available options and the rocket-high sales prices, there are many unique houses and other properties which are available for short-term rent there.
The question is – how to choose the best rental for your trip to Nantucket?
Here are some of the main things to keep in mind before booking your lodging for your stay on this picturesque island.
The Location
Nantucket may be a small island, but it has over 15 different neighborhoods and communities. Each of them has its own personality and is suitable for specific lifestyles and preferences. Some are in or close to Downtown, where all the fine dining restaurants, the top boutiques, and other hustle-bustle is. Others are in more remote areas, surrounded by untouched nature and offering more relaxation and privacy.
If you want to be close to the Town and to popular family-friendly beaches such as Children's Beach, Jetties, and Steps Beach, then you should look for a rental in Downtown, Brant Point, or Cliff.
For a dwelling that is still in close proximity to Downtown but is surrounded by breathtaking wildlife, you can look for a house in Dionis or Eel Point.
For lower rental prices and access to more remote beaches suitable for surfing, you can look for a rental in Madaket or in Tom Nevers.
Younger and more active visitors may want to stay in the Cisco and Hummock Pond areas which are near the famous Cisco Brewery, Bartlett Farm, and Cisco beach. Surfside is another area suitable for people who want to go surfing and enjoy spending time on one of the most popular beaches.
If you would like to enjoy residing in the quaintest fishing village on the island, then you should rent a house in Siasconset.
Nashaquisset and Naushop are areas with more affordable rentals and numerous amenities suitable for the young and old.
You can enjoy the peace and quiet and the stunning landscapes of Nantucket if you choose to stay in Polpis, Wauwinet, Quidnet, or Squam.
The Details and Price of the Rental
Nantucket is a place where many celebrities, politicians, and other rich and famous people own vacation homes, so as you can expect, the prices of the properties there are pretty steep.
The prices for renting a house or other property on the island vary depending on the class of the rental you choose. For a modest rental dwelling, you can expect to pay about $4,000-$6,000 per week.
Modest rentals are for houses with 2-4 bedrooms and 2-3 bathrooms located in more remote areas such as Madaket, Naushop, Tom Nevers, and Nashaquisset.
The typical rentals cost about $6,000-$10,000 a week. You can expect a typical rental to have 4-5 bedrooms, 3-4 bathrooms, and a large yard and to be near the beach.
You can find them in almost all neighborhoods in Nantucket.
The very best rental properties are available at prices starting from $10,000 and up. In this category, the sky's the limit for the prices and for the amenities and sizes of the properties offered. You can rent estates with heated pools, tennis courts, huge outdoor spaces, and six or more bedrooms and bathrooms. Some are with stunning waterfront locations and ocean views, and others are in remote locations among glorious natural settings.
Keep in mind that the availability and prices of the rentals will also vary depending on the season and month you choose to go.
Plus, you will be charged additional fees and taxes, including a 5.7% state tax, a 6% local tax, administrative fees ($50-70), credit card fees, and, if applicable, pet fees for your rental.
The Best Time To Rent a House in Nantucket
The high season in Nantucket is when the population of the island grows from about 10,000 to 50,000 people. Its peak is in July and August. When the temperatures are the highest, the prices of the rentals are at their highest points too.
If you want to avoid the crowds, have easier access to tables in the restaurants of your choice, and pay less for your stay, you may want to plan your visit to Nantucket during the shoulder season, when it is still suitable for relaxing on the beach, but the prices are lower, and the visitors are fewer. These are the months of June (especially the second half) and September. The prices for renting a house in Nantucket are the lowest in June.
The Rental's Amenities and Pet Policies
Every property available for rent on the island includes all furniture and comforts you would find in a hotel room, including towels, sheets, pillows, kitchen equipment, and more.
Some of the rentals come with additional equipment and amenities, such as bicycles, beach towels, beach toys, canoes, and more.
You should ask the renter what is included in the price for more specific information.
If you are planning on going with your pet, ask the renter whether it is allowed. Usually, renters will ask for additional pet fees. Luckily, all ferries are free for dogs, and the restaurants, beaches, and parks on the island are also open for dogs.
Getting To and About the Island
You can get to Nantucket via sea or air. The cheapest way is to take the traditional ferry by the Steamship Authority from Hyannis, Cape Cod. The traditional ferry is the only way to take your car with you to the island too. But it takes over 2 hours to reach Nantucket.
There are regular faster passenger-only ferries offered by Hy-Line Cruise Line and Steamship Authority too.
You can take one of the ferries from Harwich Port, MA, New Bedford, MA, or New York City, NY as well.
As for flying in, there are multiple commercial airlines offering direct flights to and from Nantucket Memorial Airport. These include JetBlue, Delta, American Airlines, Cape Air, Rectrix Shuttle, and others. The flights are from and to cities like New York City, Boston, Washington DC, and others.
As for getting around Nantucket, we do not recommend taking your own car. The price for getting it there is outrageous, and coming to Nantucket with a vehicle is generally frowned upon. Instead, you can bring your bicycle or rent one once you get to the island. There are bike lanes that can take you to any part of the island. There are also regular shuttle buses, cabs, and Uber you can use for getting from point A to point B during your stay.