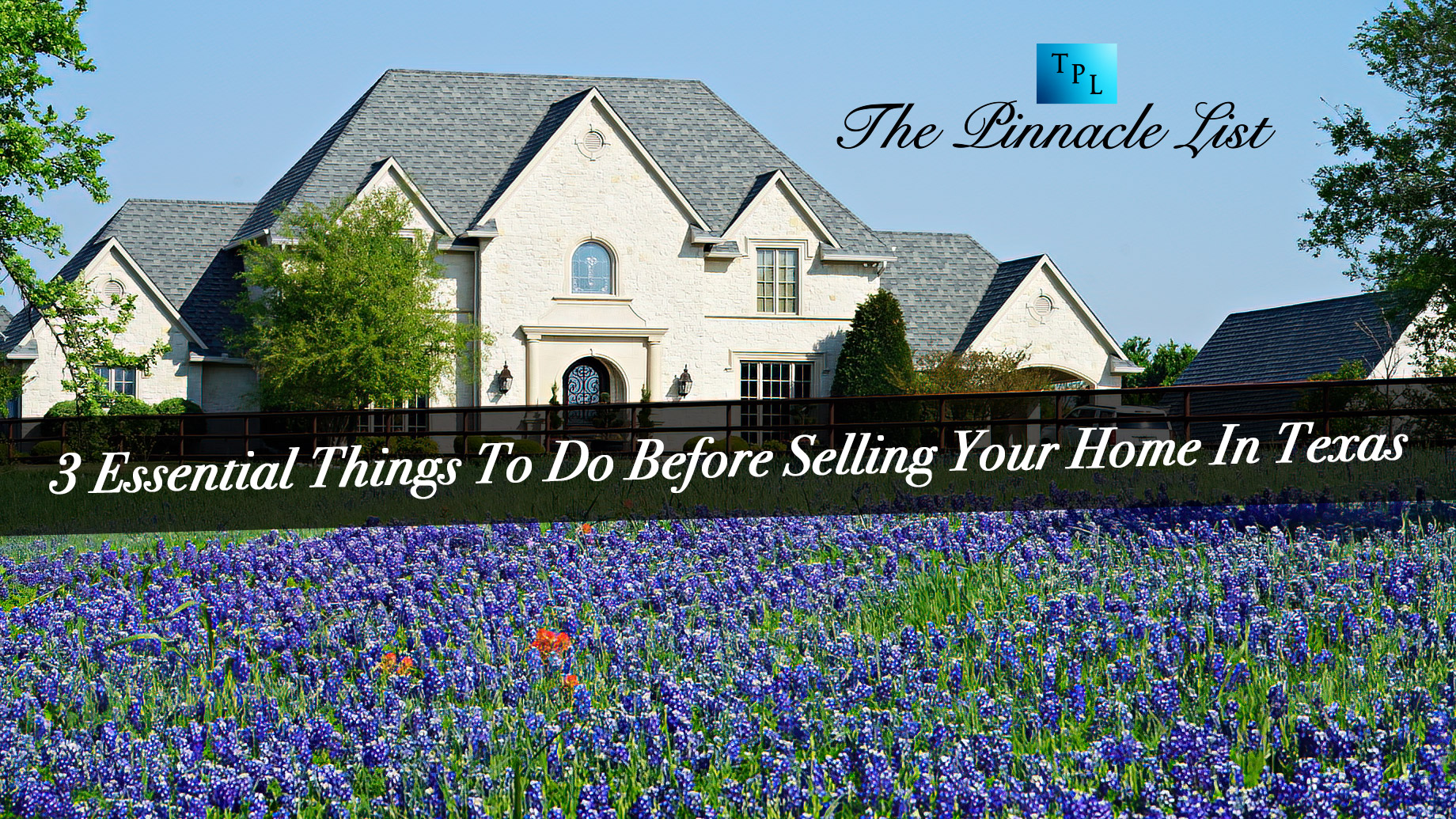 It is no secret that Covid had a major impact on the US housing market as a whole. The houses for sale inventory plummeted, which in turn caused a seller's market. House prices surged as buyers bid over the market value to secure their desired property.
The pandemic may not have officially finished, but the housing market is changing, especially in Texas. House sales are declining in the Lone Star State. Between May 2021 and May 2022, house sales dropped by 4.3%. While this is lower than the national average, it could reflect an unwanted trend for house sellers.
Rising interest rates and unaffordable house prices are factors in why home sales are slowing, but there are still motivated buyers out there.
1. What must you do before selling your home?
The median price of a home in Texas in May 2021 was $327,700, but this rose to $390,600 by May this year. While this is still significantly lower than the national median house price of $430,621, it still represents a considerable investment for most people.
Despite the housing inventory dropping in some areas of Texas by up to 30%, demand hasn't increased. Therefore, if you want to see close to the listing price, you will need to do some things to help your house sell.
Typically if you wanted to sell a home smoothly and quickly, you would be told to do some or all of the following:
Deep clean
Declutter
Depersonalize
Paint
Carry out repairs
Start packing
Stage your home
Hire professional photographers
However, there are three essential things you should do that are not included here. Keep reading to see the three most important things to do before selling a home in Texas.
Choose a selling strategy that involves a local understanding of the Texas housing market.
Probably the most essential thing you need to do prior to selling is to decide on the approach you wish to take. This will determine exactly how much you receive from your house sale, and how long it stays on the market.
On average, it has taken 76 days for a home to sell in Texas in 2022. This included a 41-day period before an offer was accepted. Though some months are better for sales than others. May saw houses stay on the market for just 28 days, and sell for a median price of $354,000.
June is typically the best month to sell in Texas, with the shortest time on the market, and the highest average price. January is the worst, with a 56-day wait on the market and a significantly lower average price.
Choosing a selling approach that takes in local knowledge could help you to see a higher price and/or a faster sale.
What are the options for your selling strategy?
So, how can you select the best way to sell? Consider what you require most from your home sale, is it to achieve the listing price or more, or to have a quick sale?
The fastest selling route
You can approach your home sale with a DIY approach if you prefer to avoid realtors. FSBO is becoming more popular with homeowners, but there is no guarantee you will sell this way quickly.
Instead, you can take a more proactive approach by either listing on a property auction site, or by approaching a cash buyer. Home investors can be approached directly for an offer and a very fast sale. Texas house buyers understand the local market and how to make a cash offer on any property in the area.
A house sale this way could be finished in as little as two weeks from accepting an offer to receiving the proceeds.
The best route for maximum proceeds
If the speed of your home sale is not a concern, then you can be more patient and look for something closer to the market value. A realtor is generally accepted as the best way to achieve the best price, but there are some drawbacks, including commission, and the time the home could take to sell. However, hiring a local Texas realtor could mean that they know just how to market your home.
2. Concentrate on your hotspots
It is quite normal to start considering remodeling or renovations when you are thinking about selling a home. Yet not all remodeling work will bring about a good ROI. Sometimes, renovations are completely unnecessary.
If you are going to approach a home investor, then there is no need to carry out any repairs or renovations, and it could be a waste of money. But, if you are selling through a realtor, then you may want to consider your home's hotspots; namely the kitchen and master bathroom.
At 80%, buyers state that the kitchen is the most important aspect of their home search.
These rooms will be more thoroughly inspected by potential buyers than any other. If you plan a kitchen remodel, it is worth knowing that you could see an 81% return on your investment. Interestingly, the more you spend on a kitchen doesn't necessarily get reflected in the ROI. A minor kitchen remodel may return a higher ROI than a full upscale remodel.
It is worth understanding what buyers are willing to pay for as well. Over 50% of buyers have said they would make a higher offer if the kitchen had granite worktops, and nearly 70% said the same about new appliances.
The bathroom is treated as almost as important as the kitchen by buyers. If you don't want to remodel, you can make some minor upgrades and give the room a deep clean. Shower doors and other fixtures should shine. Don't forget to clean the grout between the tiles too.
3. Look outside the home
It can be easy to focus on the interior of the home; after all, this is what you will be showing off to anyone coming for a viewing. But, the exterior can influence a house sale in a major way.
Hiring a power washer could end up being the best investment you make when trying to sell your home. Power wash the driveway and the exterior of the home to improve the appearance and curb appeal.
Gardens are a major selling point, and good landscaping can be responsible for as much as 25% of a home's value. However, you don't need to carry out major work to improve this area. Give your garden and facade a facelift.
Consider adding the following:
Fencing/gate
Lighting
New house number
New mailbox
Plants and flowers
Patio or decking
Fences and gates add security and privacy, which are important to most house buyers. Lighting can also add an extra level of security, but it can improve safety on driveways and steps, for instance.
Adding a patio or decking can help attract buyers. Adding a cover to a patio can help to make the perfect garden for all seasons. Avoid themes and try to appeal to the broadest audience. Decking and patios also offer a good ROI.
Summary
There is a multitude of jobs to carry out before you can reach the point of accepting an offer on your home. You will need to consider who will be your property attorney, for instance, and you will need a moving company too.
However, these three aspects of a home sale are essential if you wish to get the best price and sell quickly in what is becoming a slow Texas housing market.