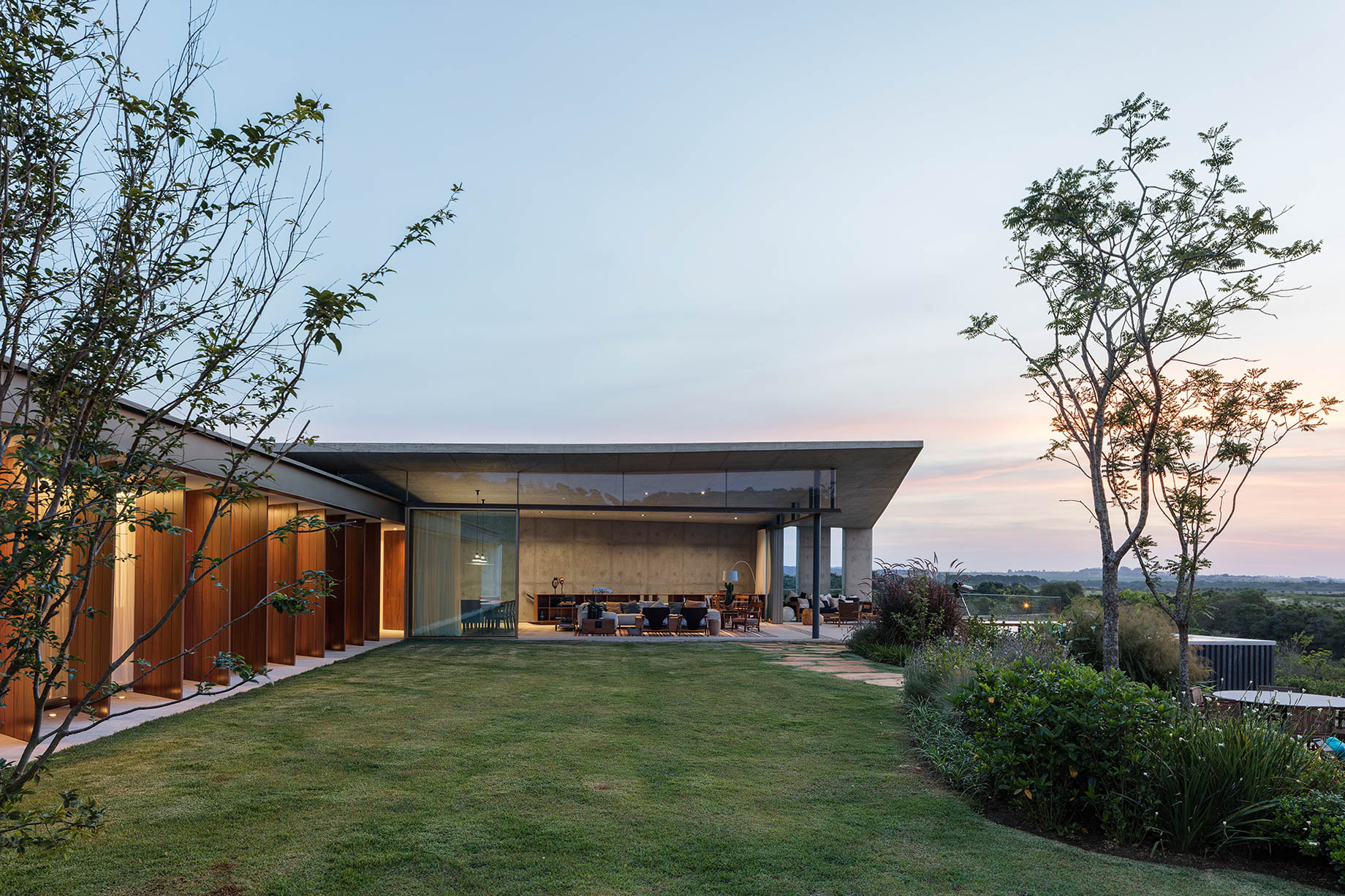 Name: Origami House
Bedrooms: 5
Bathrooms: 8
Size: 7,212 sq. ft.
Built: 2017
The Origami House is a concrete oasis set in the tranquil retreat of Fazenda Boa Vista in Brazil. The main residence is a haven of serenity designed to harmonize with nature. This single-storey abode seamlessly integrates work and leisure as a testament to modern architectural finesse with concrete taking center stage to define the structure's distinctive profile. The folding concrete slab, reminiscent of an origami masterpiece, gracefully demarcates the dwelling's boundaries while sheltering its west-facing facade from the afternoon sun. This architectural gem not only provides a sanctuary from the rigors of city life but also celebrates the beauty of its natural surroundings, with unobstructed views of the native forest bathed in the morning sun.
Upon entering, a strategic layout invites inhabitants into an expansive office space that serves as the hub for the couple's professional pursuits. This pivotal area seamlessly connects to the living quarters, comprised of a generously appointed kitchen and an open social space that seamlessly blends living, dining, and an inviting balcony, all graced by the embrace of towering glass window frames. Crafted with an astute understanding of topography and environmental nuances, the angles of this residence are meticulously calibrated to optimize natural elements, from sunlight to ventilation. The lower level graciously houses three guest rooms, ensuring ample accommodation for family gatherings and fostering an atmosphere of hospitality and warmth.
Central to the design philosophy is the marriage of concrete and natural elements, culminating in an aesthetic that marries the robust with the inviting. Concrete walls and ceilings encase the dining and living areas, juxtaposed by the warmth of wooden furnishings, creating an atmosphere of modern comfort. The intimate quarters, housed in a metallic pavilion, stand perpendicular to the social spaces, cocooned by brises-soleils fashioned from rich cumaru wood. These pivoting doors not only demarcate space but also infuse the kitchen and dining area with an air of privacy and seclusion. The result is a home that, like a finely tuned symphony, orchestrates the interplay of light, space, and materiality, offering its inhabitants a sanctuary that seamlessly bridges work, family, and nature.
Architect: Bernardes Arquitetura
Photography: Leonardo Finotti
Location: Fazenda Boa Vista – Porto Felix, Brazil